Dog Trainers in Lemon Grove
Book personalized training sessions with a local dog trainer
How dog training works
Find your match
Browse local dog trainer profiles and select your favorites so we understand your preferences
Meet & greet
Meet your dog trainer! Start creating a unique plan over in-app chat before your first session
Practice makes perfect
After the meet & greet, request your trainer again, or work with someone new
What is Wag!?
Wag! is the nation's fastest-growing network of pre-screened and insured dog walkers, sitters, and trainers. In less than 15 minutes you can book a nearby dog sitter, daycare provider, or dog walker, who'll take complete care of your loved one - at their place or yours.
Meet trainers near you
"Wag walker, trainer and a fan of all dogs!"
My goal: To be the dog walker/ dog sitter that I always wish my own dog had. I've had great fun jobs with dogs: training, photographing, caring for and now walking. My favorite part has always been getting to know each unique dog's personality and figuring out what makes them happy, comfortable and confident and becoming a trusted friend to them.
Background Checked
High Demand
Top Pet Caregiver
Training Provider
Training Exam Complete
Socially Distanced Pet Care
Specialties
Dog first aid and/or CPR, Oral medicine administration, Injected medicine administration, Senior dog care, Special needs dog care, High energy dogs, Fast walker, Dogs who pull, Puppy care, Training experience, Obedience training, Behavioral training, Socialization training, Potty training, Puppy training
Hello my name is Jhaime Marie. I am bilingual, I love to go for walks and runs so what better way than to take a furry companion with me. i have been around animals all my life. I have 3 miniature pinscher, a doberman pinscher, and a long hair Chihuahua.
Background Checked
High Demand
Training Provider
Training Exam Complete
Specialties
Oral medicine administration, Injected medicine administration, Special needs dog care, High energy dogs, Fast walker, Dogs who pull, Puppy care, Obedience training, Potty training, Therapy training, Service training
About Dog Training in Lemon Grove, CA
Training Fun Fact #1:
Complete with dozens of miles of hiking trails, a vast lake perfect for fishing and boating, and endless wildlife watching opportunities, Mission Trails Regional Park is a must for your mutt. And it's just a short drive north of Lemon Grove! Obeying the leash laws is essential to keep your pup safe from rattlesnakes and other dangerous critters. Did you know you can even train your dog to stay away from rattlesnakes? You'll need to build on the "leave it" command. You can simulate a snake's rattle using your smartphone or a wooden toy snake. The goal is to teach your dog to move away from the rattle and return to you.
Training Fun Fact #2:
Why do dogs give you kisses? The answer seems pretty obvious — because they love you! But the root of this behavior lies in your dog's instincts. Mother dogs bathe their dogs and encourage them to potty by licking them. Sounds kind of gross, but licking is a primary form of communication for dogs. It signals everything from hunger and friendship to affection and pack status. Unfortunately, not all pet parents love the sloppy canine kisses. Train your dog not to lick you by turning away when they try to kiss your face. You can also offer an alternative greeting, like "give paw", so they can still show affection while respecting your boundaries.
Training Fun Fact #3:
Dogs like sleeping in bed with their humans because our beds are comfy. But co-sleeping with a canine isn't always ideal for hounds or humans. For starters, big breeds might take up more space in the bed than you do! Some dogs also snore, while some pup parents might also toss and turn. When training your dog to not sleep in your bed, be sure to give them a cozy space of their own. At the same time, you should make your bed less appealing by restricting your dog's access to it.
Average Cost of Dog Training in Lemon Grove, CA
Most Lemon Grovedog training facilities offer both in-home training and private training lessons on-site. You can expect to pay a minimum hourly rate of $100. Additional deposits or consultation fees may apply.
Puppy training and obedience classes add an extra element of socialization, which your dog needs to learn good manners. This training option costs $130 for a 6-week course on average. Most classes are divided into beginner, intermediate, and advanced levels, which equals a total investment of roughly $400 and 4 months. Considering sending Buddy off to boarding school? Board-and-train programs could set you back anywhere from $2,000 to $3,000 on average for a 4- to 6-week program.
Boarding and training might teach your dog how to behave, but they don't actively involve you, the pet parent, in your dog's training. (And your participation in your dog's training is essential!) Group classes might also not provide the one-on-one attention your dog needs to learn the rules of the roost. Looking for an affordable alternative? Afraid you'll miss a class due to your hectic work schedule? Worry no more — Lemon Grove dog trainers on the Wag! app can cater to your pup's training needs. 
Here's how it works: download the app, sign up for an account, and enter some basic information. Once you're all set up, enter the time and date of your session to access a list of dog trainers near you. Check out their reviews and specializations to find the perfect match for Princess!

Message your trainer to create a fully customized training plan and pay securely in-app. With rates of $57 to $63 per hour on average, you'll even have some cash to spare for new treats and toys. Alternatively, book a digital dog training session with Wag!, which lasts for 30 minutes and ranges from $27 to $33 on average. You'll receive a final price when you select your Pet Caregiver.

Going Off-Leash in Lemon Grove, CA
Off-leash playtime is a terrific way to make new friends and let Lassie feel the wind in their fur. It's also an excellent test of their obedience training and socialization skills. You won't need to travel out of town to find off-leash areas where your woofer can go dog wild. The standard rules apply: clean up after your dog, supervise them at all times, and ensure they're on their best behavior.
Berry Street Dog Park is a popular spot for the local hounds and their humans. With separate zones for small and large breeds, plenty of toys and grass, and even agility equipment, this off-leash area has everything you need for a fun day out. Even water and a pooper scooper are provided.
Ready to meet some new four-legged friends? Make sure Spot's socialization skills are up to par! Link up with a Lemon Grove dog trainer today, and you'll be rolling and romping at Berry Street Dog Park in no time.
Dog Training in Lemon Grove, CA
Puppy training, obedience fundamentals, beginner agility — no matter what you want to work on, Lemon Grove dog trainers with Wag! have the knowledge and experience you need. Browse the list of top-rated trainers on the platform and connect with them through in-app messaging to discuss your dog's training needs. From there, you can work together to create a bespoke training plan that suits your schedule.
While Lemon Grove dog training professionals have extensive experience working with a variety of breeds, the Boxer is a firm favorite with Lemon Grove's pet parents. Just as energetic as they are muscular, Boxers are highly intelligent and need a consistent approach to training. Try different games and activities for Boxers to keep their brawny bodies and sharp minds stimulated. Need a helping hand to potty train your Boxer or teach them to come when called? Find a dog trainer near you and get to work!
A stark contrast to the Boxer is the Pembroke Welsh Corgi, a top contender on the list of most popular dog breeds in Lemon Grove. Another highly intelligent breed, Pembroke Welsh Corgis are a treat to train. But they can be wary of strangers, so socialization training is essential.
Whether you're the proud parent of an athletic purebreed or a lazy hybrid, training is an integral part of raising a happy, healthy, well-mannered dog. When it comes to dog training, you don't have to go it alone, and it doesn't have to break the bank. Find a dog trainer near you on the Wag! app today and enjoy full control over your dog's training regimen. (For a fraction of the cost of other Lemon Grove dog training facilities.)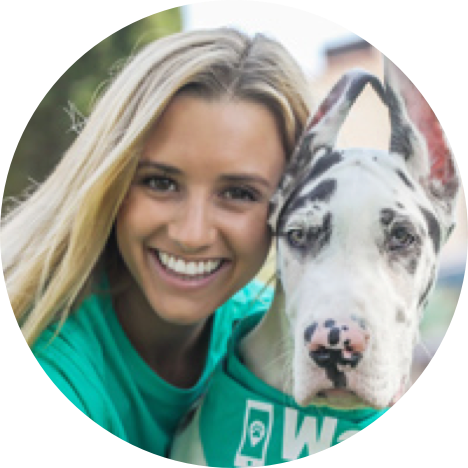 Get the app