Ear Hematoma in Dogs
Written By hannah hollinger
Published: 09/30/2015
Updated: 09/09/2021
Veterinary reviewed by Dr. Linda Simon, MVB MRCVS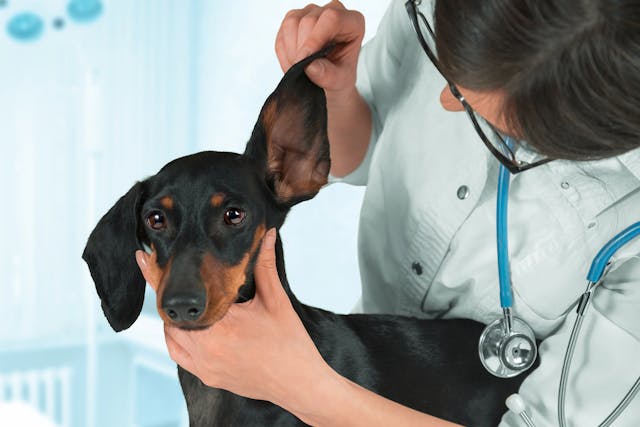 What is Ear Hematoma?
A hematoma is defined as swelling created by a broken blood vessel after bleeding has occurred inside a tissue. Auricular or ear hematomas are fluid-filled swellings of various sizes that develop on the concave surface of ear of dogs, cats, and pigs. The condition is far more common in dogs than cats. The pathogenesis for the development of the lesions is not completely understood, but head shaking or ear scratching due to itching is thought to be the main cause. In dogs, the condition is frequently related to the presence of otitis externa (inflammation or infection of the external auditory canal, the auricle, or both). Treatment of ear hematomas usually requires a surgical intervention and medication to treat otitis externa. 
Ear hematoma's are fluid-filled pockets on the inside of the earflap. When something causes vessels to rupture, they bleed under the skin and form a fluid-filled pocket. Ear hematomas are commonly seen in floppy-eared dogs, but they can occur in any breed. A problem with a dogs ear is usually quite visible and a quick check-in with a veterinarian can confirm presence of a hematoma.
Ear Hematoma Average Cost
From 109 quotes ranging from $300 - $2,500
Get a free pet insurance quote in less than 60 seconds!
Easily compare quotes from the most trusted pet insurance companies in the United States.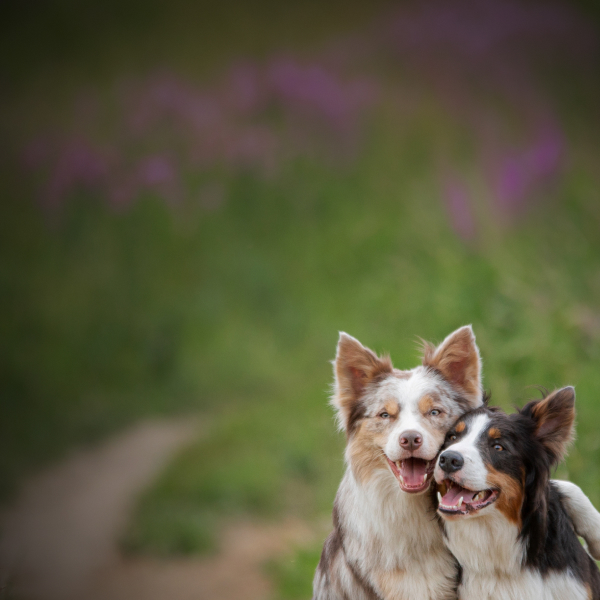 Symptoms of Ear Hematoma in Dogs
Dogs with this condition will present with a soft fluid-filled swelling in one or the two ears. The earflap will feel fluctuant, like a water balloon because it may be partially or completely swell with blood. The swelling will vary in size, in some cases it may be so large that the opening of the ear canal is blocked. The extra weight of the earflap may be uncomfortable for the animal and it may lead to a permanent change in the shape of the ears. Most animals will show signs of pruritus (itching) like head shaking and ear scratching.
Causes of Ear Hematoma in Dogs
Otitis externa and trauma - It is thought that the presence of otitis externa leads to head shaking, which in turn, can lead to trauma. Head shaking can cause separation of the skin of the external ear cartilage, leading to vessel rupture and hematoma formation. However, hematomas may be found in cases where there is no obvious ear disease or trauma and be absent in cases of extreme otitis externa or pruritus, for example, in cases of Sarcoptes infestation.
Autoimmunity - In 1986 Kuwahara proposed that the development of aural hematoma formation was due to an immune mediated process, based on the results of testing 40 affected dogs. However, there has been contradictory evidence for this theory.
Diagnosis of Ear Hematoma in Dogs
Diagnosis of ear hematoma is based on the presence of unilateral or bilateral soft ear swelling that is filled with blood or bloody fluid. The veterinarian will collect a sample of the fluid inside of the swelling using fine needle aspiration in order to make the diagnosis. In addition, it is important to diagnose what is causing the condition. Otitis externa can be diagnosed if there is bad odor on the ears, excessive secretion, and/or inflammation. A bacterial culture and other laboratory analysis may be needed to determine what is causing the otitis and to choose the best treatment option available. The canal must be visually examined with an otoscope.
Treatment of Ear Hematoma in Dogs
Any underlying ear infection needs to be addressed.
Mild heamatomas may be drained with a needle in the conscious pet but re-filling is relatively common. Injecting the area with steroids may prevent re-filling.
Ear hematomas usually require surgical treatment. The surgery requires general anesthesia and consists of making an incision in the affected ear in order to drain all the fluid that has been accumulated between the skin and the auricular cartilage. Several sutures (the amount will vary depending on the size of the hematoma) are placed parallel to the line of incision to minimize the chance of damaging the ear blood vessels and to promote adhesion of the skin to the ear cartilage. The incision will remain open to allow drainage of the ear. Some veterinarians will place a pressure wrap for seven days on the ear to promote further drainage and prevent re-accumulation of fluid in the ear. Pressure wraps following surgery is not usually required in cats, and is not often tolerated. Sutures will be removed 14-21 days after the surgery. The veterinarian will prescribe pain medication, antibiotics and other medication required to treat otitis externa, if present.
This procedure is relatively safe and animals have a good prognosis, however, there are some risks associated to general anesthesia as with any other surgery. Early diagnosis and intervention ensures a good outcome so it is essential to contact the veterinarian as soon as you observe signs of ear hematoma.
Worried about the cost of treating your pet's symptoms?
Pet Insurance covers the cost of many common pet health conditions. Prepare for the unexpected by getting a quote from top pet insurance providers.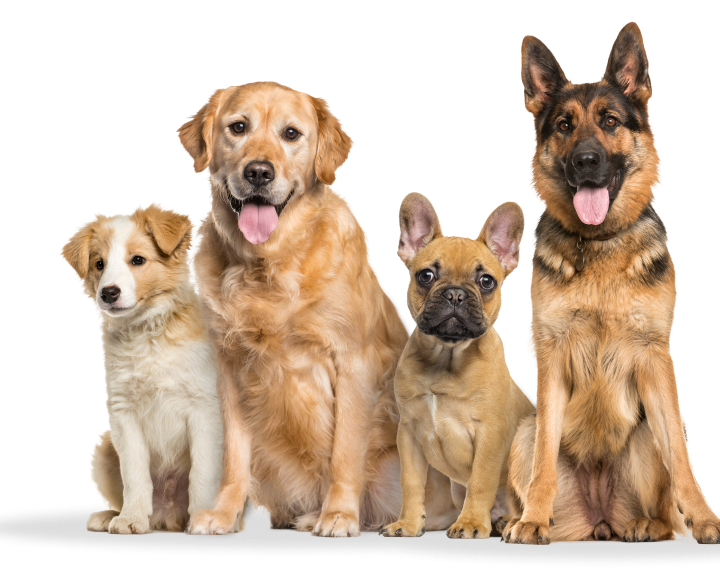 Recovery of Ear Hematoma in Dogs
After the surgery the veterinarian will give you indications about the postoperative care and monitoring. Some of the recommendations may include:
The ear canal should be cleaned, dried and treated with an appropriate medication at the end of the procedure.
Clean the incision and massage out any small pockets of fluid that accumulate postoperatively.
Using an Elizabethan collar until the sutures are removed and the hematoma and otitis externa are resolved.
Adequate treatment and consistent follow-up of otitis externa, if present.
The prognosis for resolution of aural hematomas is good, but recurrence is more likely if underlying otitis externa is not treated and controlled. Once a hematoma has occurred in one ear, the other ear should be closely examined for otitis. Adequate treatment of otitis externa and close monitoring is essential to prevent pruritus and head shaking, which may lead to recurrent ear hematoma development.
Ear Hematoma Average Cost
From 109 quotes ranging from $300 - $2,500
Top
Ear Hematoma Questions and Advice from Veterinary Professionals
German Shepherd
Tugg
5 Years
0 found this helpful
0 found this helpful
My pet has the following symptoms:
We live in Costa Rica and are concerned that the care we received for our dog might be archaic. This article was very helpful. We are concerned because no pain medication was prescribed. Also, she sleeps on the opposite side of the ear that had surgery, will fluid drain into that ear and cause further infection? Would putting a cottonball in her esr when she sleeps be a good idea? And last, we live in a very tropical environment, our house is very open, no a/c. We arw concerned about bacteria and further infection, how do we prevent that.
---
Answered by Dr. Michele K. DVM
If Tugg had surgery for a hematoma, she should be on pain medications, oral antibiotics, and a topical antibiotic if needed. Without seeing her or her surgery site, I'm not sure that I can comment on her individual situation, but those things are basic standards of care for surgery, typically. I hope that all goes well for her!
May 17, 2018
It's like the stoneage here, they don't give pain medication for animals and looked at me like I am crazy for asking. They did prescribe an antibiotic and a topical antibiotic (i think... it's a spray that is silver). They also didn't give me detailed instructions pn how to clean the wound, only said clean it twice a day. It's so frustrating.
Was this question and answer helpful?
Cocker Spaniel
Dexter
10 Years
1 found this helpful
1 found this helpful
My pet has the following symptoms:
My cocker spaniel got a hematoma and had surgery 10 days ago. His ear is draining and I am cleaning the surrounding areas daily due to the draining. My concern is that the base of his ear is still swollen. Is that normal? I go no post op care except to flush it, if necessary. I read above massaging the pockets may be good. I never did that.
Normally I don't like massaging of the ear since it may cause the bleeding to start again; you should have been given instructions from your Veterinarian on discharge from the clinic, you should call them for clarification as Dexter is under their duty of care. Continue to keep the area clean and any remaining blood should be absorbed by the body with time. Regards Dr Callum Turner DVM
May 2, 2018
Was this question and answer helpful?
Ear Hematoma Average Cost
From 109 quotes ranging from $300 - $2,500
Get a free pet insurance quote in less than 60 seconds!
Easily compare quotes from the most trusted pet insurance companies in the United States.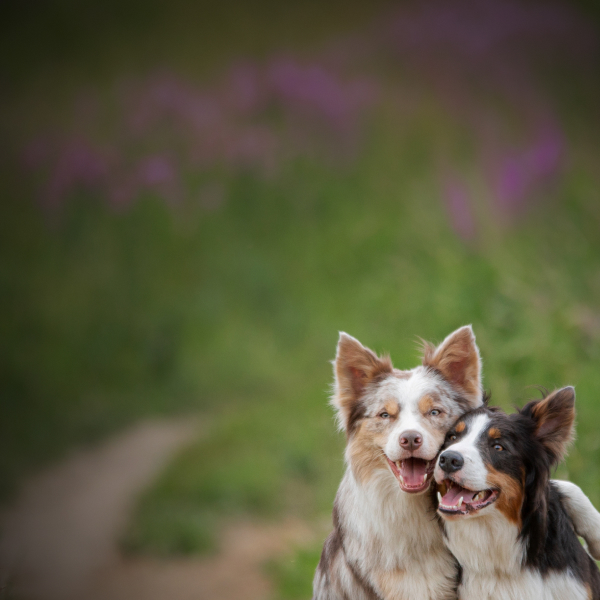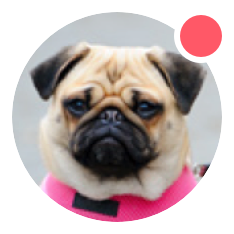 Need pet insurance?