Best Halloween Costumes for Dogs 2023
Best Halloween Costumes for Dogs 2023
By Emily Bayne
Published: 10/11/2023, edited: 10/25/2023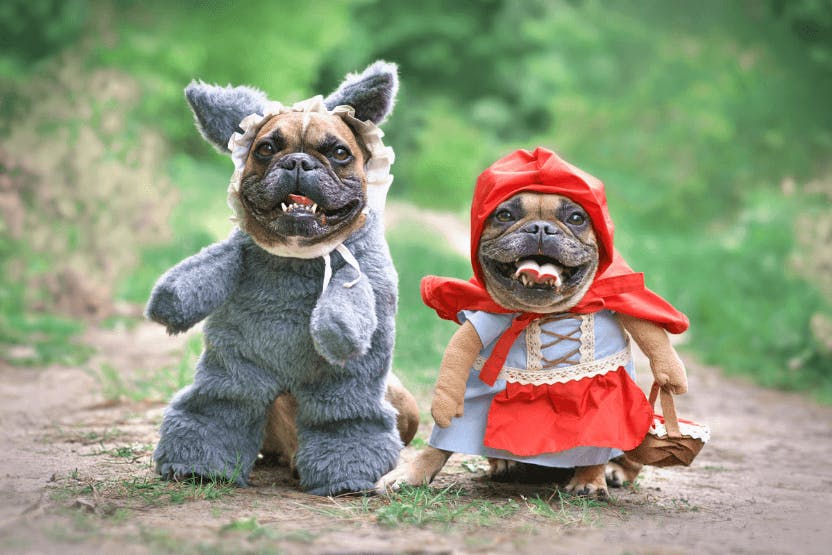 The Wag! team conducts independent research and consults pet experts to curate our recommendations. This content is supported by our affiliate pet partners and we may receive a commission on the links provided.
Calling all creepy canines, spooky season is upon us! That means breaking out your best bowties and most colorful duds for some costumed fun. But picking perfect dog Halloween costumes can be tough when nothing feels original anymore. 
Not to mention, shopping is challenging enough! With online shopping, it's difficult to assess the costume quality, fit and safety when you can't see the garment. In-store shopping isn't much better, since the product options are much more limited than online. 
Luckily, we've done the digging for you. We have scoured the internet to find the most original, cutest, and highest-reviewed dog costumes on the web.
Whether you're looking for creepy, kooky, or just plain cute, we have found some of the best dog Halloween costumes on the market to give you some spooky inspo!
Overview
French artist costume
If your pup is drawn to the finer art in life, a Pawcasso-esque costume might be just their style! 
This Front Walking French Artist costume by Frisco will set the bar high at the costume contest with a pallet, paintbrush, and even a little beret! 
This chewy-exclusive comes in sizes extra small to 3X but currently isn't available in all sizes.
Don't hesitate to grab it — this one is Van Goghing quick!
French Artist Costume
Why Wag! loves this costume
An inclusive size range means this will work for pets both big and small
Since it is a front-walking pet costume, it allows for better range of motion and is easier to put on those wiggly guys and ghouls
A great option for wider dogs who struggle to find the right size in full-length costumes
Pet parents say the accessories stay put (which, if you're accustomed to dressing up dogs, then you know accessories can be a challenge!)
Concerns & Considerations
Some pet parents advise ordering a size up since this costume tends to run small
Several reviewers stated they had to trim the leg length for a better fit due to its unique construction
It seems Chewy is sold out of several sizes and may not be restocked.
What pet parents say about this costume
"I always knew my cat, Lexie, was creative. But as soon as I put her into the French Artist costume, I could see her artistic flair come to life. She is ready to paint portraits and landscapes, so long as you bring the crunchy and licky cat treats. Absolutely adorable costume, Chewy!"
"For reference, I have a 27.5" standard poodle (measured from the shoulders/withers), and I bought an XX-L. This costume is super comfortable. I was looking for one that wouldn't aggravate my boy too much because he's pretty particular about costumes. It's literally a collar around his neck and a fairly loose elastic strap around each leg. It's the equivalent of him wearing an apron. I was impressed with the headpiece. The design is made to go around each [ear with an] adjustable strap around the head, but mine won't be wearing one because he hates headpieces, and he's black [like the headpiece], so it doesn't really stand out anyway."
Read more reviews on Chewy.
Alien costume
This alien costume by Frisco is an out-of-this-world ensemble that will send the competition flying with its reflective UFO skirt and detailed alien face headpiece.
A front walking costume that is easy to slip on and off, it essentially wraps around your dog like an apron, which makes it a great starting point for dogs who aren't exactly over the moon about clothes. This costume is available in sizes small to XXL to fit all sizes of fluffy trick-or-treaters.
Alien Costume
Why Wag! loves this costume
If you can't tell, we are big fans of Frisco front walking costumes because of their consistently durable construction
Since it is a front-walking costume, it won't interfere with potty breaks
We also like that the headpiece is separate since some dogs are not tolerant of things near their faces
Concerns & Considerations
The design of this costume can interfere with running movements but should not inhibit walking or other body functions.
Some pet parents complained that the eyes on the headpiece tend to droop (this was a deal breaker for some, but others didn't mind as much)
What pet parents say about this costume
"Bought this for our Shepard mix puppy. She is 9 moths and wearing an XL. Daisy liked the costume. Obviously from the pictures she is comfortable as an Alien. [We] can't wait for Halloween."
"Great! Fits true to the size chart and easy to put on. My only issue was the eyes on the hat dont stay up but who cares?"
Read more reviews on Chewy.
R2D2 and Jawas costume
Calling all Star Wars fans, we've found the droid you've been searching for! 
The R2D2 and Jawas costume is part of the official Star Wars licensed merchandise collection and is one of the most detailed costumes we've seen. This costume depicts a group of tiny Jawas hauling off an R2D2 for scrap. 
We love the new spin on the classic R2D2 costume, and its durable construction means it's built for light years to come. It is available in sizes from x-small to large.

Whether you're journeying to a galaxy far, far away, or to your neighbor's Halloween bash, the force will be in your favor with this costume!
R2D2 Costume
Why Wag loves this costume
It's versatile and would work for Halloween, ComicCon, themed parties, and much more.
Suitable for both cats and doggos
Lightweight for better range of motion
Concerns and considerations
This costume must be washed by hand and air-dried
Since it's a full-body costume, it may not be a great first choice for dogs that dislike clothes
Unfortunately, this costume is only available in limited sizes, so bigger pups need to look elsewhere
What pet parents say about this costume
"It fits perfect on my frenchie, and she's very comfortable in it as well! Will definitely use this for costumes for years to come as it seems very durable."
"This was so cute on my dog! It did not look uncomfortable, was very light and she was able to run around without it bothering her. Ordered a medium and she is 27 lbs."
Read more reviews on Chewy.
Astronaut
Your doggynaut will be the trendiest trick-or-treater on the block with this front walking costume equipped with a helmet headpiece, patches, and LED lights (to help with visibility in space.) This suit is great for tiny and large space travelers alike since it comes in sizes from small to 2XL.

Whether you're trying to win the space race or the local costume contest, this costume will soar past the competition!
Astronaut Costume
Why Wag loves this costume
The built-in LED lights are not only cool but can help make your pup more visible in the dark
The velour interior lining means your pup will be as cozy as they are cute in this spacesuit!
This costume attaches with a velcro strap around the neck and elastic straps around the ankles for added security.
Concerns and considerations
As with any costume, it's not advised to leave this costume on your dog for extended periods or when you aren't there to supervise them
Front walking costumes can be a bit tricky to size, so make sure to refer to the size chart and break out the measuring tape before ordering
It is unclear if button batteries power the LED lights in this costume, so be extra careful that your dog doesn't have the opportunity to chew up their suit since button batteries are extremely dangerous if ingested.
What pet parents say about this costume
"This costume is absolutely adorable. My pup is very tiny, so the small fits perfect. I love that it velcros around the neck, so it's super easy to put on him. The helmet is a seperate piece, also easy to put on. The chest has a button to press that light up [red] and blue. It's a cute touch to this already adorable costume. I definitely would recommend this. The material is soft, and my pup doesn't seem to mind it at all!!"
"This costume is so freaking adorable! My dog fit perfectly in this costume and it's so cute on him! everyone had a good laugh when they saw my dog in it. It will be perfect for Halloween season!! i can't wait!"
Read more reviews on Chewy.
Cow
Highland cows are all the rage right now, so why not let your dog live out their pasture dreams in this adorable cow costume from Frisco? 
Your spotted Samoyed will be the talk of the town with this full-length costume, complete with detachable horns and utters. Needless to say, your pup's pics in this will be utter-ly priceless — and since it comes in sizes small to 2XL, it's a terrific option for multipet families. (Just think — you can have your own herd!)
Mooove over Barbie — this is bound to be the pet costume of the year!
Cow Costume
Why Wag loves this costume
Detachable accessories mean you can customize this costume to fit your pet's preferences and needs
It attaches with two velcro straps, making it great for those squirmy schnauzers
Features an opening at the base of the neck so you can leash up with ease
Concerns and considerations
Some reviewers complain that the utters don't hang quite as they are designed to
A few pet parents remarked that they think the size chart is off and that this costume runs on the smaller side
What pet parents say about this costume
"This velcro is industrial-grade good stuff. Ivy is 120 lbs and this XXL (biggest size in stock) was able to fit. Easy to put on/take off. The little udders can be taken off or on which is nice to have a choice. And how obviously cute for taking some Halloween pictures!"
"Adorable.. love this cow costume. I bought the xxl for my 75lb lab mix, and it fits perfectly. I did have to get a little creative [for] the ears to stand up. I hot glued some pipe cleaners on the back, so I could bend the ears and get them to stand up, and I had to stuff a pair of socks inside to give it a fuller look. Really cute, definitely recommend."
Read more reviews on Chewy.
Skunk
People can argue the smelly card all they want, but there is no denying that skunks are paws-atively adorable. And with this costume, you can turn your puppy into your own personal Peppe Le Pew! (Fragrance sold separately.)
We like this costume because it's cozy, functional, and pretty darn convincing (especially on pets with black fur!) Seriously, go look at the pictures of dogs in the reviews if you don't believe us! 
This costume is complete with faux fur, a raised tail, and even a striped hood. It comes in sizes small through 2XL (unfortunately, the 2X is sold out) to accommodate pseudo skunks of all shapes and sizes.
We think Chewy said it best, "bring the stripe with none of the stink on Halloween with this plush skunk costume."
Skunk Costume
Why Wag loves this costume
Chest and belly straps make this costume easy to put on and adjustable for the pawfect fit!
The thick fur exterior will keep your pup nice and toasty on those cool fall nights
Extra-large hood will fit dogs of any size
Concerns and considerations
Unfortunately, some sizes may be currently sold out and, according to the Chewy website, likely will not be restocked since it is a seasonal item.
The care instructions state to spot clean only
What pet parents say about this costume
"We have a black yorkie and this skunk costume is hilarious. He seriously looks like a skunk walking around. We cannot wait to take him out for Halloween. It is comfortable enough for him to relax in and it fits snug enough that it stays put. Great costume."
"I love dressing my pets all of the time, but I could not pass up the is adorable skunk costume. It is soft material that doesn't irritate my dogs skin, and he loves to wear clothes and costumes. He is spoiled rotten, so I though the skunk would be a perfect representation of his attitude and looking oh so cute while wearing it. He is medium dog with small torso, but it seems to have fit just a little too snug in areas. The hood fit perfectly, and he didn't seem to mind having it on. It is soft material, and the velcro is strong enough to keep the costume in place and allow for adjustments. I just think it looks perfect on my little "Rider" boy. He seems happy with it! (see photo"
Read more reviews on Chewy.
Firefighter
This adorable firefighter costume by Pet Krewe is too pawfect to leave off this list.
We're sure this costume would be super cute on a Dalmatian, which are traditionally used as fire dogs! Historically, Dalmations were kept at fire departments due to their ability to sniff out blazes and calm the horses that pulled firefighting carts before firetrucks were invented.
The outfit features a firefighter helmet and slicker-style jacket with the firefighter emblem emblazoned on the back and comes in sizes small through XL. 
We have a feeling this costume is going to be hot this year!
Firefighter Costume
Why Wag loves this costume
The helmet has an adjustable chin strap to make sure it stays put through your pet's spooky adventures
Water-resistant material makes this a handy choice for those drizzly nights
The brightly-colored reflective cape will make your pet more visible when going door-to-door
Concerns and considerations
Unfortunately, there are only a couple of reviews for this costume
This costume has a limited size range, so it might not fit all doggies
What pet parents say about this costume
"I was looking for just this outfit as my young great nephew thought our new rescue dog must be fire and rescue. It was well made, and the small fit perfectly."
Read more reviews on Chewy.
---
All product images sourced from the Chewy website. 
FAQ
How much are dog costumes?
What are some tips for choosing dog costumes?