How to Train Your Dog to Not Eat Clothes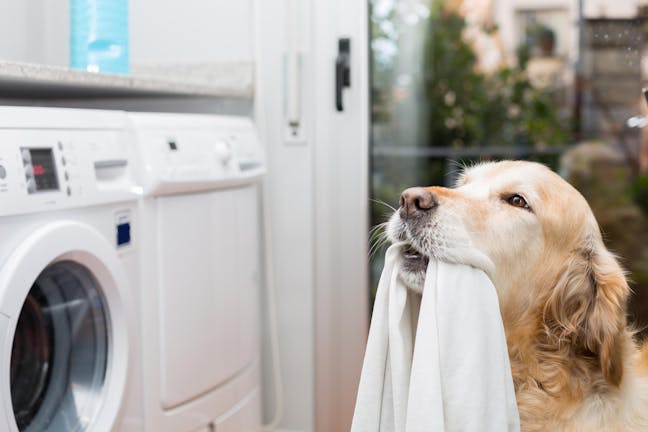 Introduction
You've heard the expression "eating you out of house and home". What if your dog is eating you out of socks and underwear? Although having your dog chew on your clothes or leather shoes is not uncommon, what does it mean, and what do you do, when your dog is actually eating your clothes? 
Odd as it sounds, some dogs actually eat their owner's clothing items. Ingesting your clothing may be a natural progression from chewing on and playing with your clothing to accidentally or purposely swallowing these items to avoid having them taken away. Usually, this strange, and dangerous, habit starts because your dog has decided he likes the taste of your socks or underwear--they smell like you, or may have salt or other fluids on them that your dog likes the taste of (yuck!).  It is also possible, although rare, that your dog might be suffering from a nutritional deficiency, parasites, or a digestive disorder that has started his clothes eating habit. Sometimes dogs that are bored or anxious may develop a compulsive disorder known as pica, where they start eating non food items. If a medical condition, compulsion, or severe anxiety disorder is thought to play a factor you should take your dog to the veterinarian and explain the issue. Medical conditions should be ruled out and medications to curb compulsive disorder and anxiety may be appropriate in some cases.
Top
Defining Tasks
Besides being expensive and greatly increasing your sock and underwear budget, ingested articles of clothing can cause blockages that can result in serious illness and even death in your dog if not addressed. If a serious digestive system blockage occurs, your dog may require emergency surgery to remove the blockage. Because of the imminent danger to your dog, you and your family members need to take precautions if you have a clothing-eating dog, to ensure that the dog does not have access to items of clothing he could ingest. Dirty clothes should be kept in a closed laundry hamper, or put in a laundry room with a closed door. However, you cannot always control the environment and remove access to these hazards from your dog all the time, so training your dog to stop eating your clothes will be necessary to stop this dangerous habit.
Top
Getting Started
Prior to training, you will need treats for teaching your dog to 'leave it', and chew toys to replace clothes-eating behavior. You will need to supervise your dog and not allow access to clothes during the training period to make sure that commands are given when appropriate, and that your dog does not get to play with, chew, or ingest clothing items during training, which will only reinforce the clothes-eating behavior.  Several methods that can be used individually or in conjunction are available to curb clothes eating behavior.
Top
Hold treat in closed hand
Hold a treat in your closed hand and hold it out towards your dog. When your dog sniffs your hand, firmly and calmly say "leave it".
Command 'leave it'
Wait until the dog stops investigating and trying to reach the treat. Say "yes" and offer the treat. Occasionally hold the treat out in a closed fist, let your dog investigate and give her the treat without saying "leave it", to establish it is only when you say "leave it" that your dog needs to retreat from the item.
Leave treat on floor
Start putting treats on the floor and giving the 'eave it', command. Use relatively plain treats. When your dog obeys the 'leave it' command, reward her with a much better treat, like a piece of hot dog or chicken.
Repeat and reinforce
Conduct the exercise in various places around the house or outside. Leave "bait" in strategic places and when your dog discovers them, give the 'leave it' command. When she leaves the discovered treat alone, reward with a better treat, then gradually replace treats with praise and attention.
Apply to clothing items
Use the 'leave it' command when your dog approaches an item of clothing strategically left out for her. Having established the 'leave it' command, your dog should leave the clothing item. Be sure to reward her for complying. Repeat this with several clothing items over a period of several weeks until your dog learns to leave clothing items alone.
The Claim Your Clothes Method
Watch and wait
Leave a piece of clothing out where your dog can find it. Supervise closely.
Block
When your dog approaches the piece of clothing, block him by inserting your body between the clothing and your dog. Give a 'leave it' command or a firm "No".
Push away
Tap your dog on the side or push him away with your body to exert leadership and claim your clothing item.
Provide alternative
When your dog backs away from the clothing, praise him and give him an alternate chew item or a treat. Encourage and praise him for leaving the clothes and chewing the appropriate item.
Establish
Repeat this process multiple times over several weeks. Maintain separation of your dog and clothing when unsupervised.
The Establish Alternative Method
Provide appropriate toys
From as early an age as possible, develop a toy habit with your dog by providing lots of attractive toys and chew toys. Do not use household items or clothes, like shoes or old slippers, or anything resembling personal or household items.
Make toys interactive
Fill hollow, rubber toys with food at mealtime or use puzzle feeders to encourage appropriate investigating activity.
Reinforce appropriate toys
Provide rawhide bones and incorporate them into play. Pet and pay attention to your dog while he chews on his appropriate toy to encourage chew toy behavior.
Encourage activity
Provide other toys, such as balls, to keep your dog active and entertained, so he will not become bored and be tempted to transfer his attention to clothing or other inappropriate household items to entertain himself. Play with and exercise your dog extensively and use appropriate chew items as part of play and exercise to reinforce what your dog is allowed to chew on.
Prevent clothing access
If your dog is eating clothing. keep him away from clothing during the reorienting process. Keep clothing put away in locked rooms, drawers, closets, or hampers until a new chewing habit is established.
By Laurie Haggart
Published: 11/13/2017, edited: 01/08/2021
---