How to Train Your Abused Dog to Trust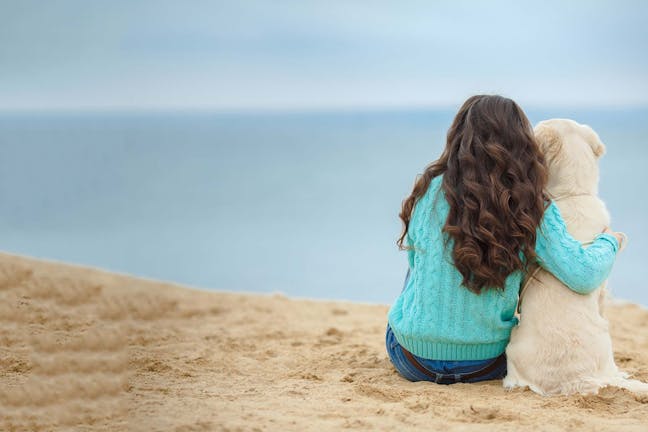 Introduction
So you've decided that your house is missing the warmth of a canine companion. In efforts to do the right thing, you make a trip to your local shelter to see what pooches are in need of a home. As you're looking, you see the saddest pair of eyes you've ever seen staring out back at you. You know in your heart that you've found your fur-baby, but you still get a little twinge of anxiety when the worker tells you that this dog has been abused.
Top
Defining Tasks
It takes a huge heart and plenty of patience to adopt a pet who is a victim of abuse. Those who have been able to take on the task can vouch that there are few things more rewarding than bringing the joy back into a dog's life. So rest assured, your efforts will not be in vain to gain the trust of one of these shattered souls.
Because every dog and every situation is different, the time it takes to win over an abused pup is really all over the map. Some victims bounce back surprisingly fast, while others never fully recover from their past experiences.
Unfortunately, abuse happens to dogs of all ages. Older pooches have a lower chance of being adopted, so more rehabilitation happens in young to middle-aged dogs. That being said, young dogs generally have a longer road to recovery than canines who were abused at older ages.
Top
Getting Started
Before you bring one of these babies home, you're going to want to be prepared. Your success will depend on how comfortable you can make your new family member, so keep that in mind. It's good to come into this relationship with the following:
A Calm Temperament: Dogs feed off of their owner's emotions. If you are uptight and nervous, any interaction with an abused fur-buddy will be tense. Calm yourself down before picking up your new pooch, and practice speaking in a low, quiet tone of voice.

Some Alone Time: Many, if not most, abused dogs will only become more distressed if there are multiple people or animals in their new home. Allow your new family member to have a quiet space where you both can slowly get to know one another.

Lots and Lots of Treats: Especially during those first few interactions, you're going to want to reward any contact the dog is willing to initiate.
Top-Quality Food: A lot of abused dogs have never been fed an appropriate diet. Many are even malnourished or super deficient in certain nutrients. Invest in a high-quality dog food or look into feeding your furry friend a balanced raw diet to combat any damage that has been done by a poor diet.
Realistic Expectations and Tons of Patience: It's best not to get your hopes up when working with an abused animal. Recovery looks different on every dog. But also do your best not to get discouraged either. As long as you are providing the pup its best possible life, your efforts are worth it.
Below are a few different methods you can use to build trust with an abused dog. You may need to try a few before you find what works the best in your situation.
Top
The Beat Their Fears Method
Identify stressors
Pinpoint what bothers your new pooch the most. Do your best not to induce extra stress figuring this out; it's best to identify their fears through observation.
Expose your dog
Come up with a way to expose the dog to their fear in a totally controlled manner. Allow the pup to face their fear in a small way. Do not force them into the situation or push them toward what is scaring them.
Encourage
Give the dog treats and or praise throughout the experience so that they associate good things with what once scared them.
Repeat
Repeat the exercise on a regular basis and consider increasing the amount of time that the dog is exposed to their fear if they begin to show improvement.
The Praise With Clicks Method

Study up
Learn the ins and outs of clicker training. Read articles and talk to experts to get comfortable with the technique.
Get equipped
Get yourself a "clicker" and some treats.
Observe and click
Watch your pet closely, and hit the clicker as soon as you witness a good behavior.
Reward!
Follow the click with a treat so that the dog knows that the clicker means "good job!"
Repeat
Keep doing this! Clicker training is great for abuse victims because it helps build good behaviors without using harsh corrections.
The Spend Time Alone Together Method
Choose a spot
Pick a quiet room away from any commotion in your home. De-clutter the space, but leave a dog blanket or bed, a dish of water, and a chair so that you have somewhere to sit.
Get together
Bring your new addition into the room with you and close the door. Sit in the seat and occupy yourself while the dog does his own thing.
Reward!
Every now and then, place a dog treat near where the pooch is playing.
Repeat
Repeat this daily until the dog is comfortable approaching you.
By Amy Caldwell
Published: 09/20/2017, edited: 01/08/2021
---