How to Train Your Dog to Not Play Aggressively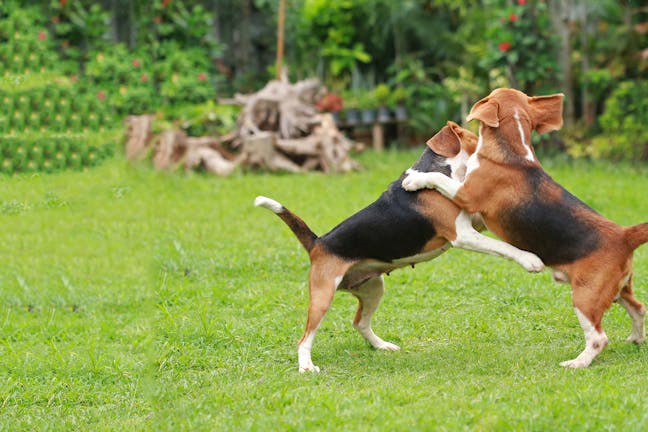 Introduction
You've just settled down to watch this week's episode of your favorite show, but your dog is demanding attention. He's had had his walk for the day, but still wants to play! Perhaps he's a puppy or just particularly energetic, but whatever it is, he won't take no for an answer. But their idea of playing can often lead to aggression, such as growling, nibbling and even full on biting. Everyone wants to be able to play with their dog, but a dog that displays aggressive behavior when playing could potentially be a risk not just to you, but children, strangers and other dogs too.
Training your dog to NOT play aggressively could save you from a world of future problems. Not to mention it means you can play with him without the risk of losing a finger. Thankfully, with patience and a proactive attitude, you can nip displays of playful but aggressive behavior in the bud relatively quickly.
Top
Defining Tasks
Training your dog not to be aggressive can be done through a variety of methods. You can try and encourage them to play with toys instead of your body, you can ensure they have a cool off period when they start to show signs of aggression, plus you can let them know when you are dissatisfied with their behavior.
The key to training aggressive behavior out of your dog is consistency. You need to keep up the training until all displays of aggression have gone. Combating aggressive play is seriously important, otherwise, their aggression could manifest itself outside of play and could lead to serious injury. It is not a straightforward and easy road to tackling aggression, but with persistence, in several weeks or months you could have a transformed dog. While training aggression out of puppies may be easier, even graying dogs can respond to this sort of training too.
Top
Getting Started
Before you begin tackling aggressive behavior, you'll need to get a few things together. It is firstly worth getting a toy for your dog that will be used instead of your hands and arms. You may also want to get some treats to reward your dog for playing gently. These could be actual dog treats, or their favorite food, be it cheese or some lean meat. The only other thing you need is patience and a proactive attitude.
You're now equipped with the knowledge and some tasty treats, it's time to get to work!
Top
The Toy Substitute Method

Begin playing with your dog gently
Try to keep play gentle, soft and strictly friendly. You don't want to get them too worked up, but if they do...
Introduce a toy into the mix
Encourage your dog to chew and play with the toy instead of your hands, arms and legs. Try to keep your hands away from his mouth and on the toy only.
Tug of war
Encourage the dog to pull the toy with its mouth while you pull at it too. But always let your dog win so they feel encouraged and want to play again in future.
Stop when a line is crossed
If your dog gets too aggressive and starts growling, barking or biting, then it's time for a cool down period. Leave or ignore your dog until he has calmed down.
Praise your dog for gentle play
If your dog has behaved well during play, be sure to praise him or give him a treat – he will then associate gentle play with rewards in the future.
The Distract & Discourage Method

Exercise, exercise, and more exercise
If he is well and truly tired out, your dog won't have the energy for aggressive play. If you can't walk him anymore than you already do, throw a ball for him regularly while walking to tire him out.
Teach tricks and obedience commands
Teaching your dog to 'sit', 'down', 'stay' and 'roll over', will all help you control your dog's behavior. It will help him respond to your commands promptly, making it much easier to stop aggressive behavior quickly when they start to exhibit signs of it in play.
Use positive reinforcements only
Never punish your dog when he is aggressive, it may work your dog up even more. Instead, focus on praising your dog with words or treats when he is gentle and well-behaved. This will encourage him to repeat that good behavior again.
Discourage aggressive attention-seeking
If your dog does get too excited and starts to growl or bite, move your arms behind your back, lean away, and look away to show him you will not engage with them if he is going to be aggressive.
Stay off the floor with an excitable puppy
Puppies can get overly excited very quickly if you're down at their level. Instead, stay above them, this will help them to see you are the pack leader and prevent them exhibiting signs of aggression.
The React to Behavior Method

React
Say 'NO' in a firm voice if your dog displays aggressive behavior and bites you. Also ensure you relay that you are unhappy by walking away and ignoring him until he has calmed down.
Use taste deterrents
Dogs that have a habit of biting when playing can be deterred with unpleasant tastes. These deterrents can be bought online and from pet shops and once your dog associates biting with a horrible taste, they should soon stop biting.
Keep your hand away from his mouth
If your dog has a habit of trying to bite when you playing, then stick to stroking their body and handling their toys only, don't play with their mouth or head. This will reduce biting and direct their attention to the toy instead.
Never play roughly
It sounds obvious, but if your dog has a habit of aggressive play, then don't allow him to get worked up by also roughhousing with them. Remain quiet and soft so he can't get overly excited and aggressive.
Don't be afraid to use a muzzle
If your dog consistently bites and you cannot stop him getting aggressive, then it might be time to consider a muzzle. This will prevent him biting, and when he plays gently you can remove the muzzle to signal to them they have behaved well and should continue to play in the same manner.
By Amy Caldwell
Published: 09/21/2017, edited: 01/08/2021
---