How to Train Your Dog to Lay Down from a Distance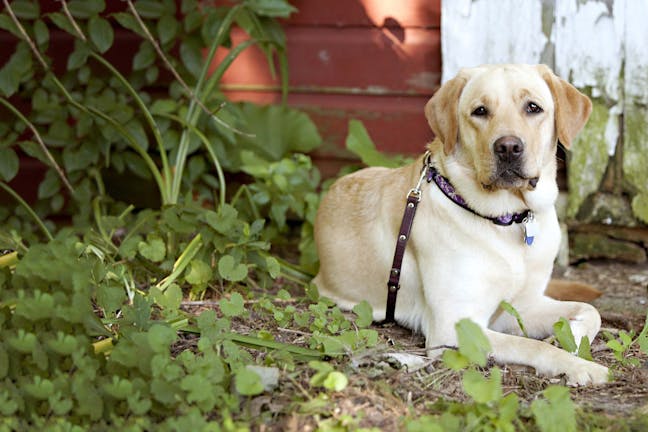 Introduction
Teaching your dog to lie down is considered to be one of the more challenging commands for him to master. But being able to stop your dog in his tracks and make him lay down may save his life. For example, what if he has run across the road into a neighbor's yard? If you call for him to "come" he now has to cross the road a second time, which puts him in danger of being hit by a car. But, if you can teach him to lie or sit down at a distance, you can keep him safe until you cross the road to retrieve him.  There are several ways you can teach your dog to sit or lie down from a distance, including voice commands and hand signals or a combination of both.
Top
Defining Tasks
The basic concept of this command is for your dog to learn to sit or lie down when he is some distance away from you. Done properly and by using hand signals such as a raised arm, you can train your dog to obey you even when he can't hear you; the actual command is no different than the one you would use if your dog was right in front of you.
Teaching your dog to sit or lay down when he is almost out of hearing range can be challenging and to be sure it is going to take some time to accomplish. Some experts say teaching your dog this behavior can take several months before you can count on him obeying your commands every time. However, with patience, you can teach any age dog "down from a distance".
Top
Getting Started
What supplies you are likely to need will in part be determined by the method of training you choose to follow. Bear in mind that this type of training requires your dog's full concentration, so choose a location where there is not likely to be anything to distract him. As with all forms of dog training, you need to use a firm commanding voice that lets your pup know you expect him to comply and that you expect him to do so immediately, not when he feels like it. The one supply you will need, no matter what method of training you choose, is a plentiful supply of your pup's favorite treats. You may also need a leash, an assistant, and distraction devices.
Top

Introduce command
Start by standing in front of your dog and giving him the combined commands (verbal and hand signals) to lay down. If he moves, have your assistant lightly restrain him. Reward him when he gets it right.
Repeat and retreat
Then repeat the process but wait until you have backed up a few paces before you give the commands. Each time he moves, stop and return him to the spot before backing up and giving the commands.
Increase distance
Once you are comfortable with how well he is following your commands at a short distance, begin to slowly increase the distance, giving a treat when he gets it right.
Go solo
Now remove the assistant, move back in closer, and repeat the process using a treat when he does a good job.
Increase distance
Once he starts to do as commanded from a long distance, you can still reward him by tossing him a treat from where you stand. Remember it will take time, plenty of patience, and lots of treats before your pup gets it right all the time.

Position your dog
Start by attaching a short leash to your dog's collar and then attach the other end to a gatepost, tree, or anything that will hold him back if he tries to come to you.
Introduce command
Command your dog to lay down with both voice and hand signals. Reward him if he does well.
Repeat and retreat
Repeat this process from a few feet away, being sure to use both voice commands and hand signals. Your dog will soon learn to associate both with "down". Repeat as necessary and reward your pup when he gets it right.
Increase distance
Back up a little farther and repeat the entire process, moving farther back each time as he does what is expected.
Remove leash
Now remove the leash and repeat the same process, rewarding him when he does well but never punish him for getting it wrong. Be prepared for this process to take quite a while. It can take months for your dog to master the concept and follow your commands every time.

Down
Start with using a treat and the commands you plan to use for "Down." He needs to see and hear both. Once he learns to do this reward him with a treat.
Duration
Now add a few seconds of duration between when he lies down and when you give him a treat. Continue this as you move farther away until he has to rely on your hand signal for the command.
Distractions
Finally, add distractions such as a bouncing ball or perhaps have another person attempt to distract him. Each time he performs as expected, be sure to reward him with plenty of verbal praise and treats.
By Amy Caldwell
Published: 09/20/2017, edited: 01/08/2021
---