How to Train Your Bird Dog to Stay Close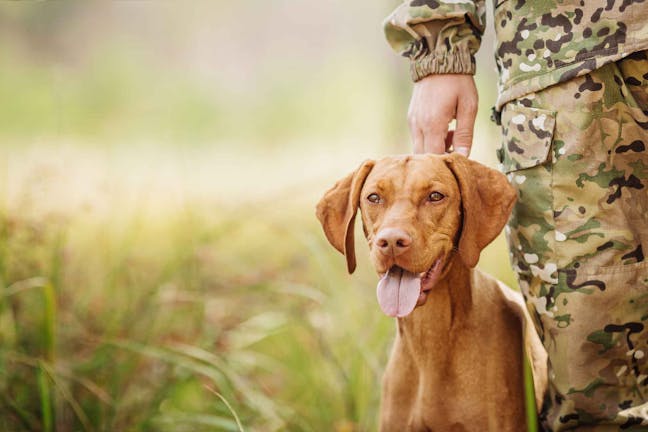 Introduction
Gun dogs, bred and trained to locate game birds, alert hunters to quarry location, and retrieve fallen game, are an important part of outdoor sport for many hunters and dog owners. Many dogs we have come to think of as companion animals or pets were originally bred to aid their owners in hunting. Retrievers, Spaniels, Setters, Pointers and even Poodles are hunting or sport dogs. They were originally bred to aid their owners in locating game birds, flushing them out, pointing to direct and alert their owners to the presence of a target, and/or retrieve harvested game birds, often from water or heavy brush. 
These dogs have unique talents bred into them, but in order to be effective, a bird dog, or gun dog, needs extensive training to instill obedience, patience, and harness their talents, in order to be useful hunting companions and tools. One of the most challenging things to teach a bird dog is not to range too far from their owner, but to stay close at hand as they search for quarry. A dog that goes too far may locate game, but by the time their owner locates them and the game, the game may have left the vicinity!  Or worse, the owner may not find the dog at all. Hunting dogs can become lost, tangled in fences or brush, have unfortunate encounters with other animals such as porcupine or skunks, or run afoul of predators. A gun dog that ranges too far is not effective at aiding their owner and could be in danger of injury or even death.
Top
Defining Tasks
Keeping a bird dog close at hand, where they can hear commands from their owners and be an effective hunting tool, is not only critical to the success of their task, aiding in taking game, but critical to the dog's safety. A successful bird dog stays close enough to its owner to hear and obey commands, and also cover a designated area or range to locate game. Usually, this entails your dog ranging in an area of about 50 to 200 yards from their owner, depending on the terrain.
Training a successful bird dog is a balancing act of teaching your dog to range far enough to locate game, and still stay in control and hearing range to obey commands and communicate with their owner. Making a useful bird dog is a process that occurs over a significant length of time and requires the development of a working relationship between owner and dog. Although training to develop a working relationship and obedience starts young as puppy,  a dog will not usually master this type of work until they are mature. A dog, especially a fast, athletic, high energy dog, has a natural inclination to run, and if excited they can run pretty far, pretty fast!
Teaching your dog to control this natural tendency and respond to your commands and focus on the task takes time and expertise. Hunters, trainers, and owners of bird dogs use several methods to help develop control off leash and teach their dogs to stay close.
Top
Getting Started
Many trainers start teaching sporting dogs to stay in range using long leads and treats. Whistles and other means of signaling, as well as voice commands, may be used to signal the dog to work a range. GPS collars that allow hunters to track their dogs, in case they become separated, are common with this type of activity to ensure the dog's safety and the owner's ability to locate them. 
Besides the above equipment and tools, a thorough understanding of the type of dog you have is necessary. Sport dogs have been specifically bred for generations to act and react in a certain way to game, and knowing what your dog's natural skills and limitations are as far as physical ability and attention span is important. A strong relationship and obedience to verbal commands are necessary before taking your bird dog out into an open area to work with game, as a dog that does not have sufficient control and attachment to their owner will not be responsive to commands in an outdoor environment full of distractions and excitement. Once you have the tools, understanding of your dog and basic training established, the following methods are used to teach bird dogs to stay close.
Top
The Motivate with a Bird Method
Plant bird
Use a pen-raised bird, whose location you are aware of, located in a specific area.
Stand near bird
Let your dog loose to hunt. Position yourself near the bird.
Call dog over
Give the signal to return to you and 'hunt close'.
Reinforce with locating bird
When the dog returns in response to your command, he finds the game bird, rewarding him for responding to your signal and hunting close.
Associate 'close' with quarry
Repeat frequently over a period of weeks until your dog learns that they can find quarry nearby in response to your signal not just by ranging far from you, and that a signal to 'hunt close' can result in successful location of game.
Find an area with cover
Start with a young dog or puppy that is unsure and dependent on his owners for reassurance. Take the puppy into a treed area or an area with lots of brush cover.
Allow dog to range ahead
Allow the young dog or puppy to roam ahead of you a little distance.
Hide
Hide behind a tree or brush, or take off in the opposite direction.
Reward for seeking you
When the puppy realizes he cannot see you, he will come looking for you. When he approaches, greet your puppy. Give your puppy lots of praise, treats, and affection to reward him for looking for you.
Play often
Repeat over many trips over a period of weeks to reinforce with your dog that he should constantly be checking to be aware of where you are.
Use a long lead
Put your dog on a very long lead, 25 feet in length, and head to an open area.
Allow to range, then correct
Allow the dog to run out, then tug the lead to bring him back.
Associate verbal command
As you pull your dog back to you, give a verbal signal or whistle that you will use to call your dog back to you in the future when they are "quartering" a range. That is, covering an area in search of game. Provide the dog with a treat, praise, and encouragement.
Change direction
Walk the opposite way, allowing the dog to run out ahead again.
Practice to establish ranging close
Give the signal again and tug the lead again, turn and go in another direction. Repeat until the dog learns that being signaled does not mean curbing their activity, but changing direction so that they continue to work in an area close at hand.
By Laurie Haggart
Published: 11/05/2017, edited: 01/08/2021
---