A Perfect Match: Choosing the Right Dog to Adopt
A Perfect Match: Choosing the Right Dog to Adopt

Save on pet insurance for your pet
You don't have to choose between your pet and your wallet when it comes to expensive vet visits. Prepare ahead of time for unexpected vet bills by finding the pawfect pet insurance.
Most shelters have facilities that can take care of a dog's basic needs, although they can be sad places for an energetic dog. This is one of the reasons why adopting a dog can sometimes feel like giving a poor creature a second chance. It can be a great feeling to provide a healthier, happier environment for man's best friend. So if you are looking to adopt a dog, you are on your way to having a delightful companion.


However, dogs (or any other pet) are not accessories or toys to play with when you're bored. They are living beings that need affection and acceptance as a family member. You're adopting a life, one that may be with you for several years. This is why it's imperative to put enough time and effort in the selection process. You can't just walk into a shelter and pick a dog as if you were shopping at the mall. Are you looking for a dog to jog with you in the morning? Do you prefer a dog who behaves well when left alone at home while you're at work? Do you have kids that love to cuddle with pets? These are only a few of the questions you need to ask yourself. Read on as we talk about the things to consider when choosing the right dog to adopt.
Know What You Want
To help you make an informed decision, start with evaluating yourself as a dog owner. Take some time to reflect on your lifestyle and how a new dog can fit into it. Some people enjoy staying indoors rather than outdoors. Some also prefer laying on the couch, cuddling instead of going on adventures. Identify your energy level to ensure you find a dog that can harmonize with your own. Simply put, if you're not an active person, you shouldn't adopt an active dog.


Also, think long and hard about what your ideal dog would be. Make a list of the three things you would like the most and also, the three things you would like the least. For instance, if you decide you hate slobber, then you should stay away from slobber-prone breeds.


Once you have evaluated your energy level and created those lists, look into dog breeds. Choose the ones you like, even if it's only based on their appearance. Some people prefer big dogs; others prefer curly hair, and so on.


Now it's time to research those breeds and compare the breed description and general disposition with your energy level and what you wrote on those lists. Breeds are not a specific identifier, but the general breed description will help you narrow down your search even further. Additionally, although dog breeds don't dictate their personality, having some knowledge about them will come in handy. Remember, a dog is a companion so considering how you go about your day-to-day life is very important when thinking about adopting one.

Once you're done, you'll have a better idea of what breed groups are suitable for you, and which aren't. For example, you might find out the companion dog group is your best match, while the guard dog group is the opposite. Therefore, you should look for a dog that falls within the companion group characteristics.
Pick a Good Shelter
Not all shelters are the same. They have different procedures in rescuing dogs as well as processes in giving them away for adoption. Open-intake facilities accept dogs from the public, either picked up by animal control or surrendered by their owners. On the other hand, limited-intake facilities are more selective in the animals they take in.


Observe how the staff takes care of the dogs in their shelter. At the very least, they should be able to tell you their observations of each dog's behavior. Kennel cards that are well-written is also a good sign. If you see rough handling and impatience in the staff, expect the dogs to be more stressed and temperamental.


Before walking up to the door of a dog's kennel, observe from a distance. Pay attention to the dog's change in behavior as soon as you walk towards the kennel. Stand sideways in a neutral position, then turn and make direct eye contact while maintaining a neutral expression. As you change your position, how does the dog react? Does it freeze in place, growl, and move away or does it come closer, and show a relaxed mouth? If it's the latter, you may have found a dog that is comfortable with you.


You should interact with more than one dog, even if you feel you may have found your match. Don't feel rushed or pressured. You might even consider doing a second visit, even if it's just a couple of hours later, and see if they react like they did the first time.
On your second visit, request the caretaker to spend some time with your prospective dogs individually, somewhere with fewer distractions. Most shelters have a separate room or a play area where you can take them out on a leash. This is another opportunity for you to observe the dog's behavior and find out if you're the right match.
Take it Slow… and Practical
You may have to walk away from several shelters without a new dog, but this is part of the process. Never rush your choice based on uninformed decisions or outside pressure. And avoid choosing a dog only because you feel sorry for the animal. It may sound harsh, but many dogs go through several painful experiences of being returned to the shelter after their new owners realize they were not a good match and the pity they felt for the dog faded away.


Be patient, and sooner you will bring a new friend to a home that she or he surely belongs to.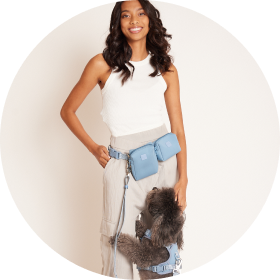 Need to upgrade your pet's leash?