Benefits of St. John's Wort for Your Dog
Benefits of St. John's Wort for Your Dog

By Darlene Stott
Published: 06/26/2017, edited: 09/21/2021
Save on pet insurance for your pet
You don't have to choose between your pet and your wallet when it comes to expensive vet visits. Prepare ahead of time for unexpected vet bills by finding the pawfect pet insurance.
Updated: 9/21/2021
St. John's Wort is best known for its anti-depressive qualities, not only in dogs but in humans, too. The herbal supplement has a whole array of other beneficial properties as well. Along with the benefits come certain risks, however. It is important to consult the veterinarian before giving your pet St. John's Wort in any form.
How is St. John's Wort used in dogs?
St. John's Wort can aid dogs that suffer from disorders like stress, separation anxiety, and other phobias, such as loud noise. It is thought to have relaxant qualities and an analgesic effect. Because of its antibacterial qualities, the herb in its essential oil form is excellent to use for the treatment of minor injuries like stings and insect bites. Application accelerates healing and also eases pain.
Also, St. John's Wort has shown favorable results in its use with dogs that have arthritis. Administration of the supplement can decrease pain, speed up the healing rate, and has a particularly good effect on helping heal nerve damage.
And let's not forget to mention its antiviral qualities, which make it an excellent option for treating viral infections.
Obsessive-Compulsive Disorder
If you thought only humans suffered from this disorder, you're in for a surprise. Your dog can suffer from it, too. And if you've noticed any repetitive behavior in your dog, such as repeated tail biting, it might be wise to ask your vet about how St. John's Wort may help. St. John's Wort has a calming effect on a dog's nervous system. It can offer your dog a better sleep quality by increasing the deep sleep phases, develop better cognitive functions, improve mood, and increase your pet's level of interest and activity.
Skin Oil

St. John's Wort is used in a mixture to make a great all-purpose skin oil for dogs. It can be used topically to treat skin conditions, small cuts or minor burns, and paw pad irritations. As an essential oil mixture, the use can relieve epidermal issues. Again, consult your vet before use. Although St. John's Wort is primarily safe, there have been instances where some pets have developed photosensitivity from the oral and topical use.
Physical Pain
St. John's Wort can relieve joint discomfort, muscular aches, or nerve pain issues where the nerve ending was injured. Acral lick dermatitis may be relieved as well. Dosages are typically administered in pill form. 
Work with your veterinarian
Do not give St. John's Wort to your dog unless you have talked to your veterinarian first. A vet will be able to advise you and let you know if it is a good idea to use the herb, and most importantly, will advise on the dosage required for your dog.
Remember that it is always necessary to have a correct diagnosis from a veterinarian before you try and treat your dog with any herbal remedy, including St. John's Wort. For instance, a dog owner may assume that their dog has arthritis after noticing symptoms such as stiffness when walking, lameness, increased sedentary behavior or a reluctance to exercise. But these symptoms can relate to many other problems, such as cancer, Lyme disease, lupus, and Cushing's disease, to name a few.
St. John's Wort is not to be used with other medications or herbal remedies with antidepressant properties. The herb can affect the efficacy of prescriptions for depression, along with others like cardiac, anticoagulant, and chemotherapy drugs, to name a few. Consult your veterinarian before starting any new treatment and do not discontinue other medications in order to start treatment with St. John's Wort without discussing it first with your veterinarian.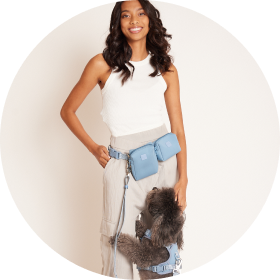 Need to upgrade your pet's leash?