Save on pet insurance for your pet
You don't have to choose between your pet and your wallet when it comes to expensive vet visits. Prepare ahead of time for unexpected vet bills by finding the pawfect pet insurance.
Butylated hydroxyanisole or BHA sounds great because it is an antioxidant. Used to preserve foods, cosmetics, and petroleum products, along with animal feed, BHA is a common additive in some dog foods. If you are a dog owner who dives into dog food ingredients so you know you are providing the very best for your beloved furry friend, be sure to learn everything you can about your dog's food. The ingredients sounding like chemicals are often unnecessary for preserving the shelf life of your dog's food as it sits on pet store shelves. Keep reading to learn everything you need to know about butylated hydroxyanisole, also known as BHA, so you can inspect the ingredients of your chosen dog food and ensure you are making the right and best choices for your dog.
Why Is BHA in Dog Food?
The FDA claims BHA can be used safely as an additive in dog foods to preserve the shelf life of fats found in manufactured dog foods. BHA is on a short list of additives allowed in pet foods meant only for preserving the life of the food. Though some dog food companies prefer a safer and natural preservative, because the FDA still claims BHA is safe to ingest and use in dog foods, it is often found as one of the last ingredients as an additive and preservative for dog food.
What You Need to Know About BHA
BHA found in foods for animals has been known to be carcinogenic. Butylated hydroxyanisole has been linked to tumors in laboratory animals. The state of California has listed BHA under their list of chemicals known to cause cancer. FDA regulations allow BHA to be added to dog foods to preserve fats. BHA is usually added to dog food to extend the shelf life of the food, meaning it can stay on grocery store or pet store shelves longer than foods that have natural and safer additives for preservation.
Alternatives to BHA
There are natural alternatives for preserving the shelf life of dog food. Natural preservatives tend to not to preserve foods as long as chemical preservatives. However, dog owners might want to ask themselves how long they would like the bag of dog food they are purchasing for their beloved pet to be sitting in a warehouse or on a store shelf. Vitamin E and vitamin C are superb natural preservatives that higher quality manufacturers add to their processed dog foods to increase the shelf life. Natural preservatives may not last as long as chemical preservatives such as BHA or BHT, however, they are much safer for your dog's consumption.
Understanding Your Options
Standing in a pet store with aisles upon aisles of dog food choices can be overwhelming. Especially, if you are a new dog owner. You want what's best for your dog, but with so many options and so many brands available, it is not often easy to know what the right choice is for your dog. BHA will be listed in the ingredients near the bottom of the ingredient list as butylated hydroxyanisole. Understanding the risks of feeding your dog foods that contain BHA is key to breaking down those overwhelming aisles of food choices. Feeding your dog healthy foods with natural preservatives or even a whole food or raw food diet is quite easy to do with a little bit of label reading and research.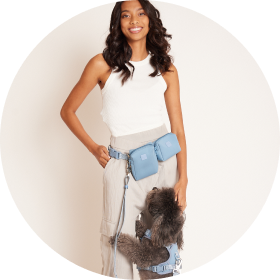 Need to upgrade your pet's leash?