Canine Heroes: Could Your Dog Give Blood?
Canine Heroes: Could Your Dog Give Blood?

Save on pet insurance for your pet
You don't have to choose between your pet and your wallet when it comes to expensive vet visits. Prepare ahead of time for unexpected vet bills by finding the pawfect pet insurance.
In the United Kingdom there are around 8,000 doggy blood donors. Yeah! This sounds a lot of four-legged heroes...but is it?

The RSPCA estimates a population of 8.5 million dogs. Do the math and this means less than 0.009% of British dogs donate blood. Hmm, doesn't look so great now, does it?  Indeed, the situation is similar in the United States, with the physical size of the country meaning little or no access to canine blood products in certain areas. 

The answer is to get more doggy heroes donating blood. 

It could be argued it's beholden on every owner to check if their dog could be a donor, and act to help other dogs in need. In addition to the satisfaction of helping others, most collection centers make sure the donor benefits from the donation, in terms of reduced-cost veterinary care, free blood screenings, and health checks. 

To find out if your dog could become a life-saver, check out the requirements below.

Physical Checklist
It's important the doggy donor is physically fit and able to cope with donating blood. To ensure the welfare of your would-be hero, vets place certain restrictions on who can be considered as a donor.


Age: The dog must be aged between 12 months and 6 to 8 years old (specific requirements vary between clinics)

General health: To regenerate the donated blood without a problem, the dog must be in good general health, active, and fit

Weight: Your dog should be in trim shape (not overweight) and tip the scales at over 50 lb (around 22 kg)

Female dogs: Must be spayed and never have been pregnant


So far so good. Your canine ticks all the boxes, so let's delve deeper.
Health Checklist
Obviously, there is a risk of transmitting disease or drugs via donor blood to the recipient. To avoid this, the donor is carefully screened. Here is a guide to what the vets look out for.


Not on medication: The dog must not be on regular medication

Vaccines and preventatives: Potential donors are required to be up to date with booster shots and take a regular preventative against heartworm

Clear blood tests: A dog must test negative for infectious diseases including heartworm, Ehrlichia, babesiosis, and brucellosis; the blood bank screens your dog for these conditions, so this isn't something you have to undertake first

No previous blood transfusion: The donor must never have received a blood transfusion, as this could complicate blood typing and matching
Temperament Checklist
Both you and the dog need to meet a certain level of commitment!


Dog's character: Giving blood means being held by a vet tech and having a large bore catheter placed in a vein. The dog then needs to sit or lie quietly for 20 to 30 minutes while the blood is collected. Thus, the dog must have an amenable disposition, for the wellbeing and safety of all concerned.

Pet parent dedication: The blood bank asks that dogs donate every 1 to 3 months, or make at least 8 to 12 (exact numbers vary) donations in total. If this doesn't sound like a commitment you can meet, then walk away now.
Dog blood donors save lives. And one day, it might be your dog that needs a life-saving blood transfusion. But being a donor isn't all give and no take. Each blood bank has their own policy on how to reward volunteers. For sure, your dog gets yearly blood panel screening to ensure they are healthy. Other incentives may include free dog food, free vaccinations, or reduced-cost veterinary treatment. 
If your dog meets the above requirements, speak to your vet today about the location of your nearest donation center. Could your best buddy become a canine hero?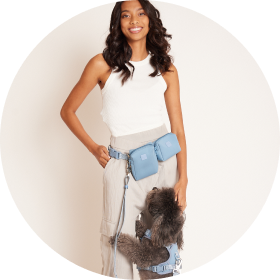 Need to upgrade your pet's leash?