Evening Primrose Oil for Dogs
Evening Primrose Oil for Dogs

By Amy Caldwell
Published: 10/03/2017, edited: 12/08/2021
Save on pet insurance for your pet
You don't have to choose between your pet and your wallet when it comes to expensive vet visits. Prepare ahead of time for unexpected vet bills by finding the pawfect pet insurance.
Evening primrose oil is often used for skin conditions such as eczema and psoriasis. With several properties, which help arthritis, high cholesterol, high blood pressure, chronic fatigue, and PMS, humans use evening primrose oil for many conditions. We find evening primrose oil in oil form and capsule form as well as in cosmetics soaps and lotions. Does evening primrose oil have the same effect on dogs? Moreover, how much should you give your dog and how often?
How can my dog benefit from evening primrose oil?
Dogs who suffer from dry, itchy skin can benefit from the soothing effects of evening primrose oil. If your dog has dry, flaky, scaly skin, adding evening primrose oil to the diet is easy to do. As well, inflamed rough spots can be soothed with the properties of evening primrose oil. Essential fatty acids have been known to reduce redness and itching in dogs.
Evening primrose oil contains fatty acids found in other foods. These fatty acids can help decrease chronic inflammation. Evening primrose oil can help with conditions such as arthritis for older dogs, as well as the pain and discomfort of dry, itchy skin.  With high amounts of natural omega-6 fatty acids, linoleic acid, and gamma-linolenic acid (GLA), evening primrose oil inhibits the body's natural production of the chemicals which generally cause inflammation on the skin as well as in the joints.
This oil is also thought to aid in hormone balance because the supplementation allows for a stabilizing effect in the body. Prostaglandin activity is altered and as a result, the skin and coat benefit.
How do I give evening primrose oil to my dog?
Evening primrose oil can be found in various products for your dog. At your local pet store or natural online stores, you can find an extensive line of evening primrose oil shampoos for your dog. These thick concentrated shampoos typically offer a therapeutic dosage of evening primrose oil to nourish your dog's skin as well as create a soft coat and ease the discomfort of swelling and redness from a dry, itchy condition. You can also use a glass spray bottle and evening primrose oil to apply it directly on dry, itchy spots. However, the absolute best way to offer evening primrose oil to your dog is to supplement the diet with the oil or capsules.
Evening primrose oil capsules are easy to find in your local health food store or a natural food grocery store. To supplement your dog's diet, you can wrap the capsules in a treat. Some dog owners prefer to poke a sterile hole into the capsule and drizzle the oil from inside the capsule over their dog's food. Other dog owners prefer the liquid form of evening primrose oil. If you purchase a liquid form of evening primrose oil specifically for dogs, there will be a suggested serving.
Precautions for dogs
As with all supplements, discuss the use of evening primrose oil with your vet before administering it. The proper dosage and form particular to your dog is important to know. Some dogs may experience diarrhea and gas, while others can have an upset stomach. Evening primrose oil can react with anti-seizure medications and can cause slow clotting of the blood. If your dog is on medication of any kind, it is essential to talk to the vet first.
Note the benefits
Evening primrose oil is easy to add to your dog's diet. However, it may take 4 to 8 weeks (and sometimes longer) to see the results. Because evening primrose oil offers high doses of omega-6 fatty acids, it may take some time to build up in your dog's system. As evening primrose oil works for your dog, you should notice a softer, smoother coat with zero flakes on their skin and a decreased amount of dry and itchy flaky skin. If your dog suffers from arthritis, you may see some positive effects using evening primrose oil for that condition as well. 
Considering evening primrose oil supplements for your pet? Most pet insurance companies offer wellness add-ons that cover the cost of natural supplements and preventative care. Start shopping around for pet insurance today to find the "pawfect" option for your fur-baby.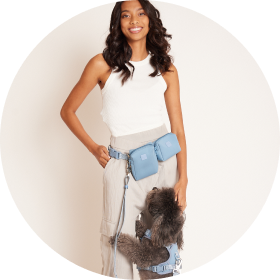 Need to upgrade your pet's leash?