By hannah hollinger
Published: 09/02/2020, edited: 11/17/2021
More articles by hannah hollinger
Save on pet insurance for your pet
You don't have to choose between your pet and your wallet when it comes to expensive vet visits. Prepare ahead of time for unexpected vet bills by finding the pawfect pet insurance.
Overview
Updated: 6/10/2021
Fursure is one of top innovative pet health insurance companies that offers pet parents what they really need – the assurance that they can take care of their beloved pet's health in any circumstance.
After all, lovers of furry four-leggers only want the best for their pets. That's where Fursure steps up to the plate. Being pet parents themselves, they know how much our animal family members mean to us. And they want to ensure that every dog or cat out there has the coverage they need, giving pet owners peace of mind when it comes to pet health.
Fursure call themselves pet insurance gurus, and it's easy to see why. They've studied in-depth and made themselves familiar with over 20 insurance providers. With their knowledge, they can navigate the insurance market for you. And no doubt, you know this particular market can be a confusing one.
Fursure will make sure the insurance plan you choose is customized to your pet and that the fees you will be paying to the provider are clear and straightforward. And, you'll understand the coverage you've chosen. They make the process seamless, and their services are free!


How does Fursure pet insurance work?
Fursure's mandate is to make sure that you, the pet parent, get the insurance coverage that best suits your budget. And no matter what that budget is, Fursure will do the legwork for you, allowing you to relax in the knowledge that you are getting top dollar coverage.
What are some of Fursure pet insurance's coverage facts that pet parents need to know?
Your furry buddy's age and breed are important. Fursure can look into health predispositions based on breed type and age to determine what kind of coverage you will need for your pet. Fursure's gurus will study the plans from all of the reputable insurance providers to determine your pet's best option. 
Typical coverage needs are analyzed by Fursure so they can get you the best coverage possible based on what your budget allows each month, making the cost of Fursure pet insurance affordable. Whether you can pay $10 a month or $100 a month, Fursure can help.
Fursure will advise on the reasons that pet insurance is so important. For example, purchasing pet insurance when your pet is young can ensure that a health condition that may occur later in life is covered. Pre-existing conditions are not included in insurance policies. Look to Fursure when your furry family addition is young to avoid coverage issues.
Even if your pet is older, insurance is worth the cost. Medical bills increase year after year. Insurance coverage can save you money for pet health care & wellness in the long run, no matter the age of your pet.
It's worth noting that many pet insurance plans have no limit on the number of claims submitted per year. Your coverage is not negatively affected, and you have peace of mind that your pet is covered no matter what health concerns come along.


What coverage does Fursure pet insurance consider?
#1. Accidents and injury
Pet insurance companies will have varying coverage in the event of an injury or illness. Fursure will determine which insurance provider will suit your pet's lifestyle and your budget.

#2. Surgery and rehabilitation
If your pet's treatment requires a surgical procedure, insurance can help ensure that this much-needed service does not break the bank. The gurus at Fursure will discuss with you what kind of coverage you'd like to have.

#3. Dental care
Insurance providers often have different dental plans. Knowledgeable insurance experts at Fursure enable you to understand what each plan offers and give you sound advice as you navigate the offerings.

#4. Routine check-ups
Not every insurance provider covers the basic exam. Are procedures like vaccines, routine imaging exams, and prescription medications for minor illnesses and injury important to you? Fursure will take the time to check each provider's policy for details.

#5. Specialists
Every pet owner hopes their pets don't have an illness or injury severe enough to require a specialist's care. But when it does happen, it is comforting to know that your pet will be cared for without worry whether you can afford the bill.

#6. Behavioral therapy 
Some insurance providers cover behavioral consultations or medication. With everyone sheltering at home, it's likely when pet parents return to work or start leaving the home more often that there will unfortunately be an increase in behavioral issues. It's great to know there's coverage for these issues when they arise.  
#7. Holistic therapies
In today's veterinary world, holistic and natural therapies are often used in tandem with traditional care. Not all insurance providers cover holistic medicine. If you want that in your pet's insurance plan, Fursure's insurance gurus will make sure it's there.


How to benefit from advice with Fursure pet insurance
It's a relief to know that you've got someone to do the hard work for you. Rather than spend hours pouring over websites or insurance documents, look to Fursure. Their mission is to help you look after your precious pet's insurance needs in an easy and customized way. 
Call Fursure for a free discussion about pet insurance. Quality care is what they look for. They want you to understand how insurance works and to feel that your every need and want is covered.
Fursure will do the time-consuming work and make a recommendation for an insurance plan that suits your pet and your budget. You can then get on with the most important things, like playtime with your pet and nighttime snuggles. 
Are you ready to get the best insurance for your pet? Sign up on Fursure's website for your free consultation.


Is there a waiting period?
The insurance coverage waiting period will be determined by the insurance provider. But don't worry. The work Fursure does for you will save you time in the long run –no wading through policies, no confusion, just honest advice from professionals who know the insurance market.

The mission at Fursure is to research and compare the options, and take the weight of choosing a provider off your shoulders. They've helped many pet parents already who are now resting easy, knowing their pet's every health need is taken care of.


Is Fursure pet insurance the best way to choose an insurance provider?
Fursure stands behind their knowledge. This caring company knows that your furbaby is important to you. As pet parents themselves, they know all about the emotional attachment and the importance of knowing that health decisions should not be based on your wallet.

Vet costs are ever-increasing. The good news is, that so is the technology to help your pet. Imaging services like CT scans, treatments for illnesses like cancer, and surgeries to repair injuries are now available to all pets.
Fursure wants to make the process of getting insurance easy. They want to help you get coverage at an affordable rate. Most importantly, Fursure wants you to have access to care for your pet when they need it the most. To find what plan works best for you and your pet, schedule a free consultation call with them to learn all you need to know about insurance and get your recommended options.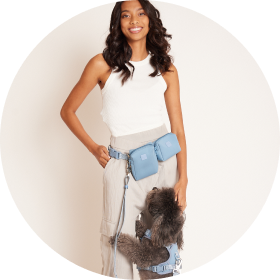 Need to upgrade your pet's leash?