How to Prevent Your Dog from Getting Kennel Cough
How to Prevent Your Dog from Getting Kennel Cough

Save on pet insurance for your pet
You don't have to choose between your pet and your wallet when it comes to expensive vet visits. Prepare ahead of time for unexpected vet bills by finding the pawfect pet insurance.
Kennel cough is considered one of the most prevalent forms of canine illness that can be transmitted from one dog to another. It can be passed on at boarding kennels, pet shows, groomers, and any other event where a large number of dogs gather together, such as the local dog park. The bad news is that even if only one animal has kennel cough in the crowd, it typically spreads quickly through the rest of the animals present.


Kennel cough can be very hard to diagnose and control as there is more than one underlying cause. The most common cause (in 80% of all cases) is the Bordetella bacterium. But kennel cough can also be the result of exposure to the parainfluenza virus and the adenovirus. All of these are airborne viruses, which means your dog can be infected simply by breathing the same air as an animal that is already infected with one of these viruses. Worse yet, your dog could have been exposed to one of these viruses without your even knowing it.
Spending Time in a Boarding Kennel
If your dog spends time in a boarding kennel, he is at high risk of being exposed to the Bordetella bacterium responsible for 80% of the cases of kennel cough in the country. This is because your dog will be in a facility where there are many other dogs, some of which may or may not be carrying the bacteria.


There is a vaccination available from your vet that your dog should be given at least once each year or every six months based on your vet's recommendations. Be aware, though, that this vaccination will not protect your dog against of every form of kennel cough.


The best way to keep your dog safe from kennel cough is to keep him or her away from all other animals, but then this is hardly possible. However, you can make sure the kennel you choose uses disinfectants that kill the bacteria and use an air filtration system designed to remove bacteria from the air.
Visiting Your Favorite Groomer
While most pet owners realize the risk of boarding their dog at the local kennel, few seem to realize that their dog is at similar risk from visiting their favorite pet groomer. Since a groomer typically has multiple dogs and cats in the same facility, your dog is at risk of breathing infected air. This, in turn, can lead to kennel cough.


Choose a groomer that uses an air filtration system designed to remove the Bordetella bacterium from the air. This will significantly reduce the risk of your dog breathing in infected air and contracting kennel cough.
The Bordetella bacterium can live on many surfaces, including the grooming stand and any equipment the groomer uses. Be sure to choose a groomer that regularly disinfects their entire facility and their equipment between each dog client.


As with a boarding kennel, the best way to prevent the spread of kennel cough is through cleanliness. If any facility you are considering does not practice exceptional cleanliness, you may need to move on and find one that does, for the sake of your dog's health.
Keep Your Dog at Home
If, for any reason, you cannot find a boarding kennel or grooming service that meets your standards, there is one more way to prevent your dog from getting kennel cough.


This is to hire a dog walker or sitter to come to your home and take care of your faithful furry friend when you can't be there. You can do the same with grooming, as people in most areas have access to a mobile groomer, who will come to your home and take care of your dog.


This is also the best way to handle things if you prefer not to have your dog vaccinated against the Bordetella bacterium.
Importance of Preventing Kennel Cough
If you chose to have your dog vaccinated, it will take a few days for the vaccine to become fully effective. Be sure to have the vaccination done several days before you need to kennel your dog. The vaccination works very well in the short term. But if you want long-term protection, you will need to have your dog vaccinated at least once per year. Talk to your vet about the vaccination and how often your dog needs to be re-vaccinated.


The vaccination can help prevent your dog from getting kennel cough, making him a much healthier and happier dog overall. At the same time, the cost of the vaccination will be far less than the cost of treating kennel cough if your dog should come down with it.


Being regularly vaccinated will make it much easier for your dog to be around other dogs without your having to worry about him contracting kennel cough. The vaccine can give you true peace of mind and is well worth the cost.
Practical Prevention
Preventing kennel cough rests solely on the dog owner's shoulders. While it would be nice if you could simply keep your dog isolated from all other animals, in today's world this is almost impossible. But as long as you do your due diligence when choosing a boarding kennel or a groomer and have your dog regularly vaccinated, you can significantly reduce his risk of contracting this pesky condition.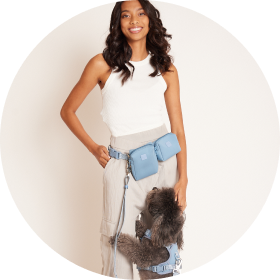 Need to upgrade your pet's leash?