Making Topical Herbal Treatments for Your Dog
Making Topical Herbal Treatments for Your Dog

By Darlene Stott
Published: 06/23/2017, edited: 09/24/2021
Save on pet insurance for your pet
You don't have to choose between your pet and your wallet when it comes to expensive vet visits. Prepare ahead of time for unexpected vet bills by finding the pawfect pet insurance.
The natural home remedy is an age-old tradition that is making a comeback. In no area is this more true than in pet care, especially in treating a whole host of dog ailments! For the most part, dogs respond similarly to humans when herbal remedies are applied to them. These salves, poultices, and infusions range from simple to procure to a bit more tedious to create, but all offer relief to our canine friends.
Just as with humans, these topical treatments work by being absorbed by the body's biggest organ, the skin! As you'd probably imagine, issues that affect the skin directly like burns, insect bites, and wounds can respond well to herbal applications. What you may not know is that these remedies go deeper than your dog's dermal layer, working on problems like aching joints, a failing immune system, and even growing tumors! We'll now go through some different forms of remedies and how you can create them for your favorite pup at home. 
Salves
Salves or balms take a bit of patience to create, but make for an easy way to get herbal goodness onto your dog's problem areas. You can use either fresh or dried herbs, just make sure you do your research to ensure you're using the right plant or compound for your dog's ailment. You'll also need an oil, such as olive or coconut, to dilute and absorb the solution. The herbs must be finely ground using a coffee grinder or some other blender capable of turning the plant matter into fine powder. The oil and herbs must simmer for up to two days in low heat until the oil has become the same color as the plant material. The herbs should then be strained out by pouring the mixture over cheesecloth. The oil you are left with can be mixed with beeswax and stored in your refrigerator. While making the salve may take a little while, you can keep your creation for up to a year and apply it to your dog as needed.
Teas
Dogs may not enjoy sipping on herbal tea as much as their owners do; however, there is a way for your dog to get the benefits of tea without a warm mug. Using 4 to 8 tablespoons of herbs, create tea using about 1 quart of boiling water. Let the tea steep for about 20 minutes, and then strain all of the plant material out. Once the infused water has cooled, you can put it in a spray bottle and apply it to your dog's skin! To be effective, it is recommended that you spray the area up to 5 times a day for the maximum results. 
Essential Oil Infusions
There is quite the buzz these days over the benefits of essential oils. While you should always be careful when applying potent liquids to your four-legged family member, a lot of good can come from proper administration of oils to dogs. There are two main points to remember when using essential oils in dog care. The first is that the quality of the oil matters. When treating health issues, therapeutic grade oils are the only ones you should be applying. The other thing to remember is that dogs come in very different sizes, so the number of drops you use and how diluted those drops are is very important! If you are unsure, seek the guidance of an accredited dog health practitioner. Some oils can be placed directly on the dog's skin, while others may be easier to rub in using your hands. These oils can help with all sorts of problems including digestive tract issues and sore muscles. 
Poultices
A poultice is a piece of fabric that has been soaked in herbs and then placed on the ailing body part of a dog. You can make an effective poultice in the comfort of your own home. First, you must place ground herbs in a bowl with warm water. The mixture should simmer for several minutes. Use a flat and clean surface, such as a countertop, to lay down a piece of cloth. Light materials like linen, muslin, or gauze work best. The solution can then be poured onto the fabric. This wet and infused cloth can then be placed on the dog. It is advisable to wrap a towel around the outside other the poultice to contain the mess. You can leave the poultice on for up to 24 hours depending on what you are treating, but you'll need to pin the fabric in place.
Consult the Vet
By taking the time to learn your herbs, you can potentially create your very own herbal doggy first aid kit! Topical herbal remedies are cost-effective, natural, and pure and they can treat many problems your dog may suffer from. The next time your dog has an ache or pain, become your pooch's very own apothecary by trying these methods right in your own kitchen. Before getting started, consult your holistic vet for approval of use in your particular dog's case.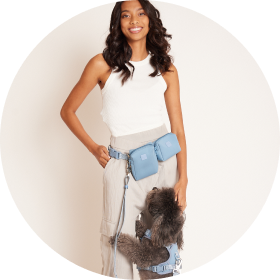 Need to upgrade your pet's leash?