Pucker Up: The Sweet Benefits of Lemon Balm for Your Dog
Pucker Up: The Sweet Benefits of Lemon Balm for Your Dog

By Darlene Stott
Published: 07/03/2017, edited: 09/07/2022
Save on pet insurance for your pet
You don't have to choose between your pet and your wallet when it comes to expensive vet visits. Prepare ahead of time for unexpected vet bills by finding the pawfect pet insurance.
Lemon balm, known scientifically as Melissa officinalis, is a non-toxic herb that can be used on dogs, cats, and even horses. As a supplement for your dog, lemon balm has many benefits that may help with several different conditions. As always, consult your veterinarian and use caution before substituting an herb like lemon balm for your pet's medicine.
Anxiety
The most common way lemon balm is used on dogs is as a calming agent, or to treat anxiety. Anxiety and stomach sensitivities are often tied in closely together. Luckily, lemon balm is also great for your dog's digestive system. Because of their anxiety, many dogs, in turn, have stomach issues such as diarrhea or stomach pain. Whatever the cause of your dog's nervousness, whether a long trip, relocation, or boarding, lemon balm can treat a sensitive stomach and is a natural sedative. 
One of the most popular characteristics of lemon balm is that, although it has sedative properties, it does not make an animal groggy or incoherent, but instead makes them more aware and focused. Because of this awesome benefit, many dog owners use lemon balm as a supplement for older dogs who suffer from dementia or confusion.
Respiratory Health
Some dogs suffer from respiratory conditions like chronic bronchitis. The most popular medicinal treatment for any type of respiratory issue is usually Lasix (sometimes known as Salix and Furosemide). Many pet owners are unaware of the dangers of long-term Lasix use. It is a diuretic, which means it rids the body of fluids by increasing urination. It is used because it does drain off fluids from the lungs, but it also drains fluids from the entire body. 
Long-term usage may cause damage to the kidneys, heart, and overall health. Although there is no true substitute for Lasix, lemon balm is a good start. Lemon balm naturally wards off respiratory infection and helps to secure the elasticity of the lungs naturally. With the consultation of your veterinarian, you might be able to help your dog feel their best by supplementing Lasix with lemon balm. Do not change the dose of your pet's prescription medicine at any time; discuss the possible use of lemon balm in concurrence first.
Wound and Skin Care
Lemon balm can be used as a healing herb for wounds. It is dually active in this respect because it is a natural fly and insect repellant as well as a healing agent. When your dog has a cut, flies and insects usually follow, making it hard to keep the wound clean so it can heal quickly. Lemon balm is a great ingredient found in many canine coat and shampoo products.
Application and Administration
The most cost-effective way to add lemon balm to your dog's diet is to buy leaves or grow your own plants. You can either chop up the leaves in small pieces and put it in your dog's food, or brew tea with the leaves and mix it into your dog's meal. Usually, a very small amount of one or two tablespoons will do. Adjust this according to your dog's size and weight. The more expensive option is using the essential oil, called melissa oil. Read the label to make sure it is pure melissa oil. Chances are, that if it is $10 a bottle, you can be certain that it is not pure. True melissa oil costs about $1 per drop.

Lemon balm is a safe, effective herb that is considered very mild, so the allergic reaction rate is relatively low. There are so many great benefits to the use of lemon balm on animals that it is hard to ignore its potential benefits for your dog. However, if your dog has an adverse reaction to the herb, please consult your veterinarian immediately.
Lemon balm is an excellent holistic option for treating anxiety, respiratory problems, and wounds in dogs, but sometimes dogs need something stronger. Unfortunately, alternative veterinary treatments can get expensive but luckily, Wag! Wellness is here to help. Wag! Wellness plans reimburse routine care costs for your pet within 24 hours. In the market for wellness plans? Compare wellness plans to find the right match for your pet!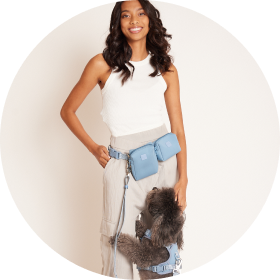 Need to upgrade your pet's leash?