Should I Give My Dog Green Tea?
Should I Give My Dog Green Tea?

By Amy Caldwell
Published: 09/12/2017, edited: 10/29/2021
Save on pet insurance for your pet
You don't have to choose between your pet and your wallet when it comes to expensive vet visits. Prepare ahead of time for unexpected vet bills by finding the pawfect pet insurance.
To many, tea is a staple part of their diet, while others can take it or leave it. It certainly isn't something most people think of giving to their dogs. So you might be surprised to learn then, that green tea is packed full of potential health benefits, from its antioxidant properties, to its cancer-fighting capabilities.
This article will break down the benefits of green tea into easily digestible chunks. It will then advise you on how to safely supplement your dog's diet with it and in what quantities you should aim for.
Cancer-Fighting Qualities
You might not initially think that this tea originating from China could be used for much more than drinking, but you'd be surprised. Green tea undergoes minimal oxidation when it's processed, which some argue helps its cancer-fighting powers. An article from the U.S. National Library of Medicine, pointed out in a Japanese study, that prostate cancer in men stopped progressing when they started drinking 5 cups of green tea a day.
Another recent study looked at the effects of green tea in fighting cancer in dogs. A 7 year old Labrador with lymphoma was failing to react to antibiotics and a range of other medical treatments. But when green tea was given several times a day as a last resort, the enlarged lymph nodes reduced to a normal, healthy size in a matter of weeks.
The Immune System Catalyst
One of the main benefits of green tea is its antioxidant properties. Antioxidants work by hindering cell damage and bolstering the immune system, effects highlighted in a 2014 study by Gordon F. Rushworth. That is exactly what makes green tea effective in the fight against cancer.
Putting cancer to the side, bolstering your dog's immune system ensures your dog is more capable of fighting off other infections and diseases itself. This could all result in a better quality of life for your dog, reduced stress for you as an owner, and not to mention fewer vet bills! Consult your furry companion's vet about supplementing their diet with green tea.
How Much Green Tea Should I Feed My Dog?
Before you feed your dog any green tea, it is essential you get your hand on caffeine-free green tea. Too much caffeine can have a range of adverse effects on your dog's physical and mental well-being, so caffeinated tea should always be avoided.
Once you have your caffeine-free green tea, combine 4 cups (1 litre) with 1 tea bag or one tablespoon of tea leaves. Let it steep for 15 minutes, then remove the tea bag or use a strainer to remove the leaves. Cover the tea and keep it in the fridge for 3 days. If you have a small dog, add 1/8th of a cup to your dog's morning and evening meal. For medium dogs, add 1/4 to 1/2 a cup, and for large dogs, add 1/2 to 1 cup to each meal.
The Green Tea Verdict
Despite being thought of as for human consumption, green tea is packed full of benefits that can also help your dog. Its antioxidant properties make it ideal for combating cancer, plus helps enhance your dog's immune system, so they can ward off infections and diseases without medical intervention. You need to prepare decaffeinated green tea for your dog several days before intended consumption.

Got questions about supplementing your pup's diet with green tea? Chat with a vet now for prompt answers to your pressing questions.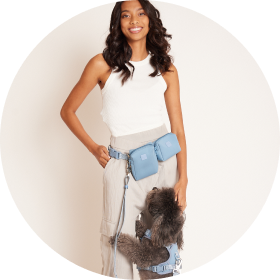 Need to upgrade your pet's leash?