How to Train a Cat to Let You Brush Their Teeth
How to Train a Cat to Let You Brush Their Teeth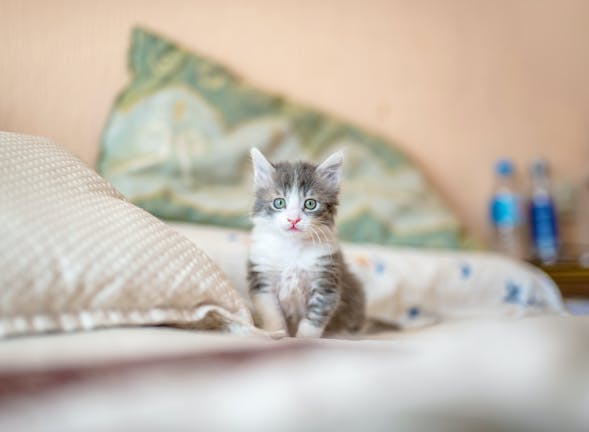 Introduction
Dental care for your feline friend is serious business, with 50% to 90% of cats over the age of 4 developing some form of dental disease during their life. Similar to humans, cats need to have their teeth brushed regularly, with most veterinarians recommending you brush your cat's teeth at least 3 times a week, if not every day. 
Teaching your cat to accept daily teeth cleanings will help prevent feline dental issues like gingivitis and other gum diseases. You'll also save you money on pesky veterinarian bills down the road.
While it may sound simple to an outsider, any pet parent who's tried to brush a cat's teeth will know it's no simple task. And brushing becomes even more difficult when Oscar's had no training as a kitten.
Top
Defining Tasks
The easiest way to teach a cat to accept a toothbrush is to start training when they're a kitten. By starting early, you can make regular cleanings part of your cat's routine. You'll also find your kitten is much more accepting of a toothbrush and less likely to lash out. If you have a fully grown cat, don't fret — you can still train them to let you brush their teeth, it will just take a little extra time and patience. 
When training your cat or kitten to let you brush their teeth, remember to build up trust slowly and use positive reinforcement. If, like most cats, Molly is quite skittish, building a positive association is essential. Luckily, most cat-friendly toothpaste is designed to taste great to cats, so Smudge might not require much encouragement to enjoy a tooth cleaning. 
If your feline doesn't like the taste of cat-friendly toothpaste, the best course of action is to try rubbing their gums with something they love, like a cotton bud dipped in canned tuna water. Tuna water won't do much for your cat's teeth (or breath), but it will slowly build an association between teeth cleanings and tasty treats.
Top
Getting Started
The most crucial part of getting started is getting the right gear. Cats require dental hygiene like humans, but that doesn't mean you'll use the same toothbrush or toothpaste. 
You should never give your cat toothpaste designed for humans. Human toothpaste contains high levels of fluoride, which can make your cat very unwell. A human toothbrush is also too hard for a cat's teeth and will irritate their gums. Ideally, get a toothbrush especially for cats, or use a baby toothbrush with soft bristles. Consult a vet for advice on the best toothbrushes and pastes for your cat. 
As most cats won't enjoy you poking a toothbrush around their mouth, it's important to be calm, confident, and gentle when brushing a cat's teeth. Pick a time of day when your cat is relaxed or sleepy, so they're easier to handle. 
When brushing, start from the back and work forward. Be very gentle and move the brush in circular motions. If your cat's teeth bleed a little at first, don't worry. A little bleeding is normal if your cat has never had their teeth brushed and should stop after a few cleanings.
You'll want to approach your cat from behind rather than the front, as it's less likely to startle them or cause a negative reaction. Another reason to approach your cat from behind is they're likely to try to flee by wriggling backward, meaning you'll have better control. 
As a cat's mouth contains lots of bacteria, ensure you wear gloves and wash your hands thoroughly after each cleaning. Rinse off the toothbrush after each use and replace it every two or three months.
Top
Location
Pick a quiet, safe space with no escape route where you can regularly brush your cat's teeth. Sit your cat on your lap or a comfy surface.
Familiarize
Get your cat used to a toothbrush by dipping a cotton bud or swab into a food they love, like tuna water. Hold your cat's head gently at a 45-degree angle and push their lips back.
Brush
Gently rub the tuna-soaked swab along your cat's gum line. Start with only a few teeth, increasing the length of each cleaning over time.
Swap
Once your cat is used to a complete brushing (around 30 seconds on each side), swap out the cotton swab and tuna water with a toothbrush and toothpaste.
Approach
Approach your cat from behind when they're comfortable and relaxed so as not to startle them.
Hold
Hold your cat's head firmly yet gently. Spread your hand and place your palm towards the back of the top of your cat's head. Use your second finger and thumb to grip your cat's cheekbones, lifting your index finger so it isn't covering their eye. Tilt your cat's head and use the thumb of your other hand to gently lift their top lip and lower their bottom lip.
Repeat
Repeat this once a day for a few days, but instead of using your other hand to move your cat's lips, get a cotton swab with some cat-friendly toothpaste and rub their teeth. Start with just a few seconds at a time.
Brush
Start with your cat's molars, as these are the most difficult to reach. Slowly build up until your cat lets you brush for 30 seconds on each side.
Swap
Once your cat seems comfortable, swap to a standard cat-friendly toothbrush. If you are having trouble with the best way to hold your cat, consult your vet, who'll demonstrate how to brush a cat's teeth.
By Adam Lee-Smith
Published: 06/03/2021, edited: 10/07/2022
---