How to Train Your Dog to Meditate with You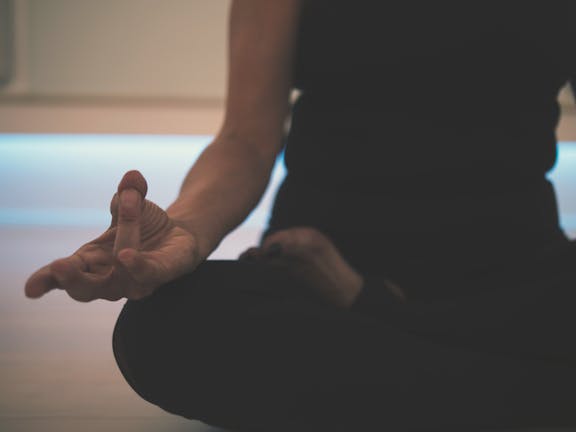 Introduction
Meditation is becoming increasingly prevalent, with many people including the practice in their daily rituals. Whether you're using it to practice mindfulness, help with anxiety, or reduce your blood pressure, meditation has plenty of health benefits. That being said, pet parents with canine companions may have trouble focusing if their pupper loves to jump up on them and disrupt their focus. 
So what's the easiest solution to your mutt meddling in your meditation? Train them to meditate with you! Not only will training your mutt to meditate make it easier for you to focus, but it may help reduce any doggy anxiety and help you form a stronger bond with Fido. Looking to train your dog to meditate? Here's everything you need to know.
Top
Defining Tasks
Dogs are naturally meditative creatures, so teaching Tucker the basics of meditation should be simple. However, getting your pup to quietly meditate at the same time as you is a little trickier. 
To get your pooch to meditate successfully, consider their daily routine. For example, if Roxy is especially rowdy early in the morning, this may not be the best time to try meditating. If they tend to be quieter in the evenings, this may be the perfect time to start a session. You'll also want to consider their schedule, from walkies to feeding times, so you avoid anything which may distract your dog mid-meditation. 
A key task is getting your dog to sit quietly and meditate for 20-30 minutes at a time without getting distracted or bored. It's important to start slow with a few minutes and then build up the length of meditation slowly to get your dog used to it. 
If you find training your dog to meditate is taking a long time and is disrupting your own meditation, try a different form of meditation like kinhin, also known as walking meditation, and take your pup for a stroll somewhere quiet. Walking meditation involves focusing on your breathing and posture, similar to sitting. It also allows you to use all of your senses fully and engage in the world in a similar way to your canine compadre.
Top
Getting Started
When training your pup to meditate, you should first teach them a few basic tricks first to make things a bit easier. Commands like "sit," "stay," and "leave it" will make it much easier to train your dog to meditate. If you can train your dog to perform a long stay and not move until you give a command, this will make training your dog to meditate a breeze.
It's also wise to pick a start and end phrase to let Lucky know when it's time to meditate. Try to pick something unique to meditation so they don't get confused. "Good dog" may be a little confusing as you likely use this a lot. Something like "namaste" is ideal as it's unique to meditation and yoga. 
Remember, positive reinforcement is the key to most dog training. If you get your dog to successfully sit by your side for a few minutes at a time and stop when you say, give Bella a small treat and plenty of pets. Then slowly phase out the treats and praise so you and your woofer can meditate freely without any encouragement.
Top
Train
Train your dog some basic commands like "sit" and "stay". Get your dog to master these tricks so they'll stay for an extended period.
Pick
Pick a word like "namaste" to let your dog know it's time to start meditating.
Practice
Start by meditating with your dog for a few minutes at a time, introducing your commencement word after they're sat down and still.
Reward
If your pup successfully meditates with you for a couple of minutes, give them lots of praise and a small treat.
Increase
Slowly increase the length of each session, slowly building up to 20 or 30 minutes. Use positive reinforcement each time they're successful.
Decrease
Decrease the amount of praise and treats over time, so you can meditate with your mutt without any encouragement.
Time
Choose a time in the day where your dog is generally docile, away from feeding and walking times.
Start
Call your dog over and get them to sit and wait for them to relax. Use your commencement word and meditate with your dog. If they stay until you use the command again, give them treats and praise.
Increase
Try to increase the length of each session and continue to praise your pup for meditating successfully.
Decrease
Decrease the amount of positive reinforcement until your dog meditates without encouragement.
Alternative
If your pup doesn't seem keen on meditating and it becomes increasingly difficult to train, try an alternative like walking meditation.
By Adam Lee-Smith
Published: 05/26/2021, edited: 05/26/2021
---