How to Train Your Dog to Perform a Long Stay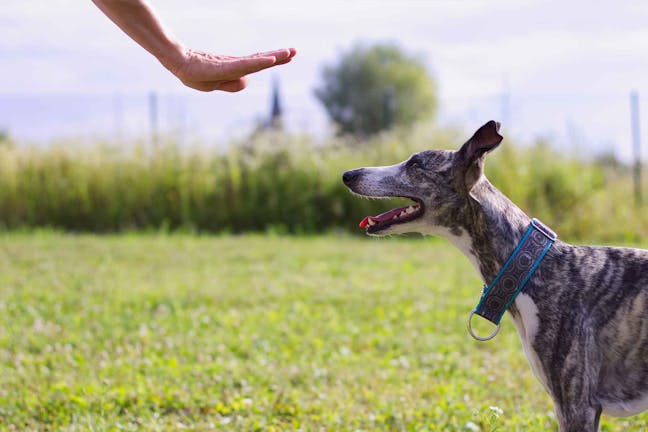 Introduction
You've just dropped food all over the floor--the kitchen is covered in last night's bolognese. As you'd expect, your dog is quick to start hoovering up the mess. You can just about get him to sit but you can't get him to stay there while you clean up. The long stay also comes in handy if you want to sit down and eat your meal in peace, or perhaps you're at the pub and you want to enjoy your cold beer without having to keep a constant eye on him.
Training your dog to hold a long stay can come in handy in a whole range of situations. Obedience training like this also makes teaching him other commands easier too. Not to mention, it will afford you peace and quiet when your favorite TV show is on.
Top
Defining Tasks
The long stay is a trick not many dogs can perform but it's one that is relatively easy to train. Training requires considerable patience from both you and your dog. You'll use food to motivate and reward him throughout training, and most dogs will do pretty much anything for a mouthful of their favorite food. If he's a puppy he should be a fast learner and keen to please. Training him may take just a few days. If he's older, stubborn and not as receptive as he once was then you may need up to 10 days before you see the results you're looking for.
This command will come in handy every day. It will be useful when you have guests or the mail man at the door, or when you just need some space.
Top
Getting Started
Before you can set to work you'll need to collect a few bits. The most important component will be food. Break his favorite food into small chunks--cheese is often a winner. Alternatively, get a generous supply of treats together. 
A quiet room in the house to practice will be needed. You'll only need it for 5-10 minutes each day, but try and fit that time in where there won't be noisy children charging around the house. 
All you need is those few basic things and a positive frame of mind and you can get to work!
Top
'Sit' or 'down'
The first thing you need to do is have him 'sit' or lay 'down'. This is going to be the position he'll be in for the duration of the long stay. You may need to have some treats or food in your hand to hold his attention and to encourage him to perform the 'sit' or 'down'.
Palm out
Put your hand out in front of his face, a bit like the traffic signal cops use. Don't thrust it in his face, you don't want to scare him, just make sure it's clearly in his vision so he knows it means something.
'Stay'
At the same time, give your 'stay' command. The command can be any word or phrase you want to use. Just make sure you give it in a clear voice.
Take two steps back
Take a couple of steps back while still holding your hand out. Then drop the hand, smile at your dog and hold out the treat for him to come and collect. Make sure you give him loads of praise so he knows he has performed correctly. Practice this for a few times in the first training session.
Increase the distance
Over the next few days, increase the distance you can walk away for before you call him over. Gradually increase it until you can leave the room. Then keep going until you can be out of the room for several minutes or longer. The key to success is being patient and taking it slowly. Once you can leave him sat down or lying down for a considerable length of time, you can stop giving him treats every time. You can now lose the initial hand gesture too, the verbal command alone will be enough.
The Stay & Release Method
Have him sit
The first thing to do is have your dog sit in front of you. Make sure there's no other distractions around. You may also need to hold a treat out to get his attention.
'Stay'
As soon as he sits, issue your 'stay' command in a clear voice. Look at him while you do it so his attention stays firmly on you.
Release
Only make him stay for a second to start with, then call him over in a playful voice. Once he's at your feet you can give him a treat as a reward. Really shower him with praise to let him know he's done something right, even if he's not sure what that is yet.
Increase the time
Now over the next couple of days, slowly increase the time you leave him to sit there before you call him over. The trick with this is to take it slow. If you rush the process he'll get confused. Keep practicing until you can leave him sitting there for as long as you need, be it the time it takes to eat your meal, or finish your pint at the pub.
Don't punish him
If he does break the long stay, it's important you don't shout at him. You don't want to scare him--terrified dogs do not respond as well to training. Instead, calmly return to the beginning and do it again.
Get his food ready a half hour early
Dogs are often most willing to work when they're hungry and they know food is imminent. So get it ready in front of him so he knows what's on the menu.
Have him 'sit'
First of all, instruct him to sit. Stand in front of him as you give the command in a clear voice. It may help to hold his bowl in your hand but hold it way above his head so he won't be tempted to jump up and try and get to it.
'Stay'
Once he's sitting, issue a 'stay' command in a clear voice. You can use any word or phrase you like. Keep eye contact as you do this, you want him to be fully concentrating on you.
Wait
After several seconds, put the food down in front of him and let him eat while giving him lots of verbal praise. The next day, do exactly the same thing, but make him wait longer. If he stands up or moves, say 'NO' in a clear voice and move the food further away. Then have him sit and stay again for a time before giving him his meal. Practice this every day until you can make him stay for 10-15 minutes before you give him the food.
Try it in other situations
Now that he understands the command, you can try using it in other situations. Have someone come to the door and instruct him to sit and stay. Instead of rewarding him with a meal, give him a treat at the end and verbal praise. Try this in a range of situations and when he stays in all of them for a considerable length of time, you can start to cut out the treats.
By James Barra
Published: 11/01/2017, edited: 01/08/2021
---