How to Train Your Cat to Get Into a Cat Carrier or Crate
How to Train Your Cat to Get Into a Cat Carrier or Crate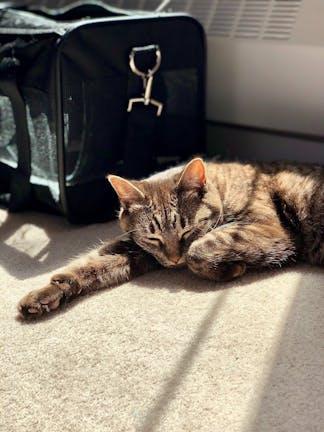 Introduction
Cats are free and easy creatures who love to rule the roost, roaming and exploring. But on occasion, you may have to put your cat into a crate. This could be for a veterinarian visit, an occasion where you have to travel a long distance, or for a move from one home to the next.
Either way, cats are not super keen on the confines of a crate, nor are they fans of the movement or sounds of a vehicle or strange surroundings. In fact, because a cat's destination when in a crate is not often a familiar or fun one, cats often grow to dread the crate rather than accept or like it.
Top
Defining Tasks
Any cat can be taught to go in a crate, but it won't always be an easy undertaking. Keep in mind if the movement of the car makes your cat feel unwell, they will typically associate this confined space with the sickness. Be patient with your furry four-legger as you teach them to get into a cat carrier or crate.
Top
Getting Started
Start training your cat when they are relaxed. Make sure they are not hungry, and that they are receptive to being paid attention to. If it's nap time or playtime, your kitty may not be in the mood to try out something new. Have a few treats on hand as well as patience and time. Then get ready to give cat carrier training a go!
Top
Early training
Kittens typically adapt more easily than cats do to a lot of situations. If you can train your cat to go in a cat carrier or crate when they are young, all the better. This training should include fun trips in the car, such as short distances to the park to get them used to a moving vehicle and seeing things other than home. Keep your cat leashed when at the park!
Treat reward
Pack a delicious treat for when you and your favorite furbaby reach your destination. A trip-worthy tidbit will give your curious cat a positive association with the carrier and the drive.
Cozy space
When your cat is young, let them sleep in this cozy space if they want. Keep a soft blanket in the carrier and place it in an accessible spot near their toys or food dish. Your cat's scent inside makes for a welcoming space.
Sleep and play
Allow your cat the luxury of the carrier as a sleeping and playing area for several weeks before using it to transport them somewhere.
The Slow and Steady Method
No stress
Training your cat to get into a cat carrier without undue stress is always a process that should be approached with patience. Set up the carrier in proximity to your cat's favorite resting place.
Exploration
Cats always like to explore boxes and bags and should seek out the carrier for exploration if left to their own devices.
Close the door
It may take several days for your cat to use the crate as a sleeping spot. When you see your cat entering the carrier on their own, take note and after several occasions, close the door while praising them with a calm voice. After 30 seconds, open the door and give your cat a treat. Let them come out if they choose.
Extend the time
Each time your cat enters the crate for a nap, close the door, extending the length of time each day. Always give your precious kitty a treat when you open the door, even if it means placing the reward in front of your sleeping feline friend.
Movement
After your cat is very familiar with the crate and stays inside with the door closed without fussing, pick up the cat crate. Carry it around gently and without swaying it. Then let your cat out. Gradually work up to bringing the cat to the car, and then even on short rides around the block. Always end with a tasty treat, praise, and plenty of pats!
The Dos and Don'ts Method
Alternatives
If your cat refuses to have anything to do with this hard-sided carrier, try a soft-sided one with mesh. Some cats take better to that the softness and the mesh viewing panels. It could also be that a smaller or larger crate could be the answer. The carrier should be tall enough that your cat can stand up in it. Remember, for long trips a cat should be comfortable and not cramped.
Patience
Be patient. Training your cat to get into a cat carrier or crate will never be an immediate experience. Never force your cat to go inside. Place high-value treats inside the crate, allowing them to go in and out without making a big deal of it.
Room to room
Move the cat carrier from room to room so that your cat explores it in different environments. This will take away the unfamiliarity of the carrier. Their curiosity will have them sleeping in it all over the house.
Don't add anxiety
Sedate as a last resort. Cats don't always fare well with sedation. In some cases, it creates more anxiety due to the strange sensations than the actual car ride in the carrier does.
By Darlene Stott
Published: 02/23/2021, edited: 02/23/2021
---