How to Train Your Cat to Go Potty
How to Train Your Cat to Go Potty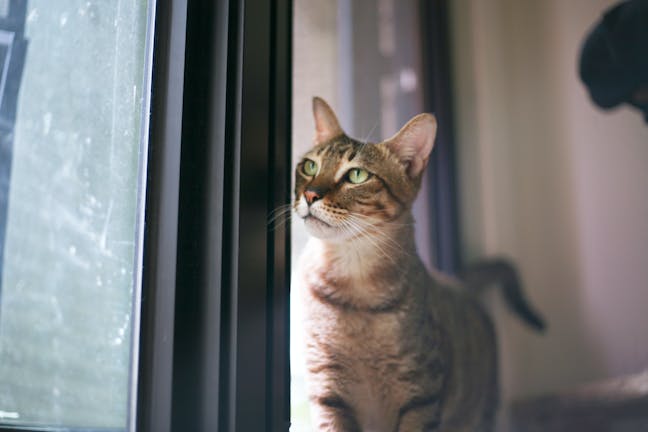 Introduction
Are you the proud pet parent of a cute and cuddly kitten? Or have you rescued a wonderful and wise older cat who used to spend a lot of time outside?
Teaching a kitten to use the litter box or training an older cat to pee in the box when they are used to doing their business outside can be a challenge. Still, it's a necessary thing for a cat to know! 
Your cat is highly trainable when it comes to many tasks and tricks, including learning to go potty. We've got 3 tried and true methods for teaching your furry feline to do their business in a litter box. This is important to know for cats who stay inside and for cats who may be left on their own a day or two while a pet parent is away.
Top
Defining Tasks
Be ready to direct your cat to the litter box when you see signals that it is potty time. What are the signs? Making their way to a corner or quiet spot, sniffing at the ground, and meowing indicates that a cat needs to potty.
Make the litter box accessible, and don't add confusion to the mix by setting up the litter area by a large potted plant containing enticing dirt! If you do so, you may find the plant is your cat's preferred spot. If behind the plant is the only option, place foil or large rocks over the dirt to remove access to the plant. 
Place the litter box in a quiet area. Felines are finicky when it comes to going potty. They like privacy—and they insist the litter box be pristine. Keep these pointers in mind, and you'll have won half the potty training battle!
Top
Getting Started
Often, potty training a kitten is pretty straightforward. Kittens (and cats) like to dig, and you are providing the perfect outlet for that. Older cats who have lived outside can be trained easily, too. Consistency and being aware of what cats prefer when it comes to litter will help you make potty training successful.
Buy a litter box that is short on the sides and easy to climb into. You can always buy a litter box with high sides once your kitty gets the idea (or grows from a tiny kitten into a lovable large cat).
Top
The Litter Box Options Method
The perfect box
Whether you are training a young kitten or an older cat, the litter box needs to be appealing. Put 2 litter boxes in separate areas. For a cat that used to go outside, place one of the litter boxes near the door. The other litter box can be placed in a quieter, out of the way area that your cat has easy access to and is comfortable with.
Open spaces
Make sure the litter box is appropriate. You may like a covered litter box, but in all reality, cats often don't. A cat may feel confined and trapped, with no way of escape. Covered boxes also hold the odor inside, making the space offensive and less appealing to use. Thinking of buying an electronic self-scooping box? The noise and movement may frighten a cat.
The right litter type
The litter you place in the box can make a difference as well. If you are training an outdoor cat, mixing a little dirt in with the litter and slowly phasing the dirt out of the box as the cat becomes trained often works. Don't use scented litter to train a cat; their sensitive noses may be turned off by the perfume.
Clean and accessible
Choose two types of litter and put each one in a separate box. Your kitty will let you know which one they prefer by using it. Remember, keep the litter clean and easy to access. Don't place the box high, making a kitten or older cat needing to jump into it.
The Schedule and Show Method
Show and tell
Show your cat the litter boxes, and feel free to pick your cat up to place them near the box now and then. When you bring your cat home for the first time, have the litter boxes already set up. Let your new kitty know where the boxes are immediately upon arrival home and give them reminders throughout the day.
When to go
Put a schedule in place. When your cat first wakes in the morning, after meals, after playtime, and when waking from a nap are good times to try.
Scents make sense
Yes, cats do like a pristine litter box and it should be scooped every day. But when in training mode, leave some urine and feces in the box to draw your cat to the scent. If you see your cat sniffing or heading to a corner, place them in the litter box.
Reward success
Reward your cat's successes with a treat or playtime. As soon as they pee, praise them, and offer them a tasty cat treat. Playtime as a reward is good as well. After your cat uses the litter box, take them to another room, and engage in play with their favorite toy.
Remind your kitty
Show your cat the litter box periodically throughout the day. Ensure your kitty has plenty of fresh water and food in a location away from the litter box.
The Watch Your Cat Method
Vet check up
If your rescue cat or new kitten is not picking up the use of the litter box or is consistently having accidents throughout the house, a visit to the veterinarian may be in order. An underlying illness like a bladder infection can cause a cat to eliminate in places they normally would not.
Peace and privacy
Remove stressors so that your kitty can relax when going potty. Is there a dog hovering nearby? Are there noises from the kitchen like banging pans and clanging dishes that may startle your cat when in the litter box? Ensure a private and quiet spot.
Spay or neuter
Is your cat displaying behavior that suggests they need to be neutered or spayed? Cats will sometimes spray urine in the house as a way to mark the space as their territory. Discuss with your vet if getting your cat neutered or spayed is appropriate age-wise.
Enzymatic cleaners
Use an enzymatic cleaner to wipe up accidents. This product can be bought at the pet supply store. It is the only way to completely remove the scent of urine and feces. You may not sense the odor, but your cat's keen nose does!
No punishment
Don't punish your feline for peeing outside of the litter box. This may stress your cat and cause the training efforts to regress.
By Darlene Stott
Published: 01/26/2021, edited: 10/07/2022
---