How to Train Your Cat to High Five
How to Train Your Cat to High Five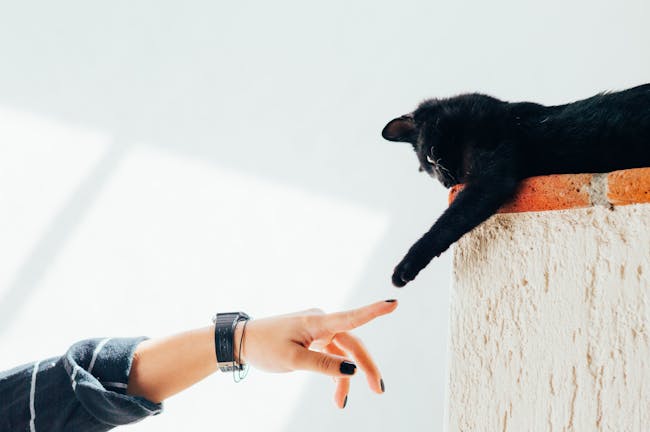 Introduction
Everyone loves a cat, but people adore a funny cat even more! Teaching your cat to high five is the perfect task for showing off your cat's cuteness. Going through the training steps will give your four-legged friend the mental workout that every domesticated animal loves. Sleeping all day isn't the only thing felines find amusing!
Cats like rewards, too, and are happy to receive them. The key to training a cat is to ensure you are working on their schedule. Finicky felines like things their way and won't cooperate if it's nap time or they have an overly hungry tummy. If the scenario is right, though, your cat is ready to be the next star!
Top
Defining Tasks
As with many training commands for both canines and felines, having a cat that has been trained to sit on command is helpful. They will execute the high five more easily than a kitty needing to learn what "sit" means. Teaching your furry friend to high five will be an activity that keeps them out of trouble—for at least a few minutes!
Top
Getting Started
A beloved treat and the best toy ever will get your cat in the mood to train. Keep the session short and the mood positive. Don't show your cat frustration, even if you think the task is taking too long to learn. Plan to train for 3-4 minutes each time, a couple of times a day. No more, or your frisky feline may leave the room in search of better entertainment.
Top
Irresistible treat
Start with your cat's favorite treat. A small piece of boiled chicken or a commercial treat with an irresistible scent will do the trick. Keep the pieces small or use one-half of a soft treat. You don't want your cat to gain weight! Put the treat in the hand where you will be asking for the high five.
Hand up high
Your hand should be above your cat's head. They'll be alert and looking up at your hand. As soon as they touch you, say "high five!" and give them the treat. It doesn't matter if they meet your palm directly just yet.
Practice
Practice step 2 until you feel your cat is proficient and understands the verbal cue of "high five". Soon, when they see your palm, they should raise their paw.
Empty hand
When your cat raises their paw to your hand consistently, start giving them the treat from the opposite hand. This means your cat will give the high five to an empty hand, but still receive the treat. Doing so signals the words "high five" and the accompanying action means they get a treat.
Forward motion
Once things are moving smoothly, make a forward motion with your hand to reach their paw as they put it forward. You can continue the rewarding snack on occasion, but not every time. If your cat needs the motivation to cooperate, feel free to reward them every time.
Fingers closed
Hold a tasty treat in your hand, keeping the hand close to the floor and fingers closed over the palm. When your cat touches your hand, give a verbal cue "like good job!" and give them the yummy tidbit.
Hand higher
At the next training session and subsequent ones after that (remember short sessions daily), gradually increase the height of your hand until they are reaching up with their paw to touch your hand. Give them the treat out of your closed palm each time.
Open the hand
After consistent training sessions, present your hand without a treat and in the open palm position. When your kitty touches your open paw, say "good job!" and give the treat from the opposite hand.
Repeat
Keep practicing with the open high five hand, rewarding each time.
Verbal cue
Next, introduce the verbal cue "high five" every time your cat reaches for your hand in training sessions as expected. Keep practicing until the high five verbal cue and your cat's paw lifting are simultaneous.
Top toy
Buy your kitty a new toy or use a favorite one they cannot resist. Wand-like toys with feathers or strings on the end are typically very enticing.
Raise a paw
Approach your cat and encourage them to play. When your cat raises their paw to the toy, even if it's a small motion, reward them with a delectable treat and the words "high five".
Earn reward
Your clever cat will learn that the paw movement in conjunction with "high five" earns them a reward. Keep practicing, trying to get your cat to lift their paw even as you make the toy move less.
Toy up close
Another step to this training method is to gradually shorten the distance of the toy on the end of the wand until your cat is pawing at the toy up close. Eventually, they'll reach the toy in your hand. Make the toy less obvious and part of the session, rewarding your cat when they touch your hand instead of the toy.
High five the hand
Keep up the "high five" verbal command and eventually have your cat touch your hand for a reward. As you train your cat, open the hand and work toward them pawing at your empty hand without a toy. Keep rewarding them until they have it down pat. Then, reward with a treat on occasion to ensure motivation.
By Darlene Stott
Published: 02/24/2021, edited: 02/24/2021
---