How to Train Your Cat to Lie Down
How to Train Your Cat to Lie Down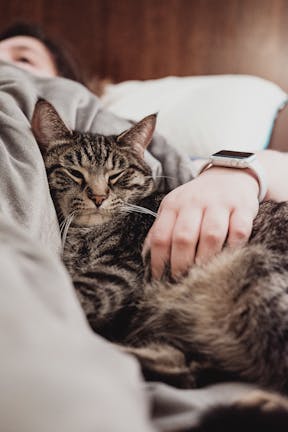 Introduction
Are you looking for a useful command to teach your curious kitty? How to lie down is a good one. If you have the need at any time for your cat to stay where they are, such as if you spill a noxious cleaning chemical when cleaning a paintbrush, "lie down" is a good command to know to keep them out of harm's way. 
A cat who knows
the "sit" command
should transition pretty easily to the lying down position when asked. Keeping in mind that cats have a mind of their own when it comes to day to day living, they do have the intelligence to learn a lot of things! Convincing these lovable and independent furry beings to do as you ask is the fun part of any training session.
Top
Defining Tasks
As mentioned, teaching your adorable four-legger to sit is the basis for this task. Make sure "sit" is tackled and conquered as a building block to training and then move on to this one. Remember, as with any training session, whether it be with a perky pup or a finicky feline, keep the sessions short and keep them fun. 
Mental stimulation is a welcomed activity for your pet who may consider learning to lie down a fun game. Teaching your furry buddy to lie down is handy for grooming time and keeping them still when needed.
Top
Getting Started
What cat can resist their most-loved treat? Before beginning a cat training session, stock up on yummy treats that will have your favorite cat cooperating. Keep your voice cheerful as you train, never let frustration be a part of the training and always end on a high note with a fun session afterward. Keep your cat coming back for more!
Top
The Favorite Perch Method
Favorite spot
This method is all about teaching your cat the command in their favorite spot to rest. Yes, cats do change their sleeping spots regularly, but once you know that is the "place of the day" or "spot of the week", it's time to take advantage of it.
Daily perch
Cats are natural predators and watchers of everything. They may not be keen on taking the position of prey, feeling as though lying down makes them vulnerable. To get top-notch cooperation, train your cat on their favorite perch of the day or week. It will typically be high up, such as on the back of the couch looking out the window, or on their personal cat perch, where they survey their domain.
Remember verbal cue
Once your kitty heads to their preferred place for a nap, take advantage of their readiness to lie down on their own. As your cat gets comfortable and moves to a lying down position, give the verbal cue along with it. Keep the wording the same, using terms like "lie down", "down" or "rest".
Follow your cat
This method does involve following your cat somewhat, but if you know their habits and typical times to lie down, take advantage of it. Once your cat gets used to hearing "lie down" with the action, it should come to them quickly when they hear the cue.
Toy time
Cats love a good toy, especially one with a lure on it. A good time to practice is when your cat is on the bed, or on the back of a comfy chair or couch. Try it when your cat is gazing out the window watching the world go by.
Eye level
Take the toy lure and lower it to eye level. Slowly bring it below your cat's elevated space. To see the lure, they will likely have to lie down to look over the edge at the toy. As this takes place, give the verbal command you have decided on, such as "lie down".
Additional incentive
If your cat isn't interested, try training with a spoon dipped in a portion of their favorite soft cat food. Move the spoon lure lower than the back of the couch. Say "lie down" and once the action is complete, give the treat and praise.
Hand signal
Once your cat is a pro at lying down on command, make it even more impressive by initiating a hand signal along with the verbal command to "lie down". Transition to using your hand and watch your friends be surprised as your clever kitty lies down with just a hand signal from you.
Always sit
This method involves rewarding your cat for small steps that lead up to the completion of the training session. Have treats in hand. The first step is to have your cat "sit".
Use your palm
Next, put the treat on the floor and cover it partially with your palm. Your cat should be still in the sitting position. Tap with your free hand to indicate where the treat is. Once your cat looks at the treat, give them the reward. Repeat over 3 sessions.
Crouch for it
At the next training session, follow the same steps but instead, give your cat the treat once they crouch to look at the treat as opposed to just looking down at it. Repeat over the 3 short sessions.
Proper verbal cues
Wait until the next training session to move the treat away once your cat has crouched. This is in anticipation of them crouching far enough to come to a lying down position as they attempt to see the treat. With this and all of the above steps, be sure to give the verbal cue you have decided to use. Remember, if you typically tell your cat to "get down" when they are somewhere they shouldn't be, don't use that cue as your command; say "floor" or "rest" instead.
By Darlene Stott
Published: 02/09/2021, edited: 02/09/2021
---