How to Train Your Cat to Run an Obstacle Course
How to Train Your Cat to Run an Obstacle Course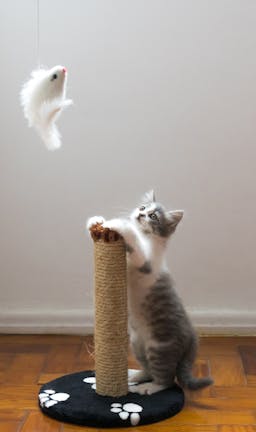 Introduction
Agility is a sport much more commonly associated with dogs than with cats. But did you know that cats can do agility, and that they can do it very well?
Cat agility is an increasingly popular sport that offers a great physical and mental workout for your kitty, while at the same time strengthening the bond the two of you share. Best of all, it's a sport you and your cat can train for at home.
By constructing your own agility course, either in your yard or even in your home, you can give your fabulous feline the "pawfect" environment in which to hone their skills. Then all you have to do is train your cat to run an obstacle course — keep reading to find out how.
Top
Defining Tasks
Training your cat to run an obstacle course is a little more difficult than teaching a dog the same skills. This is quite simply because cats aren't always as eager to please as many dog breeds, so you'll need a patient and consistent approach to help your pet understand the basic skills necessary to complete the course.
Whichever of the two methods below that you choose when training your cat, there are a couple of different ways to go about it. One is to rely on the clicker training approach, which basically involves using a click sound and giving your pet a treat when they exhibit a desired behavior, such as jumping over an obstacle.

Alternatively, you might like to try luring your cat through the course with their favorite toy. It all comes down to what works best for your cat, so it might take a little trial and error before you find the right approach.

Of course, the athletic skills your cat will need to learn will vary depending on the obstacle course you create. You may want your kitty to dash through tunnels, jump hurdles, weave between poles, climb ladders, or leap through hoops. Training these talents will take time, but the results are impressive and make the hard work well worth it.

Top
Getting Started
Some cats will get the hang of agility training straight away, but others will take a little longer to grasp what you want them to do (or to find the inclination to do it). Regardless of which method you choose, stay calm and patient at all times, and remember to keep your sessions short and fun. This will allow you to set your cat up for the best chance of success.
Top
Pick an obstacle to get started
This method quite simply involves training your cat to tackle each obstacle in the agility course one at a time. The first thing you need to do is pick an obstacle you think your cat will enjoy or will easily be able to learn to tackle.
Start small
While there are some obstacles your pet will get the hang of straight away, others might require a little more fine tuning. For example, if you're teaching your cat to jump through a hoop, you might need to start by allowing them to walk through it at ground level before gradually raising it a little higher off the ground with each new attempt.
Master the obstacle
Now it's time to use a treat or maybe your cat's favorite toy to lure them over, under, or through the obstacle. For example, if you want your pet to go through a tunnel, throw a treat into the tunnel and encourage them to go and get it. If you're using a toy as a lure to get your cat over a jump, lead your pet through the obstacle and reward them with a play, a cuddle, or a treat when they complete it.
Move on to the next obstacle
Once your cat has completed the first obstacle a few times and knows what to do, you can move on to training them to tackle the next obstacle. You should again make sure to reward your pet for doing the right thing, and remember to repeat a few times until your kitty knows exactly what to do.
Put the whole course together
Once you've taught your pet each obstacle one by one, you can focus on combining each individual challenge together into one big agility course. Guide your cat through the course slowly at first, giving them a chance to get used to putting multiple skills together and understanding the route you want them to take. Over time, your cat will grow faster and faster until they look like a seasoned professional in action.
Start with the last obstacle
You read that right — the first thing you need to do is teach your cat to tackle the last obstacle on the course. Use their favorite toy or treat to help them work past the obstacle, and you can use a clicker to reinforce the right behavior if you want.
Move to the next-to-last obstacle
Once your cat has mastered the final obstacle in the course, you can focus on the second-last obstacle. You can again use a reward to motivate your pet to complete the obstacle, but once they've done it, continue straight on to the last obstacle and encourage them to complete that as well.
Keep building the chain
Working step by step, you can progress back through each obstacle in the course. Each time they complete a new challenge, get them to continue through and complete the remaining obstacles in the course. As they repeat the same obstacles and larger sections of the course time and again, the chain of actions will hopefully become linked in your kitty's mind.
Put the whole course together
Now it's time to let your cat tackle the entire obstacle course from start to finish. By now, your cat will hopefully put all these individually-learned behaviors together into the correct sequence. And with further repetition, they'll soon be completing the course at speeds you would never have thought possible.
By a Labrador Retriever lover Tim Falk
Published: 02/23/2021, edited: 02/23/2021
---