How to Train Your Cat to Target
How to Train Your Cat to Target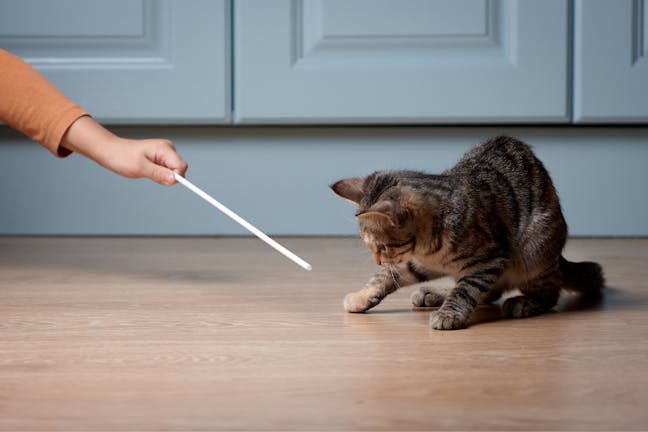 Introduction
Targeting refers to a cat touching a target with their nose or paw. It's a simple skill, but mastering it opens the door to a myriad of useful behaviors and fun tricks. Training your cat to target makes it easier to teach them to go in and out of their carrier, jump on and off a chair, walk on a leash, spin around, run through a tunnel, and more. The training possibilities are virtually endless; this is a skill you'll want your cat to have! Target training is also a great way to exercise your feline friend and keep them mentally active. 
Top
Defining Tasks
With targeting being a foundation for a host of other behaviors, it's easy to get excited at the thought of your cat performing cool tricks such as jumping through a hoop or weaving through your legs. However, it's important not to get ahead of oneself; focus on teaching your cat the basics first, as going too fast will likely overwhelm them. 
A little bit of patience goes a long way in
cat training
. Also keep in mind that cats do well with positive reinforcement—reward desired behaviors and refrain from using punishment for the best results.
Top
Getting Started
To get started with target training your cat, you will need treats. You can also use their regular dry food for the reward. Depending on the method you'll choose, you can use either your finger or a target stick as the target. If it's the latter, it's recommended to get a target stick that's telescoping and has a built-in clicker so that you can adjust the length according to your cat's needs and have one hand free while training.
Keep the first few training sessions fun and easy to encourage your cat. It's also a good idea to train them before meals when they're just a little hungry. Be patient with your feline friend, and they'll be targeting like a pro in no time!
Top
Setting up
Place a treat on the floor a few feet from your cat. After they take it, place another treat down. Repeat a few times.
Pointing
Continue placing treats down one at a time, but this time point to each treat with your finger. This tells your cat that your finger indicates food. Make sure your finger touches the floor when you're pointing out treats.
Air treat
Pretend that you're putting a treat down and point to the empty spot, with your finger still touching the floor. When your cat approaches your finger, say "Yes!" and reward them with a treat from the same hand.
Finger off the floor
Once your cat has gotten the hang of things, you can gradually raise your finger while pointing. Say "Yes!" and reward your cat when they approach your finger.
Cat over leg
When your cat is consistently following your finger target, try guiding them over a simple obstacle. Sit on the floor with one leg extended and use your finger to lead them over it. You can eventually raise your leg a few inches off the floor so that your cat hops over it. Remember to say "Yes!" and reward your cat each time they go over your leg.
Curiosity rewarded the cat
Hold the target stick out and wait for your cat to approach it. Click and give them a treat when they come over and investigate it with their nose.
Make it more interesting
If your cat is ignoring the stick, dab a bit of wet food at the end and try again. Click and reward as soon as they come over to smell it.
Practice makes purrfect
Repeat step 1 a few times. Wait for your cat to touch the end of the stick with their nose before clicking and treating.
Increase difficulty
Once your cat understands that they're supposed to follow the target, you can start to raise it and move it farther away. Try moving the stick in different directions as well.
Introduce obstacles
Now for the fun part! Once your cat is routinely following the target at an increased height and distance, try guiding them around a box or between your legs.
Troubleshooting
If your cat is biting the stick, you need to click sooner before they have a chance to do so. If you notice that they're losing interest, make the training sessions shorter and easier. Your cat's ability to focus will improve with practice.
By Aurus Sy
Published: 02/03/2022, edited: 02/03/2022
---