Ear Tumors in Dogs
Veterinary reviewed by: Dr. Linda Simon, MVB MRCVS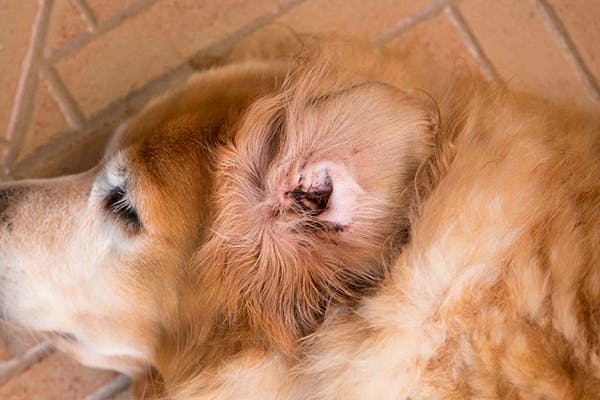 Veterinary reviewed by: Dr. Linda Simon, MVB MRCVS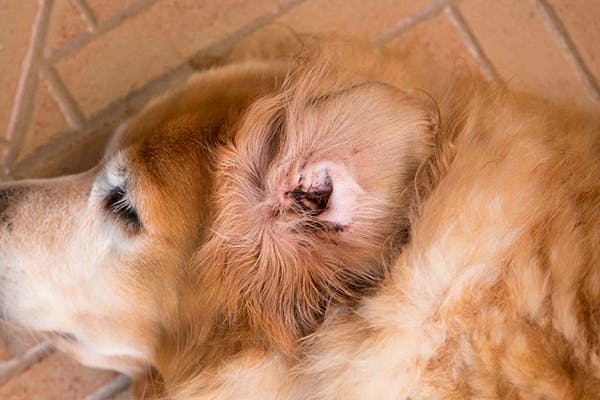 What are Ear Tumors?
If your pet has an ear tumor, it may be asymptomatic until it gets big enough to cause symptoms or unless it is visible. The majority of ear tumors are not cancerous and some do not even need treatment unless they are causing problems or pain in your dog. However, many veterinarians believe that it is best to remove ear tumors, whether they are in the tissues, bones, or glands, or need to be removed to prevent infection, pain, and growth. The tumors of the ear are most often small lumps on stalks growing from the skin (polyps), but they may also be a large mass in the ear, or just a flat discolored lesion. They can be black, purple, pink, white, or brown and they may be filled with blood, oil, or pus, depending on the location. Dogs with long, floppy ears, such as Cocker Spaniels, Beagles, and Golden Retrievers, are predisposed to ear tumors and having multiple ear infections may also be a risk factor.
Ear canal tumors are growths in any part of the ear, including the muscles, bones, connective tissues, oil and earwax glands, and outer, inner, and middle layer of skin. The outer ear canal and pinna area are more common locations for tumours than the inner or middle ear to find a tumor. Ear canal tumors in dogs are more likely to be benign (not cancerous) than malignant, but they should always be seen by a veterinary professional because even benign tumors can cause deafness and balance problems (among other complications) for your pet.
Ear Tumors Average Cost
From 541 quotes ranging from $500 - $12,000
Symptoms of Ear Tumors in Dogs
The side effects of ear tumors depend on where the tumor is and how large it is. Some of the most often reported signs of ear tumors are:
Visible growth in the ear
Shaking head
Stumbling or falling due to lack of balance
Tilting the head
Swelling of the ear
Scratching or rubbing the ear
Whining or crying in pain when ear is touched
Foul smell in the ear
Bloody or yellow discharge
Chronic ear infections
Types
Most ear tumors are benign (not cancerous), but only a veterinarian professional is qualified to tell the difference. That being said, there are several types of ear tumors which include:
Earwax gland tumor
Inner ear tissue tumor
Middle ear tissue tumor
Outer ear tissue tumor
Tumor of the bone
Top
Causes of Ear Tumors in Dogs
Experts are not certain what causes ear tumors, but there are several risk factors:
Dogs with large, floppy ears (Cocker Spaniels, Beagles, Golden Retrievers)
History of multiple ear infections (otitis externa, otitis interna, otitis media)
Long-term inflammation of the ear canal
Repeated infestations of ear mites
Thickening of the ear wax for any reason (usually unknown)
Top
Diagnosis of Ear Tumors in Dogs
To diagnose an ear tumor in your dog, your veterinarian will need to perform a thorough physical examination, including weight, blood pressure, temperature, reflexes, pupil reaction time, heart rate, respiration rate, skin and coat condition, and breath sounds. Be sure to tell the veterinarian if your dog is on any kind of medicine, whether it is prescription or over the counter drug. Also, describe the symptoms you have noticed and how long they have been going on.
General diagnostic tests will be needed, which may include a complete blood count (CBC), chemical analysis, blood gases, liver enzyme panel, and blood urea nitrogen (BUN). If possible, a detailed otoscopic examination of the affected ear will be done to check for damage or any other tumors. Your dog will be sedated for this procedure as well as for the x-rays that are needed to look at the internal ear structure. In addition, an ultrasound, MRI or CT scan may be necessary for a more detailed examination. Finally, the veterinarian will do a fine needle aspiration or biopsy of the tumor to check for malignancy.
Top
Treatment of Ear Tumors in Dogs
Treatment of the ear tumor depends on where it is and how big it is, but it usually involves surgery to remove the growth. Laser surgery is used if possible, as that is the safest choice. However, in some cases, the veterinarian may have to do a surgical excision or a total ear canal ablation (TECA), if there is extensive damage from the growth.
Total ear canal ablation (TECA)
Radiographs or CT scans are used to check the tympanic bullae and the narrowness of the ear canal. Your dog will have cultures taken to determine the most appropriate antibiotics to use to prevent further infection. TECA is the removal of the ear canal, which is done if the tumor has damaged or distorted the canal beyond repair. Your dog's ear is opened up and the whole ear canal will be removed, including the bony part of the middle ear.
Top
Worried about the cost of Ear Tumors treatment?
Pet Insurance covers the cost of many common pet health conditions. Prepare for the unexpected by getting a quote from top pet insurance providers.
Recovery of Ear Tumors in Dogs
The prognosis for ear tumors is good, but depends on your dog's age, health, and where the tumor is located. As long as the tumor is benign, there is no reason to think your pet will have any lasting complications or shortened life span. In some dogs, the tumor may grow back, but this is very rare. However, if you notice another growth in the ear, be sure to call the veterinarian right away.
Top
Ear Tumors Average Cost
From 541 quotes ranging from $500 - $12,000
Top
Ear Tumors Questions and Advice from Veterinary Professionals
terrier/pit mix
7 Years
9 found helpful
9 found helpful
My dog has a black lump on the tip of his ear it is filled with blood and is more hard than soft. It seems to be getting bigger at a slow rate but it has been over a week and we have been disinfecting and putting propolis on it with no avail. What could this be?
Dr. Sara O. DVM
9 Recommendations
This could be a small blister or a mass it is very hard to tell from the picture. Your vet can remove this for you. If it continues to grow I would have it removed.
Jan. 3, 2021
Was this experience helpful?
Shih Tzu
Thirteen Years
0 found helpful
0 found helpful
My dog has a huge mass on her right ear looks purple
Dr. Sara O. DVM
0 Recommendations
Hello, this mass needs to be removed. It would be best for you to take your dog to your vet for this to be done. Good luck
Dec. 5, 2020
Was this experience helpful?
Ear Tumors Average Cost
From 541 quotes ranging from $500 - $12,000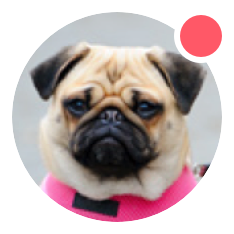 Need pet insurance?