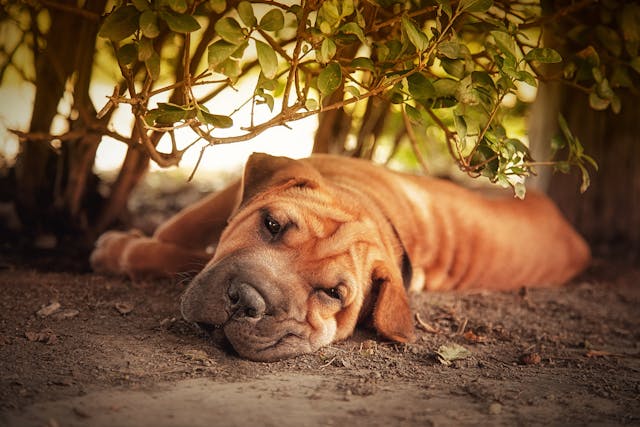 What is Familial Shar-Pei Fever?
Familial Shar-Pei Fever (FSF) dogs are in a constant state of inflammation. Recurrent fever and pain, accompanied by tibiotarsal joint (hock) swelling occur as random events. In some cases, the muzzle may become enlarged as well. The fevers range between 103 - 107F (39.4 - 41.7C) and last 12 to 36 hours without treatment. It must be noted that your dog will require emergency treatment if the fever reaches 106F or higher. Do not delay contacting a qualified veterinarian if your Shar-Pei has a fever that is climbing rapidly. Amyloidosis is a definite concern, and must be diagnosed in early stages, due to the risk of kidney failure.
Surveys show that 23% of dogs of the Chinese Shar-Pei breed are known to have Familial Shar-Pei Fever. The syndrome is an inherited autosomal recessive condition, with episodic fever and swelling of the hock as the two main characterizations. This condition must be treated by a veterinarian in order to avoid or minimize the effects of amyloidosis, a serious complication of the syndrome.
Familial Shar-Pei Fever Average Cost
From 32 quotes ranging from $500 - $3,000
Get a free pet insurance quote in less than 60 seconds!
Easily compare quotes from the most trusted pet insurance companies in the United States.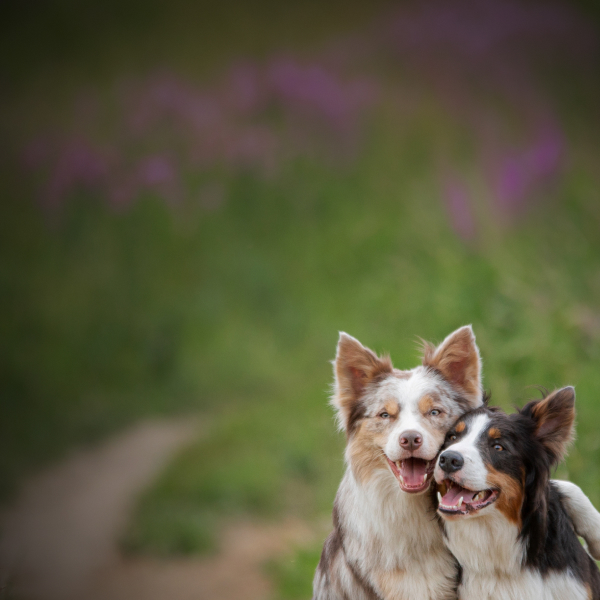 Symptoms of Familial Shar-Pei Fever in Dogs
As the owner of a Shar-Pei, it is important for you to know that not all dogs of this breed will develop FSF. However, if your pet has a fever and swollen joints, it is highly recommended to visit the veterinarian promptly in order to investigate the reason for the illness. Other symptoms that may accompany an episode of Familial Shar-Pei Fever are as follows:
Swollen, painful muzzle
Swelling in wrists and lips, which may feel hot
Reluctance to move
Pain in the abdomen
Vomiting
Diarrhea
Shallow breathing
A stance that shows obvious discomfort, such as an arched back
If your pet has developed amyloidosis, (which is a complication in about 5% of Shar-Pei's who have FSF) you will see the additional symptoms of:
Increased thirst
Frequent urination
Vomiting
Halitosis (bad breath)
Loss of appetite
Causes of Familial Shar-Pei Fever in Dogs
Familial Shar-Pei Fever usually begins to present symptoms in dogs around the age of 18 months, but it is not unusual for the onset of the disease to occur in adulthood. In dogs with early onset of FSF, the episodes can become less frequent with age. The cause of FSF is various genetic factors:
A genetic defect in the immune system can lead to an overactive immune response.
The mutated genes upset the regulation of inflammatory chemical messengers in the body.
A genetic mutation resulting in excessive wrinkles, causing overproduction of hyaluronan, which can deregulate normal inflammatory processes (fever, redness and swelling). This means, in general, that dogs with extra wrinkling are suspected to be more apt to have FSF.
Pets with FSF can develop the secondary complication of amyloidosis; the cause for this being that Shar-Pei dogs who have the fever syndrome will have increased serum concentrations of interleukin-6, which stimulates the production of amyloid protein (known to be associated with inflammatory disease).
Diagnosis of Familial Shar-Pei Fever in Dogs
To begin, the veterinarian will perform diagnostic tests to rule out other illnesses by exclusion. Checking for tick-borne diseases is common, along with testing for autoimmune disorders. Urinalysis and blood chemistry will be included.
Unfortunately, at present there are no DNA blood tests definitive to FSF. Studies are currently underway with the hopes of developing a screening method. Blood test results will show an increased white cell count and a hike in liver enzymes during a fever episode. Further blood tests may show the following issues:
Neutrophilia
Monocytosis
Hypercholesterolemia
Hypomagnesemia
Hyperglobulinemia
High blood platelet count
A Shar-Pei with Familial Shar-Pei Fever should automatically be red flagged for the possibility of amyloidosis occurrence. Upon examination, the veterinarian may see oral ulcerations, dehydration, and pale mucous membranes. If your dog is in the advanced stages of amyloidosis, further testing will show the following:
Proteinuria (high levels of protein in the urine)
Low albumin in the blood
Fluid retention
X-ray and ultrasound may show abnormalities of the kidneys and liver
Biopsy of organs may be done to determine the extent of the disease, but this is not without risk to your pet.
Treatment of Familial Shar-Pei Fever in Dogs
Keeping your dog's fever down is paramount to this illness. Aspirin may be given upon recommendation of the veterinarian. Be careful to administer only the amount prescribed. Aspirin may be given for several days in order to combat the fever, and to prevent a rebound of symptoms.
If your pet is in the midpoint of a severe episode, IV support may be required. Anti-inflammatories will be given if pain is noted. Your pet is at risk for a septic-like shock with an extremely high fever, accompanied by necrotic skin sloughing associated with the mucin found in Shar-Pei skin, which could signal an infection at this time as opposed to a fever event. All of the above point to the importance of keeping the veterinarian involved in the care of your Shar-Pei. At any time, if your Shar-Pei is showing signs of unusual behavior, a veterinarian visit is in order. This is stated because some dogs may not display the symptoms of FSF, but still have amyloidosis which can eventually mean kidney or liver failure.
Colchicine is the treatment of choice for dogs with FSF because it has been known to reduce the frequency and severity of fevers, and can help to prevent amyloidosis. (It is interesting to note that colchicine is used on humans with the illness Familial Mediterranean Fever to prevent and treat amyloidosis.) This drug will be prescribed daily.
Worried about the cost of treating your pet's symptoms?
Pet Insurance covers the cost of many common pet health conditions. Prepare for the unexpected by getting a quote from top pet insurance providers.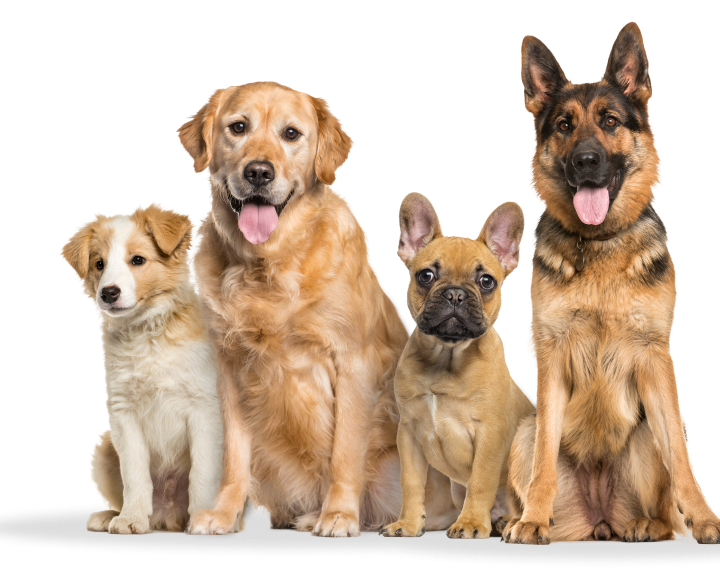 Recovery of Familial Shar-Pei Fever in Dogs
Any Shar-Pei, who has FSF, should be monitored with regular urinalysis (to check creatinine level), CBC and chemistry profile. It is important to consistently monitor blood pressure and body weight. Consistent high fever can produce a loss of wrinkles ( due to lack of production of hyaluronan). Prednisone is sometimes used to treat mucin issues.
Colchicine must be continued as a preventative of amyloidosis and a treatment for recurring fever events.
A high-quality diet is necessary, which can be determined by you based on your observations of your pet's dietary health. It is critical to keep in mind that your Shar-Pei should have a diet that includes minerals, glucosamine, hyaluronan, and vitamins for optimal health and nutrition. Some Shar-Pei may benefit from a low carb and grain free diet. Omega 3's are important, as are lecithin and probiotics.
Stress is known to bring on episodes of Familial Shar-Pei Fever. Excessive exercise, illness or boarding situations, for example, can lead to a fever event.
If your Shar-Pei is suffering from kidney or liver failure due to amyloidosis, supportive care is available. The long-term prognosis is not favorable due to the organ damage caused by this complication.
Familial Shar-Pei Fever Average Cost
From 32 quotes ranging from $500 - $3,000
Top
Familial Shar-Pei Fever Questions and Advice from Veterinary Professionals
Shar Pei
Five Months
2 found this helpful
2 found this helpful
My pet has the following symptoms:
My pup is limping, shallow breathing, not eating,
Answered by Dr. Michele K. DVM
Thank you for your question. I apologize for the delay, this venue is not set up for urgent emails. I hope that your pet is feeling better. If they are having problems, It would be best to have your pet seen by a veterinarian, as they can examine them, see what might be going on, and get any testing or treatment taken care of that might be needed.
Oct. 21, 2020
Was this question and answer helpful?
Shar Pei
Angus
2 Years
3 found this helpful
3 found this helpful
My pet has the following symptoms:
We are at a week with fever ranging between 104-105. He has had a battery of tests, on two antibiotics, meloxicam, antacid and colchicine. He has eaten a little and had sub q fluids twice. He was hospitalized for two nights with iv meds and fluids and still the same. He has not had the traditional swollen hocks either. White count is up but everything else is fine. We are stumped and frustrated!
Answered by Dr. Michele K. DVM
I"m sorry that is happening to Angus, it can be very frustrating when our pets are not getting better. It seems that your veterinarian has treated him with appropriate medications, and it might be time to see a specialist for him. Your veterinarian can recommend an internal medicine specialist for you - hopefully that will help resolve his problem.
Aug. 14, 2018
Was this question and answer helpful?
Familial Shar-Pei Fever Average Cost
From 32 quotes ranging from $500 - $3,000
Get a free pet insurance quote in less than 60 seconds!
Easily compare quotes from the most trusted pet insurance companies in the United States.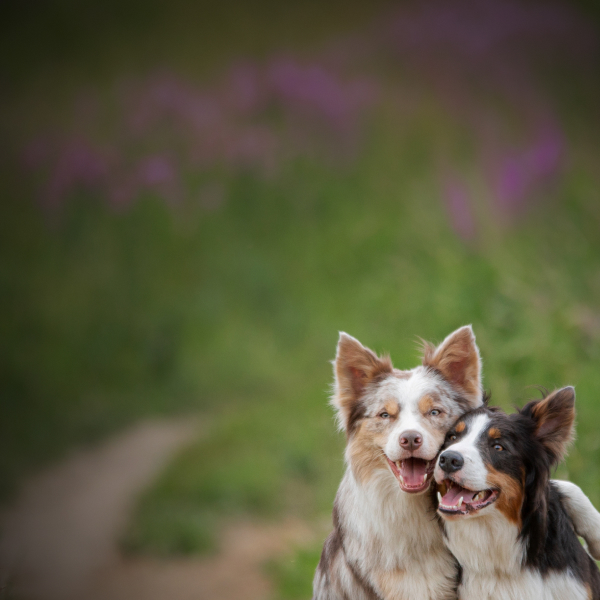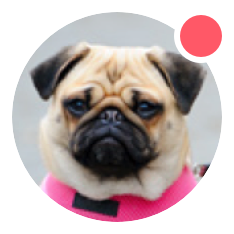 Need pet insurance?