Overview
With the winter holidays right around the corner, there's no better time to learn about pet rescues. Pets are often abandoned around the holiday season, putting unnecessary stress on foster homes and shelters across the country.

Thankfully, there are lots of kind souls out there that will do anything to ensure our furry friends are safe from harm and get a loving home. Here are 5 pet rescue stories to warm your heart this holiday season.

The Cali girl who shoved a bear to save her dogs
In June 2021, a 17-year-old girl from Bradbury, CA, made national news when she put herself in harm's way to save her pups when a brown bear and her cubs decided to come into her backyard.

A clip from Facebook sees the girl running up to the brown bear, which is perched on a wall pawing at her dogs. She can be seen pushing the bear off the wall, grabbing her small pups, and running away — pretty incredible strength from a 17-year-old!

According to accounts, the 17-year-old didn't know the animal was a bear until afterward and acted on instinct to save her fur-babies. While it's commendable to attempt to protect your dogs from a bear, we wouldn't recommend the same action if you're in this situation. Read more about how to protect your dog from bears in our handy guide.
Image credit: @manda_sherrod on Instagram. Used with permission.

Foster pup gives birth to a huge litter
A heartwarming story from Instagram features Denali, a heavily pregnant shelter dog. Denali was put on a kill list despite being pregnant and needed an immediate foster to be saved. Luckily, Amanda and Casey stepped up to foster Denali.
A couple of weeks after being brought home and Denali had settled down, she went into labor. Amazingly, Denali gave birth to a massive litter of 11 healthy pups!

Amanda and Casey partnered with Path of Hope Rescue to find "furever" homes for all 11 puppies and their mama, Denali. Thanks to Amanda, Casey, and Path of Hope Rescue, 12 dogs were saved and are now living their best lives!
Keep up to date with Amanda and Casey's foster exploits on Instagram at @manda_sherrod and @caseyriveter.
Abandoned canine ends up fetching big bucks
In China, an abandoned Shiba Inu has ended up being one of the most expensive dogs of all time. Deng Deng was abandoned 7 years ago when his owner dropped him off at a training class and never came back. 
Now 8 years old, Deng Deng was put up for auction after his owner couldn't be found. Local authorities set up an online auction, and Deng Deng ended up selling for 160,000 yuan — equivalent to $25,000! 
The auction was meant to last 24 hours but had to be extended, with approximately 488 bidders. Amazingly, Deng Deng's original asking price was just $78, which is 320 times less than he sold for at auction. Deng Deng was so popular with bidders because he went viral — all the more reason to show off foster pups on social media!
Couple organize 8,000-mile trip to rescue the dog of their dreams
Image credit: @streetdogindiana on Instagram. Used with permission.

An intercontinental dog rescue is sure to warm a few hearts. During a trip to India, Brittany and John discovered a 4-week-old puppy that had been hit by a car. After extensive surgery, the puppy was left with a shattered back right leg and a missing front right paw.
It's expensive and complicated to get a dog from India to the US — but this didn't discourage John and Brittany. They got the puppy set up in a foster home and then set to work on getting him back to the States.

To make matters worse, the Center for Disease Control (CDC) had temporarily banned the importation of animals from over 100 countries, including India. So, Brittany and John had 30 days to bring the pup to the US, or they'd have to wait a year.

Luckily, everything worked out, and they managed to get their puppy back to the US. They even drove over 700 miles from Miami to Jacksonville to pick up their pup. They named the doggo Indiana Jones, and they now live happily ever after!
You can keep up to date with Indiana Jones and his pet parents on Instagram.
Adorable Pittie finds forever home after 10 years in a shelter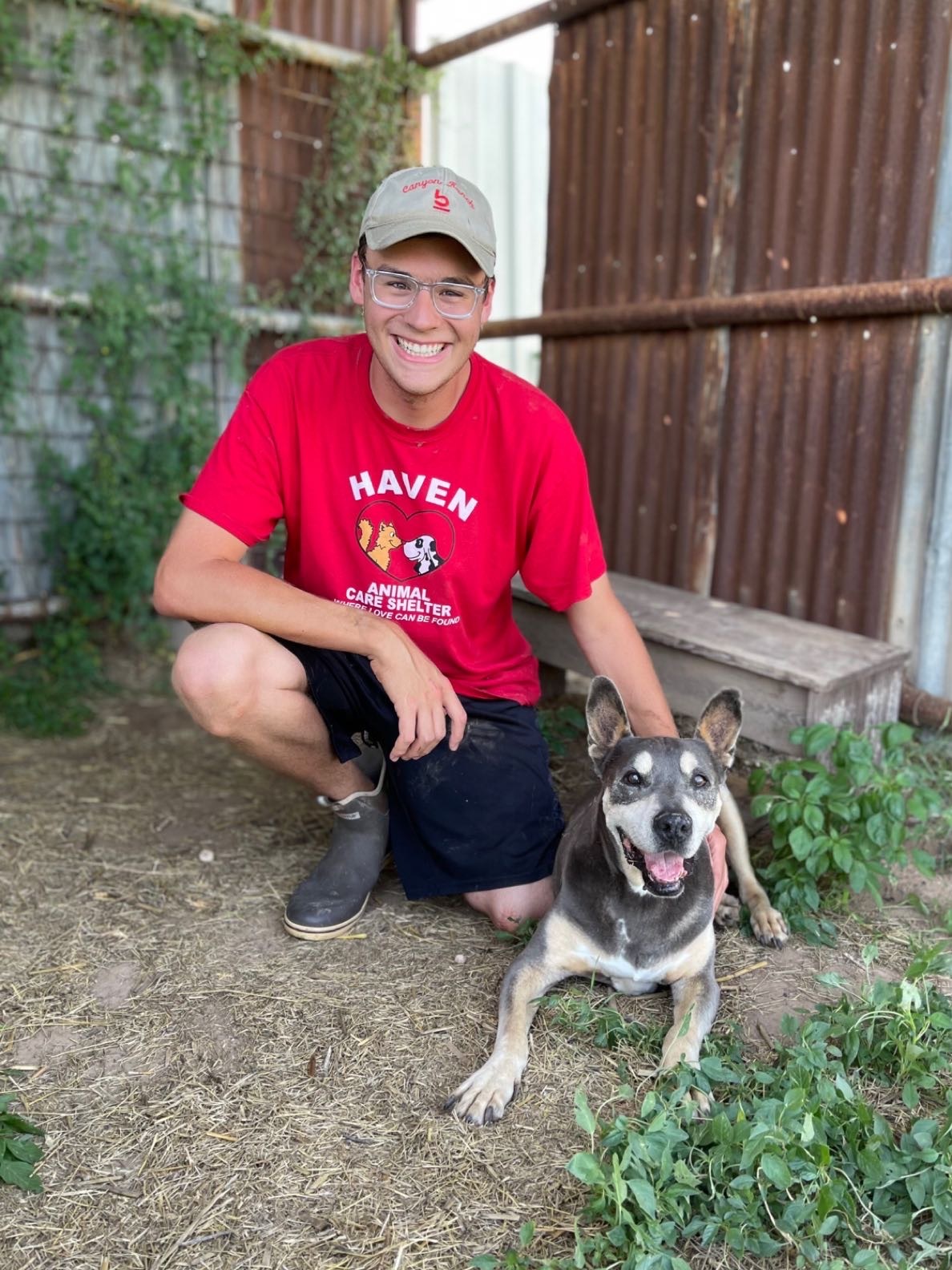 "Me and Titan before going to his home after living in his kennel for 10 years!" — Josh at Haven Animal Care Shelter

Josh, a super attentive worker at the Haven Animal Care Shelter in Lubbock, TX, went out of his way to find a home for Titan, a Pit Bull mix that spent over 9 years in shelters. Despite being a loveable and friendly doggo, employees struggled to find a home for Titan, as he needed to be the only animal in the household.
After Josh posted some videos of Titan on TikTok, a lady reached out saying that she had just lost her dog and that Titan would be the "pawfect" fit. The worker at the shelter ended up driving for 6 hours to drop Titan off at his new home! Now Titan spends his days lazing on the couch, nudging his new parents' arms for pets!
You can keep up to date with Josh from the Haven Animal Care Shelter on TikTok.
---
Here at Wag!, we know the importance of supporting your local animal shelter. That's why Wag!'s partnered with GreaterGood: for every social follower we gain, Wag! is donating a meal to a shelter dog in need.
Got a heartwarming dog rescue story you'd like to share? Drop a comment below!