5 Tips to Help Prepare for the Death of a Pet
5 Tips to Help Prepare for the Death of a Pet

By Amy Caldwell
Published: 09/15/2017, edited: 08/10/2021
Save on pet insurance for your pet
You don't have to choose between your pet and your wallet when it comes to expensive vet visits. Prepare ahead of time for unexpected vet bills by finding the pawfect pet insurance.
The hardest part of being a pet parent is that final parting. While it is entirely normal to grieve for a lost companion, unfortunately many people are left with regrets or feelings of guilt over their pet's passing. Of course, the vast majority of pet parents are loving, caring people who did their very best and made a responsible decision to end their pet's suffering. However, the pet's absence leaves such a gaping hole that questions such as "What if.." and "Why didn't I…" haunt the individual.
A final parting is never going to be easy. But by preparing, it's possible to experience a sense of peace, where grieving is done in a healthy way and you are able to appreciate the pet's life rather than focus on their death.
#1: Avoid Denial
It is human nature to deny the obvious. When a pet is terminally ill, we tend to 'move the goal post.'  This is a good and a bad thing. For example, the house-trained dog who is now incontinent, is never punished but quietly cleaned up and made comfortable. But the danger of accepting this new state of affairs is failing to recognize how, in his younger life, soiling himself would have been hugely distressing.
Avoid entering a state of denial about what is in front of your eyes. Be realistic about your pet's actual quality of life and how much they have changed. It can be helpful to write down what your pet enjoyed doing most in their younger years, and then comparing this to how they are now. Doing this helps with end-of-life decision making, and reduces feelings of guilt.
#2: Recognize You'll Need Support
Don't bottle up your emotions. Identify like-minded people, perhaps other dog walkers or friends with cats, who can understand the pain you are going through. At each stage, talk to them about your concerns, doubts, fears, and sadness.
Okay, not everyone understands the impact of losing a beloved pet. If this is the case, know this is their loss, not yours, and chose to confide in someone else.
#3: Know 'Normal' is Good
When your pet is nearing the end, don't stay home with them all the time. It may be tempting to spend every last moment by their side, but in fact, most pets prefer a normal routine, which includes you going to work as usual. In addition, you then have 'normal' to return to after their passing and the healing company of people who know and understand your recent loss.
#4: Plan for a Peaceful Passing
A dignified, pain-free passing can be a source of great comfort to those left behind. Don't be afraid to discuss and plan with family, how you want your buddy to pass. This could mean the vet visiting the home or taking your pet to the clinic.
Think about where your pet is most relaxed and what would cause the least amount of stress. Discuss your wishes with the vet, who may be able to suggest sedation for an anxious animal or even a visit to place a catheter, ahead of the actual passing.
Part of that planning includes telling your pet how much you love them, and thinking about what you might regret leaving unsaid.
#5: Tackle 'Afterward' Decisions Ahead of Time
It isn't betraying your pet to plan for whether to bury or cremate them. Speak to the vet about the practicalities ahead of time. This allows you to fully concentrate on your friend on the day itself, while knowing the arrangements for afterward are taken care of.
And finally, allow yourself to grieve.
However, for some people the sense of loss is overwhelming and they struggle to cope. If this happens, please, speak to your vet who can put you in touch with a grief counselor who specializes in pet loss. They can suggest ways of coming to terms with that empty basket and ease your understandable sense of despair.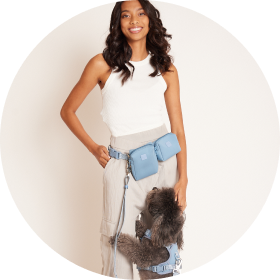 Need to upgrade your pet's leash?