Apartment Life With Your Dog
Apartment Life With Your Dog

By Kim Rain
Published: 07/02/2017, edited: 09/24/2021
Save on pet insurance for your pet
You don't have to choose between your pet and your wallet when it comes to expensive vet visits. Prepare ahead of time for unexpected vet bills by finding the pawfect pet insurance.
Updated: 9/24/2021
With increasingly busy lives and a trend among younger generations for downsizing housing needs, dogs in urban or apartment settings, in general, are becoming increasingly popular. Some studies suggest that more than 70% of apartment dwellers also have a canine companion on the premises. While living with man's best friend can have a host of benefits, apartment cohabitating with Fido can also create its own particular set of problems. What are some of the key points to watch for when it comes to living in apartments with dogs? Read on to find out.

Do Some Doggy Research
If you're not a current pet owner, before deciding to open up your elevator doors to that new four-legged friend, there are a few things you should consider. If adopting, certain dogs may have more rambunctious or active personalities. If you aren't planning on spending lots of time outdoors or taking runs through the park, having a dog with tons of energy in a small apartment space can be a recipe for disaster. 
In other words, having a laid back, yet giant Great Dane may be a better idea than bringing home a hyper and busy small Jack Russell Terrier or a Min-Pin. Always keep in mind though, every dog, no matter size or temperament, needs to be walked a few times a day.
Older dogs may have certain ingrained behaviors that can be difficult to train away, but they are also less active than young, growing dogs. If your building doesn't have an elevator, consider whether your dog or puppy is in need of frequent trips out while potty-training or if they have health concerns that would prevent them from navigating the stairs.
Deposits, Pet Fees and Penalties
It's also critical that before bringing a dog, or any pet for that matter, into your apartment or condo you check with your rental agreement or association contract. Whether you rent or own, these documents may have various rules or restrictions on pets, dog sizes or specific breeds you can or cannot own. For renters, pet deposits may be refundable or non-refundable. You should also check with the local rules regarding renting and extra fees, as some cities or states limit the landlord's ability to add these costs in.
Checking the rules of your living arrangement after you bring your dog home from the shelter is a no-go. Verify the policies and expectations first.
Keeping Your Dog Entertained
Once you've picked out a pooch and gotten the okay to move them in, it's time to consider your pet's quality of life when living in a confined apartment space. Most apartments will be smaller than your typical home with less immediate outdoors access. This can quickly lead to a buildup of excess energy and bored pets. 
If you want to keep your dog happy and engaged, and away from your shoe collection or fancy leather sofa, enrichment activities will be vital to apartment living. Plenty of bones, chew toys, and interactive treat dispensers are available on the market to keep your pet engaged and out of mischief when living in an apartment.
Also essential are after-work activities like agility training or long walks in the park. Do not get a dog unless you are willing to take on the responsibility of meeting their exercise needs. 
Have You Considered a Dog Walker?
Speaking about that much-needed exercise, some of the benefits of walks include burning off energy and keeping both of you fit and healthy. While morning and evening walks may work into your career schedule, many dogs need more frequent trips for stimulation and engagement. 
Dog walking services can help bridge the gap for pet owners in apartments. Walks can be as short as 15 minutes and most services often offer packages at a discounted weekly, monthly or yearly rate. If you are going to be away from home for long hours every day, hiring a dog walker is a must.
Overall Considerations
Living with a dog in an apartment may take a bit more work, but with a little careful planning ahead of time, it can be a rewarding experience for both you and your furry best friend. Choosing the right dog and then keeping them happy and occupied will be a vital component of living in a smaller space. Many resources are available from friends, online message boards or dog walking services. With a little forethought and a touch of help, you and your pooch will make the transition to apartment living with no problem.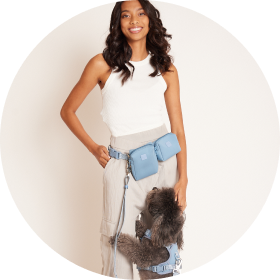 Need to upgrade your pet's leash?