Rescue Dogs - Finding the Right Match
Rescue Dogs - Finding the Right Match

By Kim Rain
Published: 09/30/2015, edited: 06/29/2022
Save on pet insurance for your pet
You don't have to choose between your pet and your wallet when it comes to expensive vet visits. Prepare ahead of time for unexpected vet bills by finding the pawfect pet insurance.
From the outset, matching a home that needs a dog with a dog that very much needs a home is a splendid idea. Dog shelters and dog rescue organizations are replete with animals that have lost their way and need new, loving caregivers - or else.
Dog rescues and shelters come in many sizes and fill different functions within the community. Some dog shelters hold dogs for three to ten days before euthanizing them in order to prepare space for additional strays and unwanted pets. This type of dog shelter keeps domestic animals off of the streets – whether they are homeless or just lost. In most communities, dogs with ID tags make it home safely. Other "no kill" dog shelters keep their wards – bathing them, feeding them, giving them medical attention – until a loving family adopts them. These shelters also accept strays and lost pets, however they make every attempt to provide them with a better life. Unfortunately, this type of shelter must limit the quantity of dogs it accepts due to spatial and financial constraints. So, how do you find the particular dog that's a good match for you? Instead of relying on sheer luck or heavenly intervention, not generally recommended methods, you can take steps to ensure that your new dog will keep pace with you.



#1 Seek information on the dog rescue organizations & dog shelters in your region
From the Internet and the telephone book, compile a list of dog shelters and dog rescue organizations within a reasonable traveling distance. Many dog shelters post adoptable dogs on their Web site along with a description of each dog's characteristics and temperament. Shy away from shelters that describe each dog with the same generic terms. You want a shelter that is open and honest about the animals in their care, not one that tries to sugarcoat reality, which only results in mismatching dogs and owners. After you've created a list of shelters within about a three-hour radius, you should examine each shelter for several traits.
Is the shelter thought of highly by others? Local animal trainers, vets and people who've adopted from a shelter will provide valuable information. 
Get details about the shelter's adoption procedure and return policy. You need to be able to spend time with the dog outside the shelter before finalizing the adoption. You also need to be able to return the dog (with or without refund) within a reasonable time if the relationship fails to gel. A truly humane shelter will always accept a dog back – regardless of the circumstances of its return or the time that has passed since its adoption. 
Get details on the shelter's euthanization policy. Are maladapted and biting dogs culled, or are all animals heedlessly put out for adoption? Even humane shelters should euthanize dogs that are vicious, unsocial, or sickly. Prospective owners are not seeking these types of pets, and a good shelter recognizes this and weeds out inappropriate choices in advance.
#2 Public vs private dog shelters and dog rescue organizations
Generally, two types of dog shelters and dog rescues exist: public and private. Public dog shelters handle the stray dogs within the community and receive animals affected by state cruelty and neglect laws. They also receive pets that are dropped off by their owners for various reasons. If not claimed, the strays in public shelters are available for adoption for a limited time before they are euthanized.
Private dog shelters and dog rescues organizations are usually run by animal advocates who wish to prevent the loss of another dog's life. They accept strays and owner-abandoned animals and may even provide their services to the county. Private dog shelters and dog rescue do not euthanize a dog in order to make room for another, however they may put down a dog that is overly aggressive or seriously ill. These humane shelters have limited space and are supported mainly by grants and donations.
The attitudes within the shelters vary greatly. Employees in the "kill" shelters have extremely stressful jobs, particularly if they are animal lovers. Uncaring owners drop off abused animals. These dogs live their few remaining days in small cages before being euthanized to make room for the next batch of ill-fated dogs. As if caring for these dogs isn't stressful enough, the staff also has to deal with us humans. Alternating between insensitive people who dump off boxes of puppies to be killed and animal lovers who call them murderers, shelter employees may become defensive when posed even simple questions. Offer the staff your smile and exude support and concern when asking questions.



#3 Purebred dog rescue organizations
One type of private shelter that has begun appearing in the last decade accepts purebreds exclusively. You can still find purebreds in both public and private shelters as well. In fact, an estimated 25-30% of all animals brought into shelters are purebreds. However, dog breeders, dog clubs, dog rescue organizations, and even individuals have begun giving homeless purebreds a second chance.
So if you have your heart set on a specific breed, you can still find what you're looking for while rescuing a dog that's had a rough life. Oftentimes the purebreds available from shelters are already full-grown. There are numerous benefits to owning an adult dog. It is calmer, possibly already trained, and essentially over the destructive puppy phases, such as jumping, barking, and chewing on your shoes, furniture, or homework. Additionally, you are not burdened with the financial responsibility for extra veterinary visits or replacement tennis shoes.
Purebred dog rescues have extensive knowledge about the particular breed with which they deal. An abundance of information is available on the Internet about various rescue organizations. Visit 5 Star Dog's rescue links for more information. Some rescue groups do not actually house dogs, but rather keep a list of prospective owners and scope out shelters for dogs that match their needs. Most organizations will perform thorough evaluations on each dog to determine its temperament and health. They also vaccinate and spay or neuter the dog as well as provide the new owners with advice and assistance on nutrition, training, and other topics.
Dog rescue groups have been known to have rigorous requirements for prospective adopters, but they truly have the best interest of the animal in mind. Many of these dogs have skipped from one family to another and are craving stability. The rescue group is seeking the best setting for each dog and is prepared to interview each potential adopter to find a perfect match. Some dog rescue organizations send interested individuals home with a lengthy questionnaire before permitting them access to the dogs. Adopters may complete numerous forms, interviews, and home inspections, only to be turned down because they work full-time, have children or other pets, or live in an apartment. Some adopters may meet all of the requirements but be turned down because of the dog's reaction to them. Be on the lookout for organizations with unrealistic expectations at any point in the adoption process.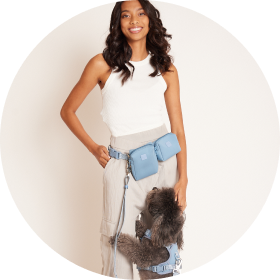 Need to upgrade your pet's leash?