Benefits of Adding Pumpkin to Your Dog's Diet
Benefits of Adding Pumpkin to Your Dog's Diet
By hannah hollinger
Published: 05/09/2019, edited: 10/17/2021
More articles by hannah hollinger
Save on pet insurance for your pet
You don't have to choose between your pet and your wallet when it comes to expensive vet visits. Prepare ahead of time for unexpected vet bills by finding the pawfect pet insurance.
Benefits of Adding Pumpkin to Your Dog's Diet
Pumpkins aren't just for decorating the front doorstep at Halloween and the table at Thanksgiving, or for using as a pretty prop in a cute autumn photo op of your pup. Adding fiber-rich pumpkin to your dog's diet can be good for what ails them and at the same time, provide valuable nutrition. Canned pumpkin for dogs can be used as an aid for digestion, to maintain weight, and more. Read on to see the benefits of pumpkin for dogs.
The Benefits
Adding the highly nutritional flesh of this orange vegetable to your dog's dry kibble, canned, or raw food diet can produce favorable results that will be evident in your pet's exuberance and day to day demeanor. Topping up your pet's food bowl with pumpkin can make them healthier.
For example, add canned pumpkin to your canine companion's meal to aid in the resolution of mild constipation. It's best to add the puree to canned food, so that the boosted water content in the colon can help to act as a laxative along with the pumpkin. Adding pumpkin to your dog's food may also help end a bout of diarrhea. Doing so naturally feeds the bacteria already present in the colon with the addition of prebiotics found in the pumpkin. However, if the diarrhea is bloody or frequent, see your veterinarian without delay.
A dog with an underlying disease like Diabetes Mellitus can benefit from pumpkin in the diet. The palatability of this nutritional vegetable, when added to your pup's regular food, will encourage your dog to eat the quantity of food at the scheduled time as prescribed by the vet. A regimented diet can aid in insulin regulation.
The addition of pumpkin, along with other vegetables, reduces the calories an overweight dog consumes per meal. For the opposite effect, a canine who is underweight can benefit from the additional calories that pumpkin can add to a meal. The pumpkin has been called a "nutritional powerhouse" because it contains vitamins such as A and C, minerals, fiber, lutein, beta-carotene and more. Not only will your pup be the optimal weight, but their eyesight, coat condition, and overall vitality will be the better for it.
The Right Recipe
Skeptics have asked, "can dogs eat pumpkin and enjoy it?" only to find out that their pups clamor for more once introduced to the taste. Canned pumpkin for dogs can be utilized in many ways. You won't have to trick them into eating it as our furry buddies typically find the taste of pumpkin to be very palatable. It's always recommended to check the quantity to add to your dog's meal with your veterinarian. The decision is based on your dog's weight and health status, but a general rule is 1-4 tablespoons per meal. Another way to add this vegetable to the diet is to make biscuits from a dog-friendly recipe containing eggs and natural peanut butter.
The Right Pumpkin
Before giving your dog pumpkin, you need to know which form of pumpkin is best. There is a difference between canned and fresh pumpkin, with canned being the better option for adding to food. The fresh form of this high-nutrient food contains more water than the canned version. Canned pumpkin contains more fiber, making it that much more beneficial.
It is very important to note that not all canned pumpkin is the same. Never give your dog pumpkin pie filling or any canned version that contains spices. Spices can irritate and upset the stomach. As well, the additive xylitol is often added to pumpkin pie filling. Xylitol is toxic to canines and therefore, dangerous for them to consume.
If you do decide to give your pet a portion of fresh pumpkin it must be cooked for easy digestion, but make sure it is not from the Halloween pumpkin that has been outside all week. Harmful bacteria quickly forms on the flesh of a carved pumpkin.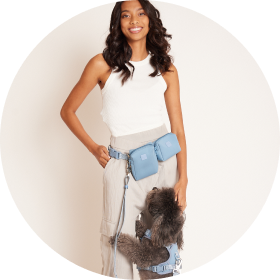 Need to upgrade your pet's leash?