Save on pet insurance for your pet
You don't have to choose between your pet and your wallet when it comes to expensive vet visits. Prepare ahead of time for unexpected vet bills by finding the pawfect pet insurance.
Measles. No one wants that illness. The high fevers. The cough. The runny nose. The red, itchy eyes. Measles is highly contagious and can pass from person to person rather quickly. You have enough to worry about if you or a loved one has measles. But do you need to worry about your dog as well? There are so many vaccines we give our puppies when they are young. Did you know one of those vaccines covers distemper, which is similar to measles in humans? However, if you have the measles in your house, should you still worry about your dog?
Can Dogs Get Measles?
NO!
The short answer is no. Your dog cannot get measles from you if you or a family member have measles. However, your dog, especially a young unvaccinated puppy, can contract canine distemper. Canine distemper stems from the same virus that gives us human measles. So, though your dog will not contract the same virus you carry if you have measles, dogs can get distemper.
Does My Dog Have Distemper?
The symptoms of canine distemper and human measles are much the same. A young puppy, under four months of age or older unvaccinated dogs could contract distemper. Call your vet if you see the signs of distemper with your puppy or adult dog.


High fever

Coughing

Nasal and eye discharge

Vomiting

Diarrhea

Over time, canine distemper can also affect the dog's nervous and digestive system. You can learn more about canine distemper here.
How Do I Treat My Dog's Distemper?
If you think your dog may have canine distemper, call your veterinarian right away. Unfortunately, canine distemper is highly contagious to other pets in your household, and it is also a permanent condition. Your veterinarian will help treat the symptoms of canine distemper. However, you should know how highly contagious to other dogs and household pets distemper is. If you have other dogs in your house, your veterinarian may request the infected dog be confined.   
How is Distemper in Dogs Similar to Measles in Humans?
Because the canine distemper virus stems from the same virus that gives humans measles, the symptoms are very similar. If there is a distemper outbreak in your local wildlife, your unvaccinated dog could be at risk of contracting distemper. Like measles in humans, distemper is highly contagious. However, it doesn't live on surfaces or in the air for very long. Both dogs and humans can get vaccines to prevent measles in people and distemper in canines.
How is Distemper in Dogs Different from Measles in Humans?
Measles is a disease humans carry. It comes from a virus that is similar to the virus which carries canine distemper. However, it is still a different virus, and the strain which affects dogs is different than the one affecting humans. Measles and canine distemper are both contagious but not passable from one species to the other.
Case Study
Two puppies from the same litter are adopted to two families. At three months of age, one family begins to socialize their puppy at local dog parks. The other family begins to schedule vaccines and visits with their veterinarian. While following the vaccine schedule, the family kept their puppy away from dog parks, other dogs, and pet stores. Once the puppy had been vaccinated, they were able to work on socializing their puppy. In the meantime, at a local dog park, the sibling puppy contracted canine distemper. Unfortunately, because this is a debilitating and deadly illness, and because the family had other pets, they had to say goodbye to their puppy. The best possible thing to do for your puppy before they are exposed is to vaccinate. Prevention is the only true course to avoid canine distemper.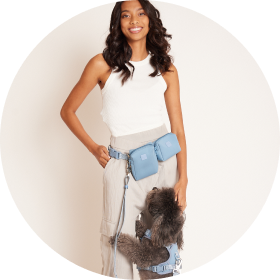 Need to upgrade your pet's leash?