Count Milk Thistle Among the Safe and Effective Herbs for Your Dog's Health
Count Milk Thistle Among the Safe and Effective Herbs for Your Dog's Health

By Darlene Stott
Published: 06/16/2017, edited: 09/24/2021
Save on pet insurance for your pet
You don't have to choose between your pet and your wallet when it comes to expensive vet visits. Prepare ahead of time for unexpected vet bills by finding the pawfect pet insurance.
Updated: 9/24/2021
Milk thistle, also known as silymarin, is a phytonutrient ideal for all things digestion for your dog. Milk thistle is used mostly for liver function but also often used for diabetes and irritable bowel disease, because of its effect on the liver. The liver is your dog's first defense in fighting all toxins. As it filters the blood from the digestive system, your dog's liver works to produce by-products imperative for digestion. Bile is one of these by-products. Milk thistle, recently recognized by traditional veterinarians as well as homeopathic veterinarians, helps to improve the flow of bile made by the liver to the intestines, where it aids in the breakdown of fats before being reabsorbed by your dog's body and recycled through the liver. The antioxidant properties of milk thistle assist in fighting disease in your dog. Adding daily milk thistle in their diet is as simple as mixing it into their food or given inside a yummy treat.
Fatty Liver Disease
Fatty liver disease happens when your dog's liver obtains an excess of fat cells, causing it to cease production of enough bile to process and breakdown fats. These fats build in your dog's liver, triggering liver functions to fail and stop operating at a reasonable level. Milk thistle can help bring your dog's liver back to a functioning state. The liver is an incredible self-healing organ, and studies show milk thistle can improve the function of the liver by removing free radicals and increasing bile production. Milk thistle is known to assist in the self-healing of the liver.
Overall Liver Function
Milk thistle is a fantastic supplement to introduce to your dog before your dog becomes ill. Dogs are known for being mischievous and getting into foods or toxins. Not only can this be dangerous, warranting a visit to your local veterinary emergency room, but it could also cause damage we cannot see until liver disease symptoms begin to show. Milk thistle can protect the liver against toxins and stimulate the growth of new cells to replace dead or damaged liver cells. Antioxidant properties of milk thistle destroy free radicals which cause disease. A healthy liver can aid in your dog's overall health, so help your dog protect and heal the liver. Discuss the need for milk thistle with your vet. There is some thought that its use as a preventative is not necessary, so will depend on the current health status of your companion.
Diabetes
Milk thistle is known for its hypoglycemic properties, as well as its antioxidant properties. These features make milk thistle a fighting supplement for insulin resistance. Milk thistle is also recognized for battling against kidney failure as a result of diabetes by decreasing proteins in the kidneys. By reducing glucose levels, milk thistle can help you tackle diabetes in your dog. Milk thistle has been shown to be favorable in normalizing glucose and insulin levels within diabetic dogs. If your dog's body can control insulin levels naturally, it may be easier to regain and maintain a healthy weight as well as improve liver function. Diabetic neuropathy, which affects the gait and strength of the hind limbs may be prevented with the use of this phytonutrient.
Irritable Bowel Disease
Because of its effect on bile in your dog's digestive system, milk thistle can also assist in aiding against the discomfort of irritable bowel disease. Swelling of bile ducts and the lining of your dog's intestines make irritable bowel disease painful or in the very least, uncomfortable. Milk thistle can thin bile, making production of this necessary liver by-product easier for your dog's body. When the bile is thinner, it will pass into your dog's intestines easily helping the fat breakdown process more comfortable for your dog. Its anti-inflammatory properties can assist in swelling of the liver and bile system within the intestines. Antioxidant properties make milk thistle a powerful agent in fighting disease.

Should I Give Milk Thistle to my Dog?
Milk thistle could very well be one of the most powerful natural supplements you can give your dog. Along with the ability to boost the immune system, the benefits to overall liver function are critical for your dog's overall health. The liver is self-healing, but that doesn't mean the liver will work and heal on its own. With the assistance of milk thistle, your dog's liver can begin to heal and rebuild while protecting with antioxidant powers as well as supporting in bile production to breakdown unnecessary fats in the digestive system. With anti-inflammatory properties and disease-fighting antioxidants, your dog's health could improve with milk thistle.

Talk to your veterinarian about uses and doses for your dog based on condition, symptoms, and your dog's weight. A typical dose under the monitoring of your vet could be up to 175mg with a silymarin content of at least 80% per capsule or dose. Milk thistle is easy to find in health food stores or with your local veterinarian. Your dog will enjoy a dose sprinkled on their food with each meal or hidden in a treat a few times a day. Spreading out doses with meals is more effective than one dose per day.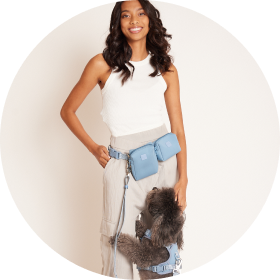 Need to upgrade your pet's leash?