Exercising Your Dog Indoors
Exercising Your Dog Indoors

By Amy Caldwell
Published: 09/13/2017, edited: 08/10/2021
Save on pet insurance for your pet
You don't have to choose between your pet and your wallet when it comes to expensive vet visits. Prepare ahead of time for unexpected vet bills by finding the pawfect pet insurance.
Rain and snow can make dog-walking a tough task. For those nasty days when you just don't want to venture outside, why not try some indoor exercise instead? While hanging out inside may not be as visually stimulating, there are lots of ways to make it fun and exciting for your pooch.
Fun play indoors is also great for owners and pups who don't have the luxury of a big backyard to run around in. Below are some tips to make a day between four walls full of mental and physical exercise.
Run Around!
Most houses have either a staircase or a mini circuit between rooms. Get up off of that couch and play a good old game of chase with your dog. You're probably going to tire out way before your furry friend, but a ball is all you need to keep the good times rolling. Throw it down the stairs or into another room. Your poochie will likely bring it back over and over again until she's tuckered out.
Play Hide and Seek
Dogs love this one because it requires running, sniffing and listening! Sneak away from your canine companion and hide in a closet or under a bed. Call them to come, and watch them frantically search for you. The best part is how excited they are when they finally find you! For extra fun, get a few family members involved in the game. It's a chance for everyone to bond, and your pupper will be exhausted after all of the seeking.
Try a Treadmill
Don't lie, you know that treadmill sitting in the basement is doing nothing but gathering dust. Why not let your dog give it a go? Many mutts enjoy walking on the treadmill. It's a super easy way to get your pooch some exercise, once they get the hang of it. Start slow and don't force your pup on if they just aren't into it. And remember, always stay in the room while your dog has his work out! Being on the treadmill does bring some dangers.
Join a Dog Class
See what your community has to offer pets! Many programs let dogs have fun and learn in an indoor setting. The class might include swimming, games or just training, but no matter what, it's a chance for your fur-baby to get out of the house, burn some energy and even meet other canines!
So there you have it! You may have to get a little creative, but there are plenty of ways to give your pupper their daily dose of exercise without being outside. Try not to let too many days go by without braving the outdoors, though. Nothing quite replaces the smells and sights of the outside world for a pooch!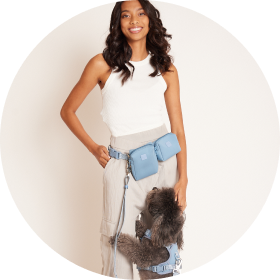 Need to upgrade your pet's leash?