How to Prevent Dog Dingleberries
How to Prevent Dog Dingleberries

Save on pet insurance for your pet
You don't have to choose between your pet and your wallet when it comes to expensive vet visits. Prepare ahead of time for unexpected vet bills by finding the pawfect pet insurance.
Here's a question for you: Which word do you prefer: "dingleberry" or "pseudocoprostasis"?
The interesting thing is these two words, one cute and the other baffling, mean the same thing. And this is where everything takes a massive nosedive in tone because whatever you call it, the word refers to a lump of feces trapped in the fur near a dog's anus.  
Well, 'dingleberries' almost sounds attractive, whereas the reality is anything butt (excuse the pun)! A poop-smell trails the dog around, plus they are uncomfortable and may scoot on their bottom. But worse still, feces rubbing against your pooch's hind end can cause skin infections. Worst of all, the dingleberry can form a plug around the rectum, and prevent the dog from defecating. 

In any instance, prevention is definitely better than cure. Here are steps to take as preventative measures against this uncomfortable problem:
#1: Coat Care
Long coated or thick-furred dogs are at greatest risk.

Removing matts:  Tangled fur is more likely to trap feces as they are passed. Do regular coat checks and remove any knots. Try combing the knots out. If you need to use scissors be very careful because it's easy to snip the skin. Always slide a comb between the skin and the knot, then snip on the knot side.

Clipping coats: For the fluff-ball Pomeranian to the thick-coated German Shepherd, think about a regular trim. Use clippers (get your friendly local groomer or vet tech to do this) to trim the long hair from around their butt.

Look out: Visually check your dog's nether regions on a daily basis.
#2: Promoting Perfect Poop
Taking care of your dog's dietary needs is a surefire way to prevent pseudocoprostasis. Feed them a quality diet, and if they have diarrhea or constipation, investigate the cause promptly.

Give good quality chow: Feed a good quality food that's low in difficult-to-digest ingredients such as soya or cornmeal.

Make dietary changes slowly: Avoid sudden changes in food. If you don't, it doesn't give the bacteria in the bowel a chance to acclimate, which can cause diarrhea.

Starve stomach upsets: If your dog has an upset tummy, withhold food (but not water) for 24 hours and then offer a bland diet.

See the vet: If your dog has persistent soft stools, diarrhea, or seems unwell in any way, consult the vet.
#3: Dealing with Dingleberries
Okay, so sometimes dingleberries happen. Clues to a problem include a bad smell following your dog's tail and scooting (dragging the butt along the ground).

Comb, clip, or cut: Put on latex gloves and try to comb out, clip, or cut out the dingleberry. Slide a comb beneath the knot to guard the skin so that you don't nick it. Once the dingleberry is history, then bathe your dog. Avoiding wetting the area first as this makes removal much harder.

Seek professional help: If the problem is beyond your ability to clear, don't be bashful about seeking the help of a dog groomer, vet tech, or vet. They understand that these things happen and will be able to help. If the dingleberry has caused a sore or skin infection then antibiotics may be required.


The biggest part of the battle against pseudocoprostasis is knowing that such a thing as dingleberries exist. Once aware of the potential problems, it's a stroll in the park to keep your pup's butt trimmed and prevent the problem. 
If this is the first time your dog has had a problem, it could be a sign they have a stomach upset. Take notice and track down what they've passed to see if this could be a contributing factor. For a slack tummy where the pet is otherwise well, monitor and act if needed. But if your pet seems unwell in any way or things don't settle after 24 hours, see a vet.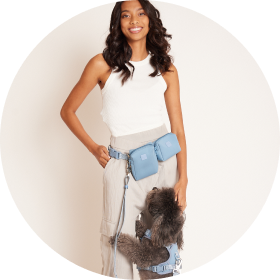 Need to upgrade your pet's leash?