Is Beneful Superfood Dog Food Best for My Dog?
Is Beneful Superfood Dog Food Best for My Dog?

By Emily Gantt
Published: 06/04/2021, edited: 10/11/2021
Save on pet insurance for your pet
You don't have to choose between your pet and your wallet when it comes to expensive vet visits. Prepare ahead of time for unexpected vet bills by finding the pawfect pet insurance.
Updated: 10/11/2021

Beneful is a well-known pet food that is available at virtually any big-box retailer or grocery store. The Beneful brand took the pet food market by storm after a multimillion-dollar marketing campaign that accompanied its launch in 2001. Currently, Beneful is one of the most popular brands on the market and one of Purina's most successful to date.


Overview
One of the newer lines within the Beneful brand is the Superfood wet dog food line. This line claims to contain antioxidant-packed superfoods like quinoa, spinach, and kale to keep pets healthy. Like most Purina products, Beneful's Superfood line is manufactured in US factories, though Purina sources ingredients from the US as well as other countries.


Cost
A 12-count variety pack of 9-ounce tubs of Beneful Superfood dog food ranges from $20 to $24.


Ages
Beneful Superfood is suitable for all adult canines, but its moist formula and small bite-size pieces are well-tolerated by elderly dogs with fragile teeth.


Breeds
This dog food is a complete and balanced formula that is well-tolerated by large and small dog breeds.


Ingredients
Lamb & Trout in Sauce
The first 3 ingredients in this recipe are water (for processing), chicken, and wheat gluten. Real chicken meat is a nutritious second ingredient. However, the third ingredient, wheat gluten, can be concerning for some pet parents. Wheat gluten is a known allergen for a lot of dogs and is considered a low-quality filler. The fourth and sixth ingredients, liver and meat by-products, are an excellent source of iron and other minerals dogs need to stay healthy, but these ingredients can be concerning to some pet parents since it doesn't state the animal source. 
Lamb (the fifth ingredient) and trout (the seventh ingredient) are good sources of omega-3 fatty acids and protein that dogs need to maintain healthy muscles and a shiny coat. Sweet potatoes and quinoa follow suit. Sweet potatoes are an excellent source of beta carotene, which supports eye health. Quinoa is a heart-healthy antioxidant-packed ancient grain that promotes healthy digestion. The last 2 ingredients in this recipe are corn starch and soy flour, which are fillers. This recipe — as with all Beneful Superfood recipes — is fortified with vitamins and minerals. 
Beef and Salmon, Pumpkin, Spinach, and Sorghum
The first 5 ingredients in this recipe are water, beef, wheat gluten, chicken, liver, and meat by-products. These ingredients are the most important ones on the list since they comprise the majority of the ingredients. Salmon comes in sixth on the ingredients list and provides dogs with the omega-3 fatty acids they need for brain development.
Pumpkin is the seventh ingredient and is an easy-to-digest vegetable that is rich in antioxidants. This recipe also contains spinach which is rich in iron and vitamins A, K, and C, and sorghum, a whole grain that is great for digestive health. 
Chicken and Oceanfish, Apples, Kale and Accents of Millets
Water sufficient for processing is the first ingredient in this recipe and helps to form the consistency of wet dog food. Real chicken is the second ingredient in this recipe, followed by wheat gluten, liver, meat by-products, and ocean fish. Besides being a flavorful addition to dog food, fish are abundant in omega-3 fatty acids, which help decrease inflammation and are heart-healthy. 
Apples, corn starch, kale, ground millet, and soy flour follow suit. Apples and kale are packed with fiber and vitamins A and C, which promote a healthy immune system and digestive function. Millet is a highly digestible grain that is full of the phosphorus dogs need for strong bones and teeth. 


Ratings
We scoured several retail sites for verified reviews about Beneful Superfood dog food and found the reviews to be mostly positive. Pet parents generally liked the serving size and product packaging. There were some mixed reviews about the flavor of this line. Some pet parents state their dog didn't like the flavor, whereas others say it's their dog's favorite brand. Some of the negative reviews cite digestive issues following this food, though it's important to mention that any sudden change in diet can cause gastrointestinal upset.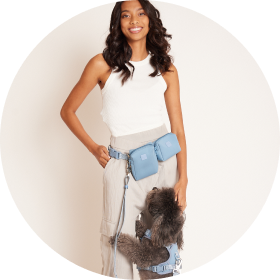 Need to upgrade your pet's leash?