What To Look For In a Reputable Holistic Veterinarian?
What To Look For In a Reputable Holistic Veterinarian?

Save on pet insurance for your pet
You don't have to choose between your pet and your wallet when it comes to expensive vet visits. Prepare ahead of time for unexpected vet bills by finding the pawfect pet insurance.
Every dog owner will agree that it is important to have a good veterinarian to care for your pet. There are many excellent vets out there who all have a lot to offer. Often, they will specialize in a specific area and have focused their training in a certain direction. You may be looking at trying a holistic approach to your pet's care. Having a reputable, holistic veterinarian can really make a difference in the care and treatment of your four-legged buddy. But what is a reputable, holistic veterinarian, and how do you find one?
What is a holistic veterinarian?
A holistic veterinarian approaches care with the entirety of your dog's well-being in mind. Instead of focusing only on the symptoms or illness that your pup is experiencing, they treat the sickness with consideration of how it will affect them in other ways as well. Frequently, holistic veterinarians offer alternative or complementary treatments that will serve as a remedy for the illness while having the best impact on the general well-being of the animal. There are a few ways to determine if a veterinarian practices holistic medicine:
Membership in the American Holistic Veterinary Medical Association: There is a professional organization for veterinarians who practice holistic medicine. If the vet in question advertises membership, they practice holistic medicine.
Read about them: Most veterinarians who practice holistic medicine advertise this fact. Visit their website and see if they advertise holistic medicine.
Check out the services and treatments offered: What sets holistic veterinarians apart from traditional veterinarians is their use of alternative and complementary medicines/treatments. If they offer acupuncture, chiropractic treatment, homeopathy, herbal treatments, or other unconventional treatments, they are practitioners of holistic medicine. 
Ask them: While it may seem like common sense, asking a veterinarian whether they practice holistic medicine or not is the quickest way to find your answer. It's possible that a veterinarian takes a holistic approach to medicine but currently doesn't offer complementary or alternative treatments themselves. They'll still be able to refer you to trained professionals based on your pet's needs.
What Should I Look for in a Holistic Vet?
When you are trying to find a reputable, holistic veterinarian, there are some key characteristics you should look for. Being as they are only humans, each veterinarian is different. The best practitioners of holistic medicine, however, should have a few things in common.
Open-minded: The nature of holistic medicine typically attracts open-minded individuals who are willing to try less traditional treatments that are safe and beneficial for your dog.
Interested in providing complete and comprehensive treatment: This is really a characteristic of holistic medicine, period. Veterinarians who call themselves practitioners of holistic medicine should seek to treat the patient as a whole, rather than to treat the single problem on hand.
Commitment to excellent pet care: While this is characteristic of holistic veterinarians, it's also simply a characteristic of reputable veterinarians. Nonetheless, a reputable, holistic veterinarian will treat your animals well and do everything in their power to make them comfortable and help their well-being improve.
Individualized services: Holistic veterinarians realize that what works for one pet may not work for another, and they understand the importance of having an individualized treatment plan. They'll want to learn about your furry buddy and determine what treatments would best suit their needs.

Questions to ask

What do you believe is the most important aspect of caring for a dog?
Do you treat illnesses the same for every pet?
Do you have existing treatment plans that you use for multiple pets in your care, or do you establish a treatment plan for each one?
Do you offer any complementary or alternative services?
What is your goal in the treatment of my dog?
What are Holistic Treatments?
Many holistic veterinarians will take advantage of complementary and alternative services to best treat your pet. Some of these services may be familiar to you, and some may not. Below are a few of the common treatments you may be exposed to when working with a holistic veterinarian. Not every vet will offer all of them; sometimes holistic vets specialize in one area.
Acupuncture: Much like how it is used with humans, acupuncture is a complementary treatment in which the veterinarian will use needles to alleviate pain and treat a range of conditions. The appeal of this, and why it is used in holistic medicine, is that it lacks the negative side effects that medication could have.
Chinese Herbs: Also referred to as herbal therapy in Traditional Chinese Medicine, this relies on the use of herbs to treat illness and increase overall health. There is also the same type of treatment with Western herbs.
Chiropractic: Chiropractic treatments, again similar to those used for humans, rely on the manipulation of misaligned joints to alleviate pain and other problems. This treatment, too, is meant to cut out potential negative side effects of the medicine and fix the problem rather than treat it temporarily.
Homeopathy: Also used for humans, homeopathy uses doses of natural substances to treat diseases. These natural substances would—in a healthy person—produce symptoms of the disease being treated. It functions similarly to an immunization; the greatest difference is that it uses natural substances, again trying to minimize any negative side effects.
Other holistic treatments include osteopathy, reiki, and the use of flower essences. Some of these treatments you may be familiar with, others you may not. It's important to ask questions about anything you're unsure of. A reputable, holistic veterinarian will take the time to address your concerns and explain the procedures and any associated risks.
Questions to ask when dealing with an unfamiliar treatment:
What are the alternative treatments, and why is this the best course of action?
What does this treatment entail?
How will this treatment impact my dog?
What do I need to do to make sure this treatment is successful?
Do you have experience with this treatment? How has it gone in the past?
Holistic vs. Traditional
There's no denying that both holistic and traditional veterinarians work with the intention of treating your pet to the best of their ability. The difference, of course, lies in what each perceives "treating to the best of their ability" to mean. Traditional veterinarians rely on pharmaceutical treatments, which are more focused on treating the specific malady afflicting your dog. Many believe this is the best form of treatment because these medicines have been FDA-approved and shown to work (sometimes with side effects). Holistic veterinarians, alternatively, pride themselves on treating the cause, rather than the symptoms. They focus on alternative and complementary treatments that—while not necessarily proven to work—have nearly no side effects.
Traditional medicine

Uses conventional treatments, such as pharmaceutical medicines or therapies
Utilizes tests (blood, urine, etc.) to come to a diagnosis
Treatments focused on alleviating symptoms
Views illnesses or problems as separate from the whole well-being of the animal
Can lead to quicker relief of symptoms and eradication of the illness

Holistic medicine

Uses alternative treatments in conjunction with traditional treatments to best treat the animal's entire health spectrum
May require variations in treatment plan to find the correct balance of treatments
Treatments focused on finding a balance in the total well-being of the animal—physical, mental, and emotional
Takes all health issues into account and minimizes effects on health when treating
The goal is to cure the anima of disease and continually improve overall health and well-being
It's up to you to decide if holistic medicine is a good choice for your companion's health needs. If you're interested in giving holistic medicine a try, there are some simpler treatments, such as herbal medicines, that work as an alternative or complement to traditional medicine. Speak with a holistic veterinarian about any concerns you may have, but the best way to determine if holistic remedies can better treat your canine is to give them a try.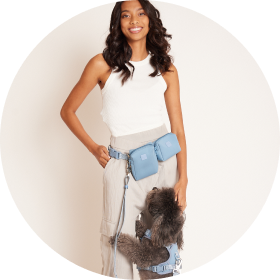 Need to upgrade your pet's leash?