Top Signs You Need a New Veterinarian
Top Signs You Need a New Veterinarian

Save on pet insurance for your pet
You don't have to choose between your pet and your wallet when it comes to expensive vet visits. Prepare ahead of time for unexpected vet bills by finding the pawfect pet insurance.
Taking your dog to the veterinarian for routine care such as checkups and for non-routine needs such as illnesses and injuries is essential. But, just because you have a veterinarian doesn't mean you are required to stay with them forever. In some situations, it can be time to start looking for a new veterinarian. How do you know when it's time to move on? Certain top signs let you know that you should look elsewhere for veterinary care.
Inadequate Care
You may want to find a new veterinarian if you don't think you're getting adequate care from your current one. For example, maybe you weren't pleased with how they handled your dog's recent problem with a skin rash or digestive upset. Perhaps you didn't think they were responsive enough when your furry buddy was experiencing an urgent and serious symptom. Maybe they don't express much concern or compassion toward your pet or you. These are signs that you need to find a veterinarian who can provide your dog with the attention you expect and need.
Additionally, a clean and cheerful environment is a must. Yes, there are often sad moments in the office of a veterinarian, but the lobby should be sanitary and the staff welcoming, kind, and knowledgeable.
Lack of Veterinary Expertise
You need a veterinarian who has the necessary expertise to handle all health issues that your pet might experience. This includes not just routine, simple issues but also more complex ones. Having a veterinarian who can't handle the health issues for which you usually seek their care is a sign that you need a new veterinarian.
It is customary though, and expected, that a vet who cannot solve a complex issue will call on the proficiency of a specialist. Your veterinarian should not be expected to handle every possible problem, and a second opinion is also a good idea, especially concerning serious and complex diseases.
Poor Communication
There are many aspects of care that determine whether you should consider a new veterinarian, in addition to issues pertaining to medical expertise. Interactions among humans and between humans and pets also come into play. If you experience poor communication with the vet's office, it might be time to investigate a different clinic.
For example, maybe your dog was very ill this week and the veterinarian's office was supposed to call you back by a certain time of day but didn't. Or maybe they did call or email you when promised but were lacking in information. If your veterinarian and staff don't converse on your pup's level either, that's another concern. These communication problems could really get in the way of your pet receiving the best care possible and could be enough reason to find a new veterinarian.
Personality Conflicts
Personality conflicts with the veterinarian or other staff members may stand in the way of your dog getting the best care possible. And, the personality differences may not be only your own. Your dog may react fearfully or aggressively around the veterinarian and anxious around the receptionists. You might think your pooch is afraid of going to the veterinarian, but maybe that's not the issue at all. It could be that they are afraid of the one you go to and would love seeing a new vet where they sense they are safer and more comfortable.
Scheduling Challenges
If your present veterinary clinic does not have convenient hours that fit your schedule, it is time to look for a new veterinarian. Reputable and reliable clinics offer day and evening services several days a week, and some of them are open all 7 days. 24-hour services are typical in clinics that cater to special cases and emergencies. Your chosen vet may not have 24-hour availability, but they should have a recommendation for a trusted emergency clinic that can take care of your dog in the event of an urgent situation.
Next Steps: Moving On
Although medical expertise, experience, and knowledge are critical to your satisfaction with a veterinarian, there are many other essential issues that go into deciding where to go for veterinary care. Factor them all in when evaluating how pleased you and your pet are with your current veterinarian.
If you've concluded that you do need a new veterinarian, there are numerous ways to find one. First, ask your family and friends if they have a veterinarian they like and can recommend. Look online for quality leads, reviews, experience, and accreditations. 
Ask your previous veterinarian to send your pet's health records to you, or directly to the new veterinarian. Thank them for the care they've provided, and leave on a positive note. Then move on, confident that you've made a wise choice - and that a new start will help your pet receive better care than ever.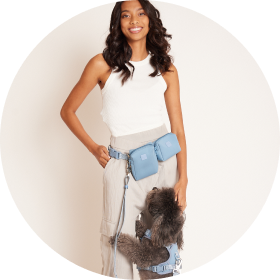 Need to upgrade your pet's leash?