The Sticky Scenario Surrounding Your Dog and Ice Cream
The Sticky Scenario Surrounding Your Dog and Ice Cream

By Amy Caldwell
Published: 09/13/2017, edited: 08/10/2021
Save on pet insurance for your pet
You don't have to choose between your pet and your wallet when it comes to expensive vet visits. Prepare ahead of time for unexpected vet bills by finding the pawfect pet insurance.
Ah, the dog days of summer. Warm weather, no school, and longer days all mean there are more opportunities for fun activities with your four-legged family members. From hiking and walks to games of fetch in the pool, there are plenty of bonding moments to be had during summer down time or gatherings with friends and family.
One of Fido's favorite activities is most likely waiting around that picnic table to share a tasty treat with their human best friend. While the occasional bite of hotdog is probably not bad for your pooch's health, other food items may pose a bigger risk for your pet's immediate and long-term wellbeing. Take for example that frosty ice cream treat. In moderation, it's a perfectly acceptable snack for you, but should your dog also partake of this sticky sweet pastime? Here we delve into why ice cream may not be all that sweet a treat for your dog after all.
The Argument Against Ice Cream for Dogs
While it may be harmless when enjoyed in moderation by humans, ice cream packs a potent unhealthy punch for your pooch. For starters, the majority of dogs are lactose intolerant. An aversion to dairy can cause gas, diarrhea, vomiting, and more. In severe cases, it may take days or weeks for your pup's system to correct itself after an ice cream-induced upset. The high doses of sugar in ice cream aren't all that great for humans and are especially harmful for your dog. Excess sugar can cause weight gain, diabetes, stomach upset and more. Don't even think of trying out sugarless ice cream varieties on your dog, either. Most artificial sweeteners are toxic to your pets. Finally, certain flavors or ingredients in ice cream also can pose a threat to your dog's health. Artificial vanilla flavoring, chocolate, nuts and more are all on Fido's do not eat list.
Alternative Frosty Treats
If you still want to spoil your pooch with a cool treat this summer, consider alternatives that are safe, healthy, and vet-approved. Some pet food manufacturers have begun producing dog-friendly, pre-packaged frozen treats. Check with your local pet food retailer or in the freezer aisle at the local grocery store and you may be surprised to find treats that are designed especially with your dog's nutrition in mind.
If you can't locate pre-made treats, whipping up a batch of frozen goodness for your dog at home is easy as can be. While a milk product, yogurt often contains natural enzymes that prevent stomach irritation and is a healthy alternative to sweetened ice cream products. Freeze plain yogurt in popsicle molds (minus the sticks of course) or in ice cube trays for a quick snack for your dog. Fruits and veggies also make great frozen treats. Try blending up carrots, broccoli, bananas or berries and then freezing and bagging for easy access later. Finally, bone broth is an excellent snack for dogs in need of extra nutrition and has a variety of health benefits due to the high concentration of minerals, vitamins, and more. Freezing bone broth into cubes will ensure you always have it handy for a meal, treat or supplement.
The Bottom Line on Ice Cream and Your Dog's Health
When it comes to people food, especially sweets and desserts, you should proceed with caution before sharing treats with your dog. Ice cream is high in sugar which can lead to weight issues and diabetes when fed regularly. Most dogs' digestive systems also aren't designed to be able to process dairy products and consuming ice cream can create huge discomfort for both you and your pet. Finally, the extra ingredients in ice cream can pose an issue for your pooch. Chocolate, artificial sweeteners and more are all no-no's for dogs. There are a variety of healthy frozen alternatives available in stores or to be made at home. This summer, keep your pup safe and healthy by skipping the ice cream and enjoying a Fido-approved frozen treat instead.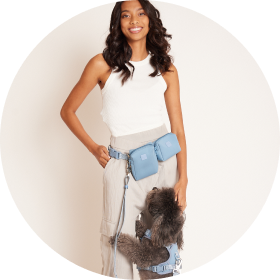 Need to upgrade your pet's leash?