Which Car Safety Seat is Right for My Dog?
Which Car Safety Seat is Right for My Dog?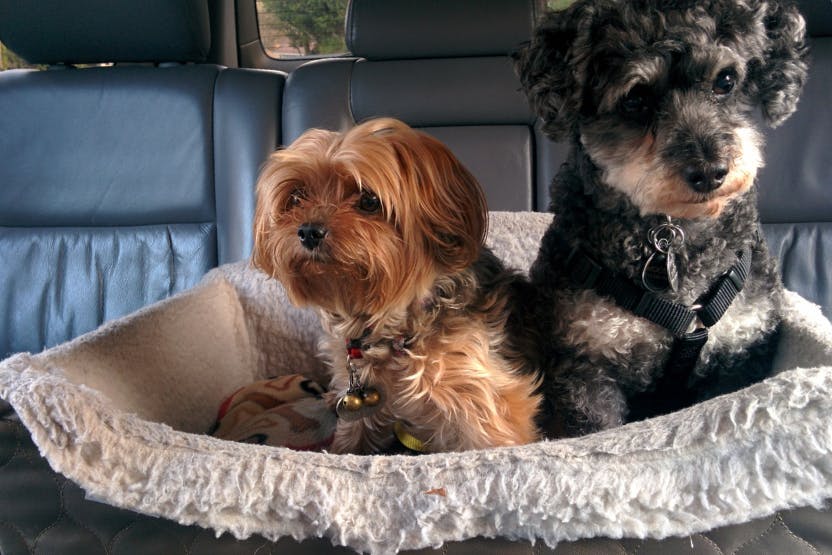 By Emily Gantt
Published: 10/08/2020, edited: 10/12/2021
Save on pet insurance for your pet
You don't have to choose between your pet and your wallet when it comes to expensive vet visits. Prepare ahead of time for unexpected vet bills by finding the pawfect pet insurance.
You have a seat belt, your kindergartener has a booster seat, and your littlest has an infant carrier. But what does Fido have to protect them in the event of an accident? If you're like 84% of pet parents in the US, your pup probably doesn't have a vehicle restraint system at all. 
Like humans, unrestrained pooches are at risk of being injured or ejected during a collision, but the dangers don't end there. Many pet parents don't realize that a free-roaming woofer can inflict injuries on other passengers. 
Even so much as a sharp curve could send Fido flying, injuring them and other passengers too. Paws to Click, a vehicle safety advocacy group for pet owners, states a hard stop at low speeds will propel a free-roaming 75 lb dog with 2,250 lbs of force. An impact of this magnitude can seriously injure or kill your pet and any person in their path.
Why invest in a doggy car seat?
There are many benefits to installing a safety seat for your pet, besides the obvious. Wiggly woofers commonly perform distracting behaviors that interfere with our driving or visibility. 
One of the most common doggy offenses is knocking the shifter out of gear when moving from one seat to another. Some dogs even try to get on the floorboard while their parent is behind the wheel. 
Having a dog on the gas pedal is obviously dangerous, but it's equally as risky to redirect them to a more appropriate seat while driving. The right car seat will contain Fifi and allow you to keep your attention on the road.
Safety seats serve for comfort and cosmetic purposes too. Booster seats give curious puppers a lift, allowing them a window view while keeping their eyes and nose clear of flying debris. Pod or crate-style seats may minimize travel anxiety in nervous dogs. Car enthusiasts will appreciate all safety seats and hammocks for shielding their upholstery from sharp claws, pet hair, and dirty paws. 
Safety seats protect pooches in the aftermath of an accident, as much as they do during one. Dogs may become agitated after a crash, especially if they are in pain or pinned inside the vehicle. Fear can cause even the most docile of pooches to snap, and it's not uncommon for overprotective dogs to become aggressive with paramedics. Alternatively, timid dogs may exhibit the "flight response" and make a run for it. 
Facts about dog car seat safety
More than half of the participants in an AAA and Kurgo survey of pet-owning motorists said their canine co-pilot distracts them while driving. Many in this survey confessed to feeding, petting, and playing with their dog while operating a vehicle.
While these actions seem innocent, it's important to realize that nearly 400,000 people were hurt or killed in crashes caused by distractions in 2015. According to the National Highway Traffic Safety Administration, nearly 1 in 10 deadly wrecks in 2019 involved a distracted driver. 
17% of people surveyed by the AAA and Kurgo also stated their dog frequently sits with them in the driver's seat. Even though this seems like a minor offense, lap puppies can interfere with steering, visibility, or cause their owners to jerk the wheel if they nudge their hand for pets. Doggies in the front seat are also in danger of airbag injuries, like small children.
The backseat isn't much safer for dogs without a safety seat, since a crash or sudden stop can turn your precious pup into a projectile. Remember, a hard stop can propel a free-roaming 75 lb. dog with 2,250 lbs of force, even at low speeds.
What to look for in a dog car seat or safety harness
Crash-test certification by the Center for Pet Safety

Fits appropriately

Secures appropriately to your vehicle

Durable fabric and straps

Water-resistant

Made for your dog's weight range (especially for booster seats which come in multiple sizes)

Cleans easily

A removable cover that's machine-washable (particularly if your pup is prone to motion sickness or accidents while in the car)

Excellent reviews

Easy to install and uninstall

Booster seats with straps and clasps that clip to a safety harness

Harnesses with multiple points for adjustment
What type of car safety seat is right for my dog?
Many factors go into choosing the right safety apparatus for a pet. Nowadays, there are just as many (if not more) types of seats for dogs as kids! Let's explore the different kinds of dog safety hardware on the market. 
Vehicle harness and seat belt attachment systems
Price range: $20 – $50 
Best for: 
Active dogs

Medium and large dogs

Dogs who roam around the car
Pros: 
One of the few options for giant and large breeds

The most secure and durable in crashes

Compatible with most booster seats

Keeps pets steady during hard stops 

Attaches to all seatbelts

Some tethers attach to the vehicle LATCH system
Cons: 
May be uncomfortable for small dogs

Some require your pup to sit upright at all times

Restrict the ability to lie down
An important note on seat belt systems:
Seat belt systems can be bought separately but cannot be used with a regular harness. Only use tethers with a harness meant for car safety. Attaching a seatbelt tether to a standard collar or harness can cause asphyxiation.
Carrier pods
Price range: $150 – $200
Best for:
Anxious or aggressive dogs

Dogs who find comfort in their crate at home

Pups who get motion sickness

Cold-natured dogs

Low-energy or older dogs

Dogs with medical or mobility issues
Pros:
Compact

Portable

Secures to a seatbelt

Plush bottom

Breathable mesh top

Convenient zip top

Works for cats and other small animals

Some models have an optional heating element for maximum comfort
Cons: 
Only suitable for tiny breeds

Most models have a weight maximum of 15 lbs

May not be machine-washable
Booster seats
Price range: $40 – $150
Best for:
Window-watchers

Small and medium dogs (depending on the weight specifications)

Dogs who will stay in one place while riding
Pros:
Compatible with front and back seats

Comfortable

Many can be used with a harness safety kit

Typically have a removable cover

Has an opening at the base where you can feed the seatbelt through for stability

Relatively easy to install
Cons: 
Only made for small and medium-sized breeds

Can be challenging to clean the internal foam 

Won't keep your pet secure in a crash when used alone 
Elevated pet bed / convertible booster seats
Price range: $100+
Best for:
Dogs 25 lbs or under

Dogs who like to sleep on trips

Well-behaved woofers

Older dogs with arthritis, mobility issues, or who can't sit upright for long periods
Pros:
Will keep your Corgi cozy

A great alternative for long road trips when a carrier pod might be uncomfortable

Some models include heated seats and fold out into strollers or carrier bags

May have adjustable straps so you can position your pup for the best view "pawssible"

Most can be used with a safety harness for added safety
Cons: 
Not as secure as upright harnesses

 May not prevent ejection in a high-impact crash (if used alone)

Typically only made for small breeds
Backseat doggy hammock
Price range: $100+
Best for:
Large or giant breeds

Pooches who like to ramble or pace

Dogs who tend to crawl in your lap while driving

Canines with sharp claws that tend to pick or dig at your seats
Pros:
Easy to clean

Protects the car interior

Will keep your dog out of the front seat

One of the few options for giant breeds

Simple to install 

Usually waterproof

Secures to the headrests with cords or straps

Many fabric options and color patterns
Cons: 
Won't offer your pet any protection in the event of a wreck

Most models significantly limit visibility for small dogs

May worsen separation anxiety

May not be compatible with safety harnesses
Tips for using a doggy car seat
Always refer to the weight specifications when choosing a seat. 

Never use a seat belt or LATCH tether with a neck collar. 

Never attempt to create a makeshift harness by feeding a seatbelt through a regular harness.

When picking a harness, make sure you can slip 2 fingers inside the collar, back, and underarm area.

Don't install a car seat in the front seat of cars with airbags.

Opt for crash-test approved models.

Research different brands of seats before purchasing. 

Pick a style your pet will actually use. 

Read the instructions carefully when installing a dog safety seat.

Pick safety apparatuses with durable materials.

Pull over if you need to adjust your dog's seat during trips.
Your dog's love is often a welcome distraction, but those adorable behaviors could cause havoc on the road. Next time you're thinking of hauling your hound around town, remember to buckle up your pup. Check out our guide on how to travel safely with your dog for more travel tips.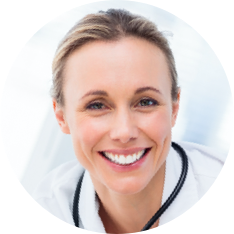 Does your pet have a supplement plan?