Simparica for dogs is used to treat flea and tick infestations. This monthly chewable provides up to 35 days of protection for your pet.
If you're thinking of using Simparica to protect your dog against fleas and ticks, keep reading for more information about the dosage, efficacy, side effects, and safety of this medication.
Please note that Simparica is different than Simparica Trio, a combination drug that protects dogs against heartworm disease, ticks, fleas, roundworms, and hookworms. Simparica Trio contains sarolaner (the active ingredient in Simparica), moxidectin, and pyrantel, and was approved by the FDA for use in dogs in 2020.
Dosage
Simparica is available as a chewable tablet. The recommended minimum dosage of Simparica for dogs is 0.91 mg/lb (2 mg/kg).
Dosage instructions
Simparica can be given by hand or with food. Monitor your pet closely after administering the medication to make sure they consume the entire tablet. Readminster treatment once a month.
Efficacy
The FDA approved sarolaner in 2016 to treat and control flea and tick infestations. An isoxazoline class antiparasitic, the medication was designed in Zoetis research laboratories specifically for use in companion animals.
Simparica kills adult fleas and can be used to prevent flea infestations. It's also used for the treatment and control of tick infestations and is effective against the following types of tick:
Amblyomma americanum (Lone Star tick)

Amblyomma maculatum (Gulf Coast tick)

Dermacentor variabilis (American dog tick)

Ixodes scapularis (black-legged tick)

Rhipicephalus sanguineus (brown dog tick)
Simparica for dogs is highly effective (greater than 99%) against ticks and fleas for a minimum of one month. The prescribing information for the medication contains details of several studies on the efficacy of Simparica. Results include:
Simparica started killing fleas 3 hours after administration and ensured a 96% reduction in the number of live fleas within 8 hours after flea infestation through day 35. 

100% effective against adult fleas inside a 24-hour period and 100% effective against weekly re-infestations for 35 days. 

In a 90-day field study in households with flea infestations, the effectiveness of Simparica against fleas on day 30, 60, and 90 visits was 99.4%, 99.8%, and 100%, respectively.
A 2017 Australian study into the efficacy and safety of sarolaner saw dogs receive a single monthly dose of sarolaner (Simparica) orally at 2 to 4 mg/kg for three consecutive months. It found that the medication was well tolerated by dogs and provided excellent efficacy against natural infestations of fleas under a range of conditions. It also provides 100% efficacy against an existing infestation of Haemaphysalis longicornis (Asian longhorn tick) nymphs. Simparica is safe and effective in the treatment and prevention of flea infestations.
Active ingredients in Simparica
Sarolaner
Cost
The cost of Simparica varies depending on the dosage strength and type. A 6-month supply of chewable Simparica tablets ranges in price from $80 to $100 on average. Simparica Trio costs $135 to $150 depending on your dog's weight.

Side effects
Simparica for dogs is a drug from the isoxazoline class. This class has been linked to neurological signs such as tremors, unsteadiness, and seizures in dogs. However, the FDA considers drugs in the isoxazoline class to be safe and effective for dogs.
Simparica may also cause the following side effects:
Contact your veterinarian if your dog experiences any side effects as a result of taking Simparica.
Considerations
Just like any other medication, Simparica has the potential to interact with other drugs your dog is taking. It also may not be suitable for dogs with certain health issues, so it's essential that you know the risks before giving Simparica to your dog.
Drug interactions
There are no known drug interactions of Simparica for dogs. However, if you're unsure whether it's safe for your pet to have sarolaner, consult your veterinarian for advice.
Allergic reactions and sensitivity
Simparica for dogs should be used with caution in dogs with a history of seizures or neurologic disorders. Simparica is also designed only for use in dogs 6 months of age or older, so it should never be given to young puppies.
Finally, please be aware that the safety of Simparica for dogs in breeding, pregnant, or lactating pets has not been evaluated.
Frequently aksed questions
Does my pet need a prescription to take Simparica?
No. Simparica is available over the counter without a prescription.
How should Simparica be stored?
Store Simparica at or below 86°F, and keep out of reach of children.
What should I do if my pet has an adverse reaction to Simparica?
If your pet has an overdose of or an adverse reaction to Simparica, seek emergency veterinary medical attention.
Simparica Questions and Advice from Veterinary Professionals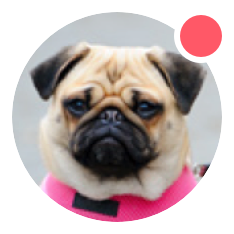 Need pet insurance?