6 Awesome Benefits of Duck Meat for Dogs
6 Awesome Benefits of Duck Meat for Dogs
By Adam Lee-Smith
Published: 05/21/2021, edited: 08/10/2021
Save on pet insurance for your pet
You don't have to choose between your pet and your wallet when it comes to expensive vet visits. Prepare ahead of time for unexpected vet bills by finding the pawfect pet insurance.
Published: 5/21/2021

Do you feel like Bailey would benefit from a change in diet? This is a question many pet parents ask themselves, with dozens of pet food companies using everything from goat to bison in their kibble. One increasingly popular meat used in dog food is duck. 

As with many of these unconventional meats, vets and pet parents alike are discovering loads of potential benefits of switching up Max's diet. Read on to learn about 6 awesome benefits of duck meat for dogs!


A lean source of protein
Dogs need a source of animal protein in their diets, and duck ranks as one of the best. Duck is a lean source of protein that is low in saturated fat — perfect for doggos on a diet. Duck also contains healthy polyunsaturated and monounsaturated fats, giving your pup more energy for your next outdoor adventure!


A source of amino acids
Duck is a complete protein and an excellent source of amino acids. Duck is especially high in lysine and leucine, which are great for lowering cholesterol and building healthy bones and muscles.


High in fatty acids
As well as being an excellent source of amino acids, duck is also high in omega-3 and omega-6 fatty acids. While you'd normally think of fish oil as one of the best sources of fatty acids, duck is a good alternative. This is because duck is high in polyunsaturated fat, a common source of fatty acids found in fish, vegetable oils, and nuts.


Ideal for dogs with food allergies
One of the main reasons pet parents turn to duck as an alternativeis their fur-baby has an allergy or intolerance to common meats like chicken and beef. If your dog gets an upset stomach or a rash after eating chicken or beef, discuss with a vet whether duck is a suitable alternative. 


Rich in B vitamins
Duck meat contains a variety of B vitamins which will improve your dog's quality of life and keep them healthy in later life. For example, duck contains vitamin B3, or niacin, which helps regulate your dog's glucose levels and convert protein and fats into energy. It also contains vitamin B6, or pyridoxine, which improves heart health and increases your dog's metabolism. B vitamins also help prevent cancer.


High in antioxidants
Duck has lots of health benefits for dogs, and another example is it's high in antioxidants like iron, zinc, and selenium. Iron helps your dog produce red blood cells, while zinc is essential for over 300 bodily processes, including cell division, immune response, and cognitive function. Selenium also offers many benefits for dogs, ranging from a healthy coat to improved joint health.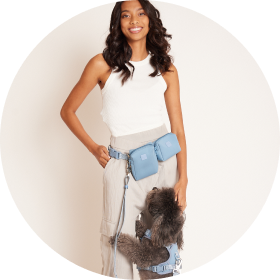 Need to upgrade your pet's leash?