Health Insurance: The Benefits and Costs for Older Pets
Health Insurance: The Benefits and Costs for Older Pets

By Mel Lee-Smith
Published: 05/10/2017, edited: 09/07/2022
More articles by Mel Lee-Smith
Save on pet insurance for your pet
You don't have to choose between your pet and your wallet when it comes to expensive vet visits. Prepare ahead of time for unexpected vet bills by finding the pawfect pet insurance.
Maybe you've noticed that your pet is getting slower. Old age is upon them, and with it, new needs and problems may arise. Like many pet parents, you probably put off getting pet insurance for your younger animals only to find that age brings increasing vet visits and bills. A pet's golden years are often the time that pet parents struggle between the high cost of medical pet care and being able to afford to treat their elderly pets. 
Many insurance companies and veterinary clinics consider a dog to be in its senior years by age 7, while cats are seniors by age 11. Most pet health companies have a cut off age when they will no longer begin to insure your animal, usually from 7 to 14 years of age. New policies have been created specifically for the older pet in mind without any age limits, but these are often more expensive. These higher premiums can cause pet parents to turn away from an insurance policy. Gauging the rising costs of veterinary care against these premiums and the benefits they bring can make all the difference in the decision to insure your pet. 


How much does pet health insurance cost?
Insuring an older pet will be more expensive. Just get that out of the way. You will always pay more for an older animal than a younger one. The concern here is if the cost of your premium is worth the benefits of the policy.
Know that the older your pet is, the more expensive your premium will be, so insuring them as early as possible is always going to be more cost effective. Premiums may increase as your pet ages, but the coverage should remain the same. An average cost of a monthly premium for an 8 year old dog or cat ranges from $20 to $90, depending on the species, sex, breed, and health of your animal, as well as certain policy factors. If your pet is closer to 13 years of age, your costs can increase from $40 to over $200 a month. 
You may wonder if you can lower these costs, and in many cases, the answer is yes. Many companies allow you to customize your policy, allowing you to choose the deductible, the annual payoff amounts, the percentage of costs covered, and the care that is to be covered. Making these changes to lower your premiums may result in you paying a greater amount out of pocket when your pet needs care. So just what are you paying for?


What are the benefits of pet health insurance?
Pet insurance is a cushion to help when your pet's medical needs exceeds your bank account. Pets become family, and when they get sick, we want to help them. Pet insurance can allow you to do just that. It can:
Help to cover medical costs that would otherwise be impossible to afford for your dog or cat, as most policies cover from 70% to 90% of veterinary costs
Allow you to responsibly budget for pet care, since many policies allow you the choice to pay monthly, semi-annually, or annually
Extend the health and life of your pet, as life-saving medical procedures and medications can be easier to afford
Cover your pets for the duration of their lives once they are enrolled
Cover routine checkups, diagnostic testing, dental procedures, and chronic, hereditary, and congenital conditions, prescription medication, and even ramps or prosthetic limbs, depending on the policy and when you insured your pet
Give peace of mind and alleviate the worry of not being able to provide care when your pet needs it most
Prevent euthanasia due to an inability to finance treatment


Why senior pets need more care & wellness
As your pet ages, his body begins to wear out. He may need a different diet that is more easily digestible or lower in caloric content. His immune system isn't quite as strong as when he was younger, making him more susceptible to infectious agents and disease. He may need a different level of exercise to ensure he stays mobile, or a change in his environment if he has movement or sight issues. He will also need more health care. Some of the health care visits or treatments may be for:

Semi-annual comprehensive check-ups to detect early signs of disease, including bloodwork and a urinalysis, which can be in the hundreds per visit
Diagnostic testing and treatments for common elderly conditions, such as thyroid issues, Cushing's disease, or Addison's disease, ranging from $700 to $2000
Vaccinations and parasite control
Arthritis, from $200 to $2500
Kidney disease, which can cost up to $8000
Heart disease, from $400 to $3000
Liver disease, from $400 - $10,000
Pancreatitis, up to $2200
Cancers, which can range from $750 to $7000
Cataracts and glaucoma, from $400 to $3500
Diabetes, which can cost upwards of $140 a month or more
Senility or dementia, up to $500
Dental procedures, such as cleaning or treatments for periodontal disease, up to $800


Pet health insurance is there when you need it most
What happens often with older pets is that when they need the most medical care, their pet parents do not have the ability to pay. There is much the veterinarian can do, but is often constrained by what the pet parent can pay. Having the cushion of pet insurance can help your older pet live a healthier and longer life, giving you more time with them. Do you and your pet a favor by researching a policy that best fits both your needs, and give yourself some piece of mind knowing that you are prepared for your best friend's golden years.


For quick access on how to find the best pet insurance for your pets, check out our pet insurance comparison tool on our Wellness page.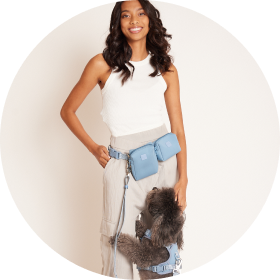 Need to upgrade your pet's leash?