New to the Pet Health Insurance Application Process?
New to the Pet Health Insurance Application Process?

By Mel Lee-Smith
Published: 05/08/2017, edited: 09/07/2022
More articles by Mel Lee-Smith
Save on pet insurance for your pet
You don't have to choose between your pet and your wallet when it comes to expensive vet visits. Prepare ahead of time for unexpected vet bills by finding the pawfect pet insurance.
So, you've decided to purchase pet insurance to protect your fur-babies. You've done some brief research, read some reviews online, and created a shortlist of potential pet insurance plans. But now, you're faced with the application process. Wondering what lies ahead as you fill in the blanks? Let's explore what to expect from the pet insurance application process.

How does the pet insurance application process work?
Comparing pet insurance plans, finding answers to your questions, and choosing the right option can overwhelm anyone who's accustomed to the intricacies of health insurance — human or animal.

Here's a quick rundown of how the pet insurance application process works.



Filling out the application
These days, most pet insurance applications are available online. They're typically quick and easy to fill out. You'll need to provide some basic information about your pet, including their:

species (dog or cat)
breed
approximate date of birth
gender
health record
previous treatments
You may also need to let the pet insurance company know if your pet is microchipped or spayed/neutered.



Getting a quote
Once you've filled out your application, you'll typically receive a quote. Depending on the company and plan, you may be able to choose or adjust your deductible, which will affect your premium amount. (Not sure what a deductible or premium is? Check out our guide on pet insurance terms.) Typically, the higher the deductible, the lower the premium amount and vice versa.
It's always a good idea to shop around and compare pet insurance plans before settling with a company. This ensures your pets have the coverage they need for a price you can afford.



Reading the fine print
Before hitting "submit" on that application, be sure to read the terms and conditions carefully.

Find out what the policy covers. Some plans only cover accidents, while others cover both accidents and illnesses. Most pet insurance companies won't cover pre-existing conditions or routine care. You may also need to purchase an additional wellness plan for holistic treatments like acupuncture. Other pet health insurance exclusions may apply.
You should also check to make sure the pet insurance policy allows you to choose your own veterinarian. Some pet insurance companies use a network of veterinarians and won't cover treatments at facilities outside that network.

If you're unsure about anything, contact the insurer with questions before submitting your application.



Navigating the waiting period
Once you've provided your info, received your quote, and read the terms and conditions, you're ready to finalize your payment. Once you've paid, your waiting period will go into effect.
Accidents or illnesses diagnosed during the waiting period aren't covered. The same goes for any treatments administered during this time. Waiting periods vary — some are as short as 5 days, while others are as long as 30 days. The average waiting period for pet health insurance is 14 days. Special waiting periods may apply for certain conditions, like hip dysplasia.
Different plans may also have different waiting periods. For example, Pets Best Insurance implements a 14-day waiting period for illnesses and a 3-day waiting period for accidents. Routine care coverage doesn't have a waiting period at all.
Figuring out how waiting periods work can be daunting for new pet parents or those insuring a pet for the first time. If you have any questions about your waiting period, contact your insurer.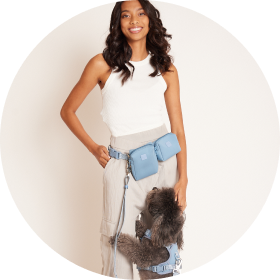 Need to upgrade your pet's leash?