Is Beneful IncrediBites Dog Food Best for My Dog?
Is Beneful IncrediBites Dog Food Best for My Dog?
By Emily Gantt
Published: 05/25/2021, edited: 08/10/2021
Save on pet insurance for your pet
You don't have to choose between your pet and your wallet when it comes to expensive vet visits. Prepare ahead of time for unexpected vet bills by finding the pawfect pet insurance.
Published: 5/25/2021
Beneful is a sub-company of Purina pet food that got its start in 2001. Since its launch, it has become one of Purina's most successful lines, with many customers who swear by it. 
Beneful's name supposedly means "full of goodness," but are the ingredients actually good for dogs? We'll analyze the ingredients, cost, and ratings to help you decide whether Beneful IncrediBites is the right choice for your dog.


Overview
The Beneful brand prides itself on using real chunks of meat and vegetables that you can see. The IncrediBites line keeps this same principle, but formulates it in bite-size pieces that are small enough for little dogs to enjoy. 
Recently, Beneful went through an ingredient overhaul to remove artificial colors, preservatives, and flavorings from their IncrediBites line. Still, this brand has come under scrutiny for using meat byproducts and low-grade fillers like soy, wheat gluten, and genetically modified corn in their formulations. The FDA approves all these ingredients, but some vets stress that these low-quality ingredients are not ideal for a canine's diet. 


Cost
Beneful IncrediBites dog food ranges between $18 and $20 for the 30-count variety pack, making it a relatively inexpensive choice compared to newer wet dog food brands.


Ages
This formulation is suitable for all adult dogs.


Breeds
Beneful developed the IncrediBites line for small breed dogs with tiny morsels fit for small jaws.


Ingredients
Now that we've discussed the cost and groups this food is best for, let's explore the main ingredients in each recipe:
Real beef, tomatoes, carrots, and spinach
This recipe has a limited ingredients list of chicken, chicken and beef broth, liver, meat byproducts, beef, tomatoes, carrots, and spinach. This recipe, like all IncrediBites recipes, is fortified with a dried vitamin and mineral premix. 
Farm-raised chicken, tomatoes, carrots, and spinach
This recipe contains 6 ingredients in addition to a vitamin and mineral blend; these include chicken, liver, chicken broth, meat byproducts, tomatoes, carrots, and spinach. The vegetable blend adds additional fiber, complex carbohydrates, vitamins, and minerals to the recipe. 
Beef, tomatoes, carrots, and wild rice
Beef broth is the first ingredient in this recipe and gives the food a smooth wet consistency. Real beef is the second ingredient, followed by wheat gluten, liver, meat byproducts, tomatoes, carrots, and wild rice. Meat byproducts are not necessarily a low-quality ingredient, though it can be concerning to some pet parents that the meat source is not identified on the label. 
Chicken, tomatoes, carrots, and wild rice
The first 5 ingredients in this recipe are chicken broth, chicken, wheat gluten, liver, meat by-products, and tomatoes. Chicken broth and real chicken are definitely a good start to an ingredients list. However, the third ingredient, wheat gluten, is a filler and a leading allergen among canines. 
Salmon, tomatoes, carrots, and wild rice
Although the recipe name would lead you to believe salmon is the first ingredient in this food, it's actually the fourth ingredient following water, chicken, and wheat gluten. Liver, carrots, tomatoes, and meat byproducts follow suit. 
Real salmon, tomatoes, carrots, and spinach
Chicken is the leading ingredient in this recipe, followed by chicken and salmon broth, liver, and meat byproducts. Salmon is the fifth ingredient in this recipe, with a vegetable blend containing tomatoes, spinach, and carrots coming in last. 


Ratings
The reviews for Beneful IncrediBites are generally positive, though there are some negative reviews mixed in. Many reviewers state Beneful IncrediBites is well-suited for mixing with dry kibble or for hiding unpalatable medications. Reviewers also liked that the food is soft with bite-size morsels and praising the line as good for dogs with few teeth. Some pet parents claim that this food made their pet's coat shinier and gave their dog more energy. The negative reviews mainly cite the addition of fillers in the ingredients list.


FAQs
Is Beneful IncrediBites a pate?
The original IncrediBites recipe is a chunky style food with gravy, though there is a separate line of pates called IncrediBites pates.
Does Beneful IncrediBites contain gluten?
Yes.
Is Beneful manufactured in the USA?
Yes, all Beneful manufactures all its pet foods in America.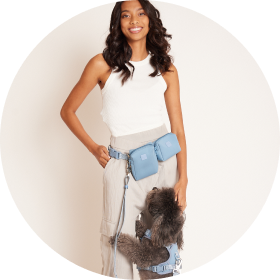 Need to upgrade your pet's leash?