Is Blue Wilderness Dry Cat Food Best for My Cat?
Is Blue Wilderness Dry Cat Food Best for My Cat?

By Emily Gantt
Published: 03/10/2021, edited: 09/21/2021
Save on pet insurance for your pet
You don't have to choose between your pet and your wallet when it comes to expensive vet visits. Prepare ahead of time for unexpected vet bills by finding the pawfect pet insurance.
Updated: 9/21/2021
Blue Wilderness is one of the most popular high-end cat foods on the market. The Blue Buffalo brand developed out of necessity when the maker's dog, Blue, got ill with cancer. When researching diets that promote dogs' longevity, they found that many dog food makers use chemicals and pesticides, and they wanted to provide better food than what was available.

This family recipe then turned into a whole brand, but is it really what they make it out to be? We'll dive into the nitty-gritty, discussing the cost, ingredients, and real ratings from unbiased pet parents like you.

Overview
Blue Buffalo is known for its "True Blue Promise", which vows to use the freshest ingredients and never include low-quality ingredients like chicken byproducts, fillers, or artificial additives in their formulations. Blue Buffalo has tons of different lines for cats, including formulas for kittens, sensitive stomachs, hairball and weight control, high-protein diets, and prescription formulas, to name a few.
Cost
Blue Wilderness for cats comes in many sizes and ranges, from $8 to $12 for a small 2-pound bag and $35 to $79 for larger bags. There are many different food lines within this one brand, and some of the more speciality varieties have a higher price tag.

For instance, grain-free and veterinary diets are more expensive than the regular high-protein Blue Wilderness for cats. Some pet food retailers have higher prices than others — something to consider when shopping for any pet food, high-end or otherwise.

Ages
Blue Wilderness's kitten formula is specifically developed for the needs of growing kittens and provides all the vitamins and nutrients cats need for brain and body development.

Unfortunately, the Wilderness line only has one type of cat food (Blue Wilderness Mature Chicken Formula) for senior kitties. This may be problematic if your senior cat, like many, is a picky eater.

The more extensive Blue Buffalo line does have other senior options. Most of Blue Wilderness's feline varieties are geared towards the nutritional needs of adult cats.
Breeds
Blue Wilderness doesn't have any food lines specific to certain cat breeds, but there are formulas better suited for some breeds than others. Long-haired breeds may benefit from the hairball control formulas since these breeds are more likely to ingest hair when grooming.

Active cats like Bengals and American bobtails might do well on the high-protein formula since cats get most of their energy from protein. Blue Buffalo's Blue Freedom line is a top pick for cat owners with grain-allergy prone breeds or those sensitive to gluten.
Ingredients
Blue Wilderness features ingredients like real meat, berries, veggies, and hearty grains (with the exception of the grain-free formula) to keep your pet full and happy. For instance, the ever-popular Adult Chicken variety includes chicken, chicken meal, cranberries, fish meal, sweet potatoes, blueberries, and taurine in the first few ingredients. Each blue food contains its patented "life source bits" that claim to include antioxidants to boost the immune system.  
On the other hand, the salmon grain-free formula contains deboned salmon, chicken meal, pea protein, peas, tapioca starch, menhaden fish meal, and chicken fat (preserved with tocopherols, aka vitamin E) in the first few ingredients. 
The ingredient list may be concerning to some, seeing as it contains chicken and fish meal, while the company claims to not use any poultry byproducts. The difference between animal byproducts and animal meals is that byproducts include the heads, feet, intestine, and other undesirable parts of the animal. Chicken meal consists of the flesh, skin, and bones. Essentially, chicken meal is chicken byproducts, sans a select few parts.
Ratings
Blue Buffalo is not accredited by the Better Business Bureau or Consumer Affairs, though both pages have plenty of reviews nevertheless. Cat parents on the Consumer Affairs page praise Blue Wilderness for cats as being palatable for their pets. Reviewers state their cats have healthier coats since switching to Blue Wilderness. One pet parent praised Blue Buffalo's hairball control formula for helping their long-haired kitty overcome their digestive troubles.

Some pet parents did complain that they bought bad bags of Blue Wilderness and that the customer service department was no help. At the time of writing, the Better Business Bureau has given Blue Buffalo an "F" rating since they have neglected to acknowledge 8 out of 10 complaints against the business.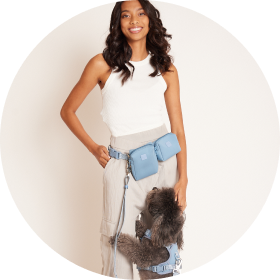 Need to upgrade your pet's leash?