Is Joy Performance Dog Food Best For My Dog?
Is Joy Performance Dog Food Best For My Dog?

By Tim Falk
Published: 05/06/2021, edited: 08/10/2021
Save on pet insurance for your pet
You don't have to choose between your pet and your wallet when it comes to expensive vet visits. Prepare ahead of time for unexpected vet bills by finding the pawfect pet insurance.
Published: 5/6/2021
If you're searching around for the best food to give to your dog, you may be wondering whether Joy Performance Dog Food is the right choice for your pup. This brand, which has a history dating back to the early 1940s, specializes in recipes designed to suit active and working dogs.
Keep reading to find out all about the nutrition, ingredients, and reviews of Joy Performance Dog Food to help you decide whether this food is the right choice for your fur-baby.


Overview
Joy Dog Food started life as Best Feeds and Farm Supplies in 1943. The Joy Kibbled dry feed formula was developed in 1953. Today, the company offers a range of dry food products for dogs of all life stages. In particular, Joy Dog Food commonly focuses on nutrition for active and working dogs.
Joy Dog Food offers 7 foods within its Performance range:
Puppy Food
Adult Formula 26/18
Super Meal
Special Meal
High-Energy
High Performance 26/18
Maintenance Plus

The brand also offers products targeted at a more premium market with its Ultimate range, plus a grain-free formula for dogs, but most of its recipes are part of its Performance range.
As of 2011, Joy Dog Food is managed by Hi-Standard Dog Food.


Cost
The cost of Joy Dog Food varies depending on the recipe you buy and the bag size you choose. As a general guide, you can pick up a 40-pound bag of Joy Special Meal Dry Dog Food for around $31 to $33. Other varieties tend to cost a little more — for example, a 40-pound bag of Joy High Performance 26/18 costs around $35 to $37.


Ages
Joy Dog Food offers products in its Performance range to suit dogs at all life stages. It also offers a formula designed to meet the nutritional needs of puppies.


Breeds
Joy Performance Dog food is suitable for all dog breeds, but is specifically designed for active  and working dogs.


Ingredients
One of the common features of recipes in the Joy Performance Dog Food range is high protein content. While the Association of American Feed Control Officials requires a minimum protein content of 18% in adult dog food, several Joy recipes contain between 24% and 32% protein. This is designed to provide the energy active dogs need to perform at their best.

Beef meal and chicken meal are the two most commonly featured sources of protein in Joy Performance Dog Food recipes. Under the AAFCO definition of meat meal in pet food, this meal contains the rendered product from mammal tissues, but doesn't include any blood, hair, or hooves. However, some products contain chicken byproduct meal, which can contain any part of the bird (excluding feathers).
Another thing you'll notice when reading the label of Joy Dog Food Performance recipes is that they often have a higher fat content than regular dog foods. While the AAFCO minimum fat content for adult maintenance diets is 5.5%, several formulas in this product range have a fat content of between 18% and 24%. This is once again designed to help provide energy for your active or working dog.
Otherwise, Joy Performance recipes often include added omega 3 and omega 6 fatty acids to help promote healthy skin and coat. Many also feature chicken or animal fat preserved with mixed tocopherols and citric acid. Mixed tocopherols are both a natural preservative and a type of vitamin E, and can also help strengthen the immune system.
For more information about the ingredients in Joy Dog Food, visit the brand's website.

Ratings
Joy Performance Dog Food only had limited consumer reviews at the time of writing. Those customers who have left positive reviews generally praise Joy recipes for giving their active dogs energy and helping them maintain a healthy weight. However, customers who have left negative reviews about Joy recipes sometimes complained about their dog not liking the taste of the food.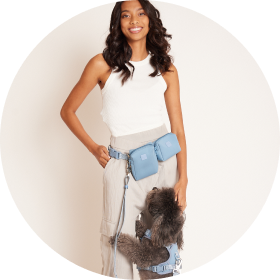 Need to upgrade your pet's leash?